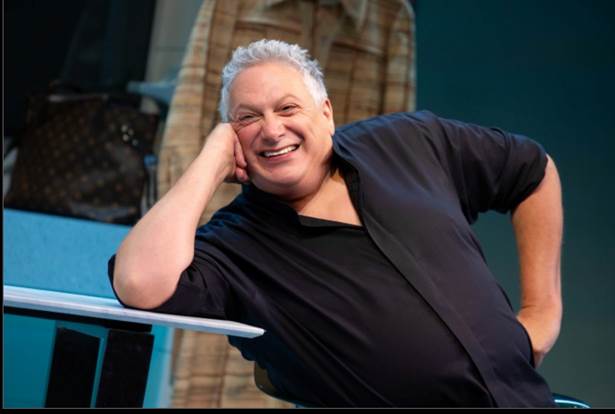 Harvey Fierstein                      photos by Jeremy Daniel
 Bella Bella
                                               by Julia Polinsky
Multiple-Tony-winning Harvey Fierstein has entered the pantheon of stars so famous, they only have one name: Bette. Barbra. Bernadette. Harvey. The show may be called Bella Bella, and be about the marvelous Mrs. Abzug, but it's really All Harvey, All the Time; it's as if director Kimberly Senior held on for dear life and let the show happen.
H*A*R*V*E*Y!! A presence so huge, with that elastic face in all its mobile magnificence. That gravelly/muddy/distinctive voice! Those eyebrows! Who wouldn't want to spend an hour and change basking in the sunshine of Harvey Fierstein's magnificent presence, impeccable timing, simmering anger?
Anger? Yes, indeed. Bella was a notable fighter, a "schreier," as she calls it ("I may have been known to throw things"). Battling Bella was the original social justice warrior, who championed causes and fought injustice back when that could get you jailed or killed. She picked fights with the establishment over unions, civil rights, gay rights, unpopular political parties, and of course and always, women. Bella grew from being a nice Jewish girl from New York, to a lawyer, to a community organizer to a politician, working her way up to a seat in Congress. She always won – eventually, as she said.
Until 1976, in the primary race for the Democrat candidate for Senate from New York. To hear Harvey-as-Bella tell it, she had pissed off enough powerful men (politicians, press, that crowd) that the candidates in that primary field were four men and her. She lost by fewer than 10,000 votes. And she never won an election again.
Bella Bella is set on the night of that primary, in the bathroom of the Summit Hotel, as she waits for results to come in. Not doubting for a moment that she'll win, she direct-addresses the audience from John Lee Beatty's marvelous set (never has a NYC hotel bathroom looked so good). Harvey adroitly gives us brash Bella, brainy Bella, bullying Bella. But when, at the moment of the realization that she's in trouble, and he telegraphs her interior mindset perfectly, Harvey has never been better.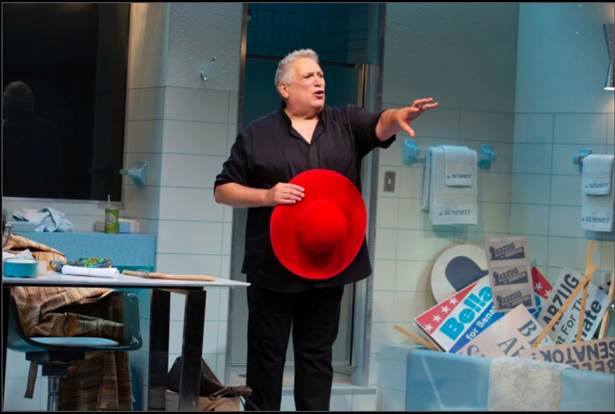 That's good, because otherwise, if you have any recollection of Bella Abzug at all, you'll notice that she's oddly absent from Bella Bella, even though she's the only character on stage. No matter how much you may admire Harvey, it's just plain awkward to have a personality so strong playing, well, a strong personality: it just doesn't work. It took a lot to make Bella Abzug disappear. Harvey managed it in one shot, while trying to do her homage.
Mrs. Abzug may be a fun role for Harvey, but he ain't Bella. Perhaps some of that is due to him not performing in drag. Interestingly, Rita Ryack's costume design puts him in plain black shirt-and-trousers, bare feet (killer pedicure, by the way), and the biggest red hat in known space. The hat is the only concession to Bella's iconic appearance; she was the last of the Great Hat Ladies.
Bella Bella is an amusing way to pass some time, watching Harvey do a standup routine; a history lesson (for those too young to remember Bella); a political nostalgia-fest (for the oldsters). It's like a juke-box musical of Bella's greatest hits, only with Bella, rather than songs, we get pithy commentary and harsh humor, some of it in Yiddish. Could be worse, nu?
Bella Bella
Written and Performed by Harvey Fierstein
At Manhattan Theatre Club
NY City Center Stage I
131 W 55th St, New York, NY 10019
Through December 1
Tuesday/Wednesday/Thursday 7pm; Wednesday/Saturday/Sunday 2pm; Friday/Saturday, 8pm
Tickets : Nycitycenter.org
or call City Tix (212) 581-1212