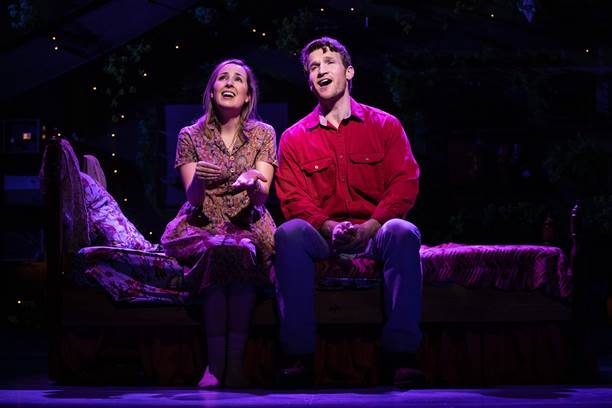 Joon (Hannah Elless) & Benny (Claybourne Elder)
Benny & Joon
                By David Schultz
This current season (Hell, the last few years actually) is seeing its share of film to live theater treatments once again. Tootsie, Pretty Woman, Magic Mike (upcoming fall season), Beetlejuice, are currently in previews or up and running in New York City. Adding to the list is the newest adaptation of the 1993 film Benny & Joon. But guess what? This improbable musical is a truly creative and moving adaptation of its original source material. If anything, this entertaining work expands and embellishes the story further in unexpected ways. Originally premiering at the Old Globe Theater in 2017, this reworked musical has landed at the Paper Mill Playhouse with a variety of new songs, as well as a few major cast changes.
A difficult subject matter is laid out at the onset. Benny (Claybourne Elder) is the caretaker for his sister Joon (Hannah Elless) who suffers from a crippling mental illness. Her schizophrenia symptoms are controlled by carefully dolling out her meds. The death of the siblings' parents years ago in a car crash has created a dual emotional need for both of them, as they settle in to melancholy life ahead, with little hope for the future. Joon hears voices and sounds, reacts intensely to loud noises, and seems on the brink of running away, or into traffic as she flails about pretending to be a traffic cop directing cars in the middle of busy intersections.
She does have her artistic impulses as well and recreates her inner expression through her hand painting to work out her unfocused psychic urges.  
Bryce Pinkham
The catalyst to jumpstart the story into motion occurs after a bet during a poker game and Benny has to bring an odd eccentric bloke named Sam (terrific Bryce Pinkham) into the household. A gaggle of caretakers have come and gone and perhaps Sam can potentially connect with Joon and be her caretaker till the next one comes along. Benny, being the overprotective brother to his sister, seriously doubts it, but gives it a chance.
It is here that the production blossoms out in poetic ways. Sam, who dresses not unlike the silent film star Buster Keaton, jaunty stove-pipe hat askew on his head, upends the family unit. Moving with graceful almost balletic physical ability, he is a virtual cinema mimic to boot, throwing out wisecracking movie quotes from a plethora of films with wild abandon. Pinkham is brilliant as he proves to both Joon and the audience as well his openness to the experience of listening with deep empathy to this wounded woman. They are, as the play progresses, an odd quirky sort of kindred soul match. He too, it seems is struck with a sort of madness. Just wait till you see his smooth as silk work in the kitchen as he prepares a grand meal of grill cheese sandwiches. The setting of the dining table with plates flying, then caught, then splayed onto the table is poetry in motion.
A caseworker Dr. Cortez (Natalie Toro) attempts to convince Benny that he should put his increasingly unstable sister in a care facility, but he balks initially. Down at the local diner lost soul waitress Ruthie (Tatiana Wechsler) works the overnight shift, as she slyly eyes and pines over Benny.
Claybourne Elder &Tatiana Wechsler
This romantic interest pans out in slow incremental ways. The romantic connection between Sam and Joon also rears its head. Miracle of miracles… this musical deftly gets under your skin. The main leads are completely believable and the inter relationship dynamics are spot on. Each of these fractured adults is on the precipice of change, but frozen in fear of stepping out of their comfort zone.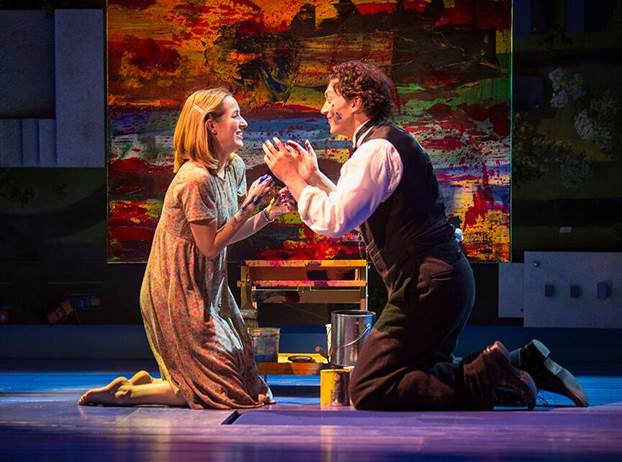 Hannah Elless & Bryce Pinkham  photos by Old Globe, Gerry Dahlia and Matthew Murphy
This difficult challenging subject matter is dealt with in a graceful, non-condescending way. This is a musical, though it could very well have been written as a straight play. The music (Nolan Gasser) and lyrics (Mindi Dickstein) are melodic and amusing with perfectly timed eleven o clock numbers for each of the leads. There is precious little dancing to be seen in this production. The seamless scenes that meld together and the visual aspects more than make up for that lack.
The imposing and amusing visual backdrops by designer Dane Laffrey are a wowser. A skewed perspective perfectly in tune with the storyline shows an immense aerial view high above the neighborhood, but the audience sees it as if flying high above the town. Subtle lighting pinpoints where the characters are at any given moment in the town. Director Jack Cummings III doesn't shy away from the darkness by any means. In the Second Act when things turn dire, the storyline pulls no punches and reveals the pain and suffering that occurs within each character. Many of the scenes have a hemmed in look and feel with an almost claustrophobic atmosphere. When all seems lost, the emotions of the characters rear their heads and clarity is seen, just beyond the horizon. The loose threads have a way of reconnecting yet again, as these damaged souls are restored. There is light at the end of the tunnel, and as the musical works towards its hopeful conclusion, the hemmed in look and feel opens up…. the entire stage is brilliantly bathed in a beatific blue horizon that bodes well for all concerned. A rare thing indeed, this film to musical incarnation is infused with a graceful warmth. Going crazy never looked so good.
Paper Mill Playhouse
22 Brookside Drive, Millburn N.J.
973-376-4343
PaperMill.org
Runs through May 5th