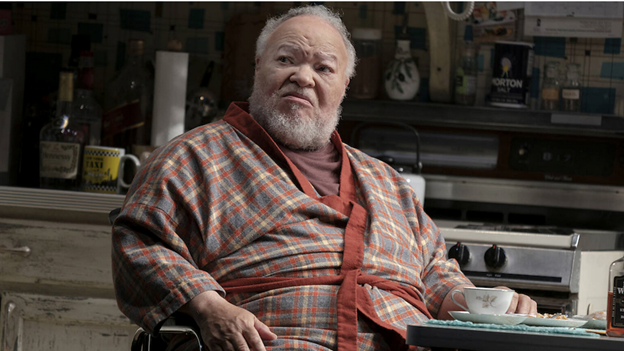 Stephen McKinley Henderson in Between Riverside and Crazy. Photo by Joan Marcus
Between Riverside and Crazy
By David Schultz
Playwright Stephen Adly Guirgis must be grinning like The Cheshire Cat. First staged almost ten years ago at The Atlantic Theater in Chelsea, followed by a move uptown to The Second Stage in 2015, this Pulitzer Prize Winning play is now ensconced at The Hayes Theater.
Time has been exquisitely kind to this work. It has only improved with age; the ensuing years have added an unexpected depth and gravitas to this play. Not to mention all the inherent humor that is gasp inducing. The actors, most of whom have been with this production since its inception (The rap star Common is the newcomer) have a complete grasp of this playwright's sly ear for these characters' inner lives.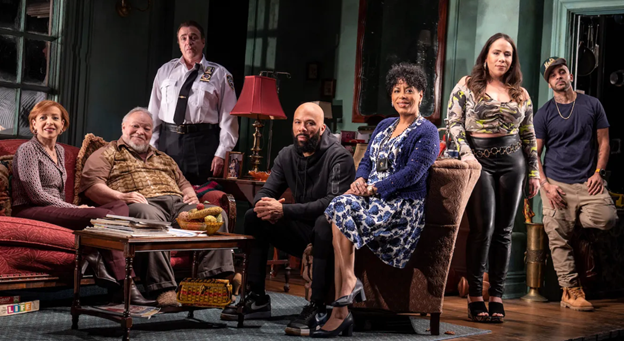 Elizabeth Canavan, Stephen McKinley Henderson, Michael Rispoli, Common, Liza Colón-Zayas, Rosal Colon, Victor Almanzar in Between Riverside and Crazy. Photo by Joan Marcus
All of these people that traverse in the rarefied universe of this decaying spacious Riverside Drive rent-controlled apartment have secrets and have shady underlying issues. Slowly, incrementally the façade drops away as they find surprising new ways to come to terms with their inner demons.
The convoluted plot revolves around a glorious curmudgeonly widower ex-cop, Walter Washington (Stephen McKinley Henderson), who reigns supreme over the various cohabiting shifty peeps living in his grand rent-controlled apartment.
His son Junior (Common) deals with stolen goods in the other room. His not too bright girlfriend Lulu (Rosal Colon) is taking a course in accounting, she says… not too convincingly. An ex-con and semi on and off again addict Oswaldo (Victor Almanzar) rounds out the initial people we meet in Walter's universe. They fondly refer to him as "Pops" as he grudgingly spars with them, saving his sharper salvos for Junior.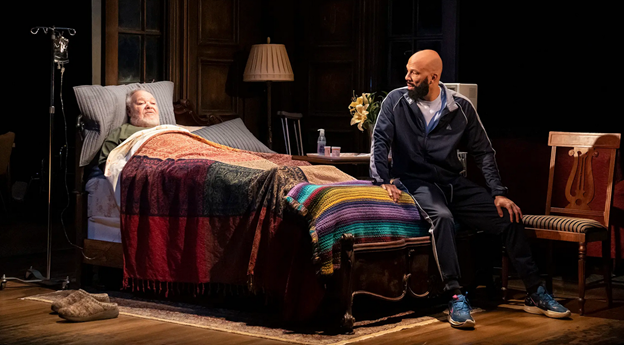 Stephen McKinley Henderson and Common in Between Riverside and Crazy. Photo by Joan Marcus
The world around Pops is, by all appearances, about to implode in the near future. The landlord is waving the specter of an eviction. The surly undesirables that inhabit the apartment and shady comings and goings have given rise to his predicament. But an equally long-standing lawsuit that Walter has been clinging to is about to reach a crescendo. Seems that eight years ago Walter was off-duty at an after-hours nightclub, and was gunned down by another cop. He has held steadfast on getting his lawsuit settled and getting monetary retribution for his outrage.
A few scenes later his former partner, Detective O'Connor (Elizabeth Canavan), pops in with her fiancé, Lieutenant Caro (Gary Perez), for a dinner of shrimps and veal. All is convivial and chatty, with reminiscences of past tales of being on the beat on the city streets.
The mood changes when the real underlying issue comes to the fore…the issue and hope that Walter can finally open up to the idea to settle. The inner workings of the city machinations would greatly benefit for Walter to settle his suit. It would push up the ranks of Lieutenant Caro, with an unspoken lure of a higher position that is his underlying motive. Walter unsurprisingly balks at the mere thought of lowering himself to such an idea.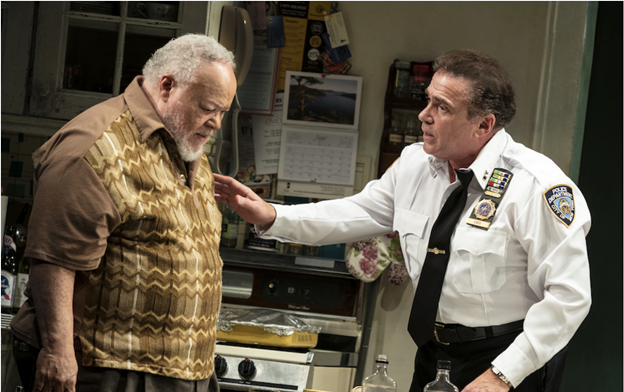 Stephen McKinley Henderson and Michael Rispoli in Between Riverside and Crazy. Photo
All the motifs are laid out in grand fashion, but nothing is what it seems. Playwright Guirgis sets the stage for unexpected events that slyly upend and circumvent what you've been seeing all along. Everyone has an angle and is on the grift in one way or the other.
At the top of the second act a mysterious Church Lady (Maria-Christina Oliveras) pays a visit to Walter to make him mend his ways and accept communion. The surreal scene is a verbal dance around religion and it reaches a climax (pun intended) in such an insane manner that words can't/won't describe how Walter does in fact find Jesus.
The final twenty minutes wraps things up in impeccably unexpected turns of fate. The head spinning twists and turns of comeuppance on each of these complex souls are well earned. The clockwork precision of the labyrinth plot works an indelible magic.
All performers bring an unexpected love and respect for their respective roles, but Stephen McKinley Henderson knocks it out of the stratosphere with his sharply honed performance. His commitment to this role is gargantuan with decades of his craft on vivid display.  The rest of the in-synch cast sings the wisecracking expletive dialogue with emotional resonance in a perfectly skewed valentine to New York City.
Set Designer Walt Spangler has created a spot-on lazy Susan of a rotating set that reveals the decaying splendor of the Riverside environs. Various rooms are on view giving the viewer a glimpse into the enormous space that the ancient building affords one, if lucky enough to live there. Costume Designer Alexis Forte has the cast perfectly outfitted with the dowdy couture of New York City circa 2014. Director Austin Pendleton has been there all along with all its theatrical iterations from first to current production. His unobtrusive, sly, just shy of magical touch permeates the entire production.
Playing at the Hayes Theater, 240 West 44th Street
(212) 541-4516.  2st.com
Extended through February 19th