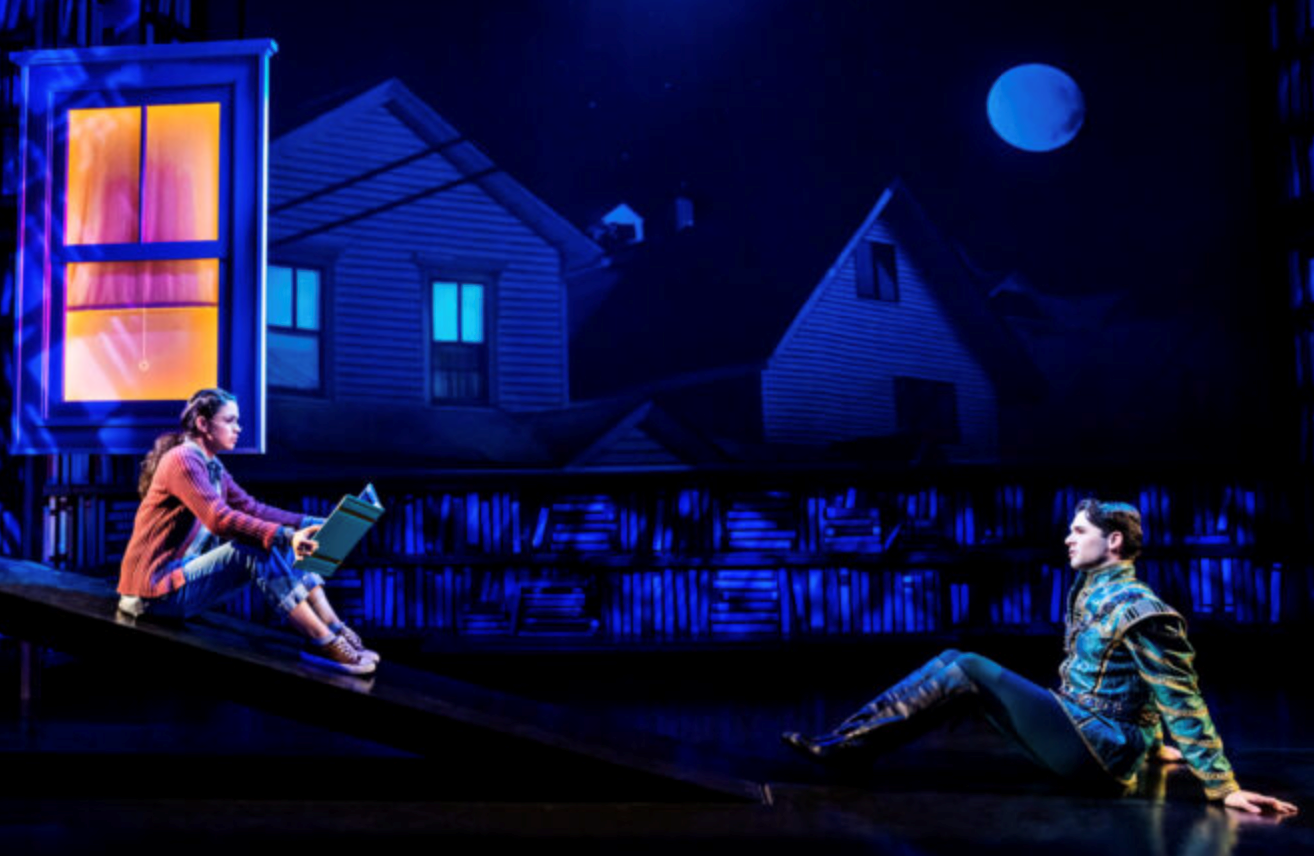 Between the Lines
Review by Julia Polinsky
"Enchanting" is not too strong a word to describe Between the Lines — especially since our heroine takes refuge in books from her overwhelmed, workaholic mother, her absent, detached father, and the general dreariness of life, and in this case, by reading and re-reading a children's story.
Based on a popular Young Adult novel by best-selling author Jodi Picoult and her daughter, Samantha van Leer, Between the Lines hangs on the structure of the book, bringing together the complications of having a huge crush on a fictional character, having that character come to life, and making it all resolve satisfyingly, if not totally credibly — it is a fairy tale, after all.
17-year old Delilah (the wonderful Arielle Jacobs) has just started junior year in a new high school, moved there by her bitter, exhausted workaholic single mother (Julia Murney). Allie, the school's "queen bee" (a killer performance from Hillary Fisher) and her posse (Will Burton, Jerusha Cavazos, Sean Stack) make Delilah's life hell, and the library is her only refuge. She finds there a sympathetic librarian (Vicki Lewis), Jules, a gender-fluid friend (a marvelous Wren Rivera), and a fairy tale book.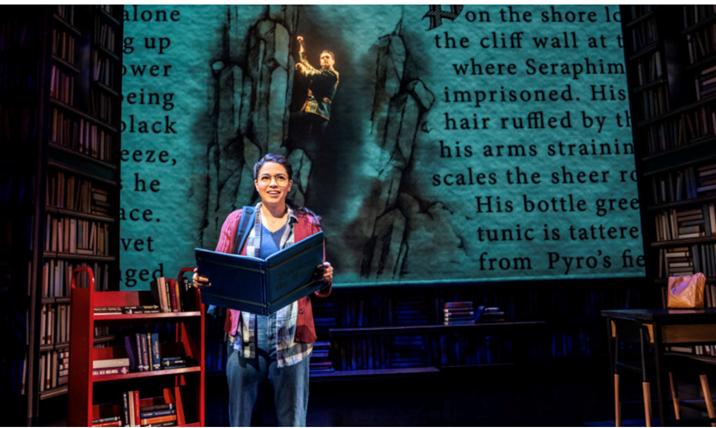 Arielle Jacobs and Jake David Smith in Between the Lines (Matthew Murphy)
That book, an oversize single story titled, of course, Between the Lines, becomes her obsession. She dreams of, and talks to, the characters, especially the hunky Prince Oliver (Jake David Smith). One day, he talks back.
All else flows from there. At one point, she and Oliver somehow magically start to communicate, and the charming Prince eases out of his pages and into her life. They try to find a way to enter each other's stories. By the end of Act 1, this happens, with a bang. The second act deals with getting what you want — maybe.
Prince Oliver wants a life that's not already written for him, day in and day out the same. He wants some autonomy. Delilah wants a life that has a handsome prince who loves her. Will either or both get their hearts' desires? Will there be a happily ever after to this tale of loneliness, searching for love, and finding yourself? Not a spoiler to say the ending is surprising and satisfying, and a beautiful blend of fantasy and "real."
The Company of Between The Lines (Matthew Murphy)
Under Jeff Calhoun's direction, with wonderful choreography from Paul McGill, the cast plays dual roles (excepting Delilah) with verve and style. Paul McGill Tobin Ost's helpful set maximizes the show's farcical moments. Spot-on costume design from Gregg Barnes brings the fairy tale characters dazzlingly to life as well as the real world's high school denizens: horrid teenagers and gender fluid friend, the harried mother, the whimsical librarian (Vicki Lewis), the school psychologist (John Rapson). Projections from Caite Hevner are among the best in ages, beautifully enhancing the show.
At 2.5 hours, the show could use a bit of tightening. Between the Lines is part teenage-high school-nerd-outsider story, part fairy tale, part self-actualization screed, part just plain romance. That's a lot to cram into 2.5 hours, but the performances from a superb cast are so enjoyable, it would be hard to figure out what to cut.
Surely it would be agony to delete the hilarious "Inner Thoughts," but it really doesn't advance the show. Ditto for the absurdly charming tap dancing dog's big number, "Out of Character" (go see the show; you'll understand). Not necessary to move the plot along, but too enchanting to cut.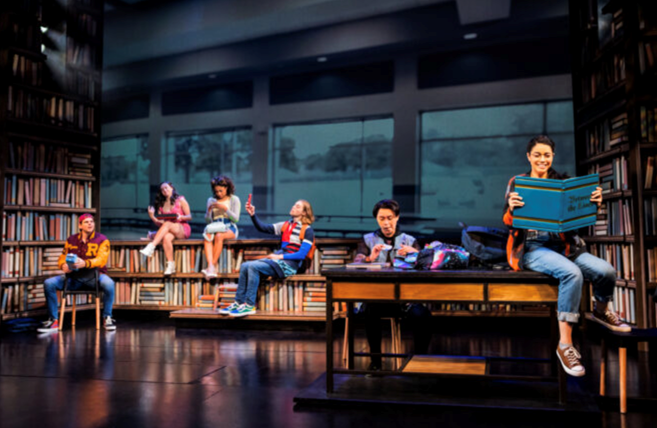 The Company of Between The Lines (Matthew Murphy)
Other standout numbers: the opening song, "Another Chapter;" "Happily Ever After Hour," a solid introduction to the fairy tale characters as they let loose at the end of a long day; "Butterflies," beautifully sung piece about how art affects life; the knockout "Do It For You," a girl-group anthem about girl power.
Run, don't walk, to get seats for Between the Lines. There's so much to enjoy, so much to root for, to delight in. Let it enchant you.
Between the Lines
At the Tony Kiser Theater
305 West 43rd Street
New York, NY 10036
Tickets $64-159
Tuesdays, Thursdays at 7pm
Wednesdays and Saturdays at 2pm and 80m
Fridays at 8pm
Sundays 3pm
Through September 11 only