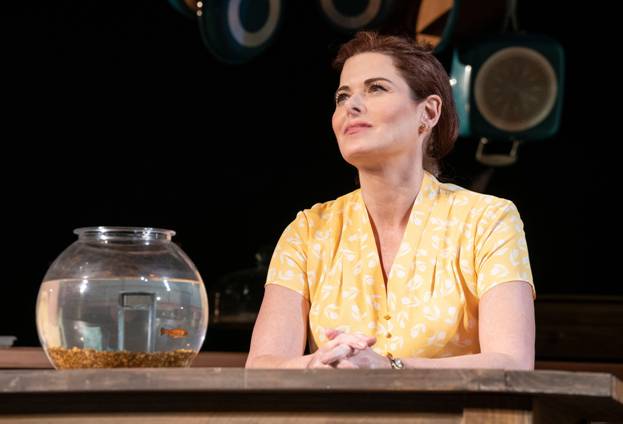 photo joan marcus
Birthday Candles
By David Schultz
Upon entering The American Airlines Theater, the ethereal soundscape of churning ocean waves with the distant sound of a ship bleating its horn greets the audience. The curtainless set is gorgeously on full display. A large kitchen setting with overhead stars and planets on vivid display. On closer examination the stars are actually the fragments of an entire life hanging overhead in midair…. lamps, rocking chair, pillows, umbrella, musical instruments, a laptop. Scattered among these objects are various planets and the moon. This dreamlike visual is rendered with an entire lifetime of ephemera. Things that one collects over many decades. Set designer Christine Jones set out in a recent interview to (Quote) "I wanted the set to evoke the ephemeral, celestial, existential spirit of our time on Earth and our time within different spaces. I feel that as the playwright states we are all made out of atoms and stardust. These mysterious objects are witness to and ghosts of what takes place".
At a brisk 90 minutes running time this touching play connects on various levels, depending on the age of the viewer it will have a deeper impact…. particularly the over 60 set. The young woman that darts out in view in the first scene is a perky 17-year-old girl named Ernestine. The female lead Debra Messing was absent the day I attended. The excellent understudy Kate Hampton was impeccable in this role and was totally in control of her performance. With subtle shadings of voice and physical posture the gradations of youth to infirmity were impeccably rendered.
Playwright Noah Haidle in his Broadway debut tips his hat to fellow playwright Thornton Wilder in many respects but creates his own universe of surreal beauty
"I am a rebel against the universe" states Ernestine loudly to her mother and the universe at once. "I will wage war with the everyday. I am going to surprise God!... Every year I make my birthday cake from stardust and atoms leftover from creation". A mere 17 years old she gleefully prepares her cake with her mother. In the next scene, a year later it's her birthday yet again, though it is revealed that her mother has died. But to keep the memories and tradition alive (A reoccurring theme throughout the play) she bakes the cake to heal her broken heart. Enter Kenneth (Enrico Colantoni) giving her a birthday gift of a goldfish. He has named the fish Atman. A heavy-handed nod by the playwright who has Kenneth intone with gravitas that the goldfish's name is "A Sanskrit word for self. Not a personal self but as the divinity within yourself." At the end of the play the various iterations of yearly goldfish replacements will have grown to over 125 goldfish. Kenneth asks her out for a date, she demurs. The next scene echoed by a reoccurring chime during the ongoing years that pass by in rapid succession brings another suitor to her door. Matt (John Earl Jelks) comes a-calling with the same request, this time Ernestine shyly accepts. As each single year, sometimes multiple years move forward she does indeed court then marry Matt.
The remaining costars Susannah Flood, Christopher Livingston, Crystal Finn effortlessly morph into a plethora of family members, sons, daughters, mothers, grandchildren, and great-grandchildren in seamless scenes that show the inexorable timeline from youth to aging to failing health. Inevitably various family members succumb to health issues, dementia, suicide, stroke, infirmity. This amalgamation of so much pain and sorrow could in other hands drag down the evening, but the playwright has tempered all of the turmoil and despair with a wistful almost whimsical light touch. It is obvious from the outset that Ernestine with outlive all the people in her orbit. With every year as she ages from her 17th birthday, 20th, 25th, and the inexorable intervening years to her 101st, the yearly birthday cakes she makes have meaning until the end of her lifetime. Her youthful angst over her insignificance in the universe comes full circle when she finally sees the familial universe that circled around her from the very beginning. For some theatergoers this nod to the human condition could be twee to the max. An excessively or affectedly quaint sentimental fable? The indecipherable emotions of each theatergoer will make their own mind up as to what lies underneath their beating heart.
Playing at The American Airlines Theatre, 227 West 42nd Street
212 -719-1300
Roundabouttheatre.org