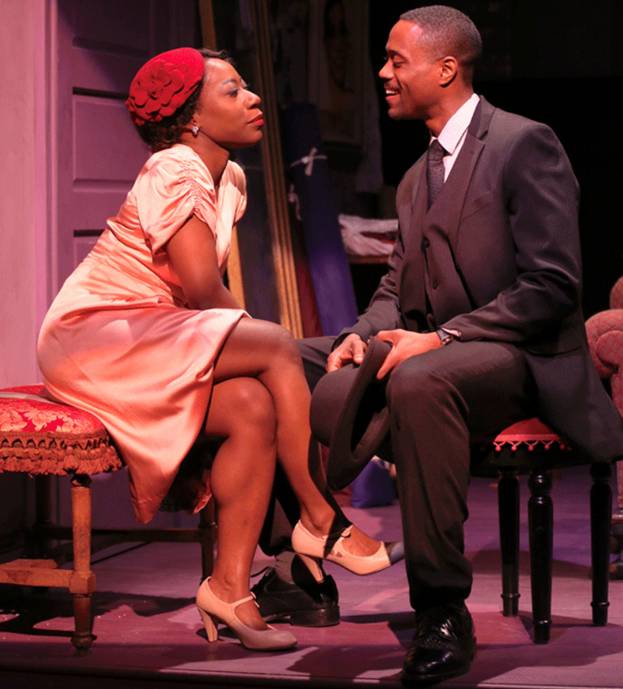 Alfie Fuller, Khiry Walker
Photo by Carol Rosegg
Blues for an Alabama Sky
                                       by Julia Polinsky
Pearl Cleage's very New York tale of dreams deferred can finally be seen on a New York stage. The story takes place in Harlem, in the 1930s. How has this play never been done in NY before? No matter. It's here now. Keen Company, which specializes in "…narratives about characters doing their best in a chaotic world" has handsomely mounted Blues for an Alabama Sky.
One hot summer night, Angel (Alfie Fuller), staggers home after losing her nightclub singing job and her Italian-gangster boyfriend, and drinking the pain away – she does that a lot: drink the pain away. Guy, (John-Andrew Morrison), her dear, and openly gay, friend holds her up as they stagger along home to his place, with the help of Leland (Khiry Walker), a passing stranger. Angel passes out on Guy's couch, and, lacking a job or boyfriend, stays with him, his poster of Josephine Baker, his fabrics, his dress form, his bootleg liquor, his dreams of moving to Paris to make costumes for Josephine Baker.
Much of the play takes place in Guy's living room, but across the hall, we see the kitchen of Delia (Jasminn Johnson), a "nice" woman, whose own dreams include love and marriage, family – and opening a family planning clinic. In Harlem. In the 1930s. When family planning was almost unheard of, and the few clinics that existed anywhere faced legal challenges, and significant public disapproval. Her friend Sam (Sheldon Woodley), a doctor who says that he "… delivers most of the babies in Harlem" also parties heartily with Angel and Guy, and has an interest in Delia.

Jasminn Johnson, Alfie Fuller, John-Andrew Morrison
Angel looks for singing jobs, but it's the Depression, and singing jobs are scarce. Which is a pity, because the one time we get to hear Angel sing, Alfie Fuller gives a pure, whole-hearted performance of "St. Louis Blues" that just about knocks plaster off the ceiling. Fantastic. Worth seeing the show just for that. You could wish Blues for an Alabama Sky were a musical, just to hear her sing again and again.
Still, since she can't find work as a singer, Angel has to make some hard choices about doing what she can to earn money – until Leland, the stranger who helped her stagger home, finds her. He was searching for her because she looks exactly like his dead wife, but once he finds her, things get complicated.
He's a straight-arrow good Christian man, not OK with homosexuality, family planning, or other "immorality". Leland reeks of security and stability, and promises to take care of Angel, even though she challenges him not to use her as a substitute for his wife, who died in childbirth. Still, Leland's dreams of marriage and a son are stronger than Angel's dreams of… of what? We don't really know.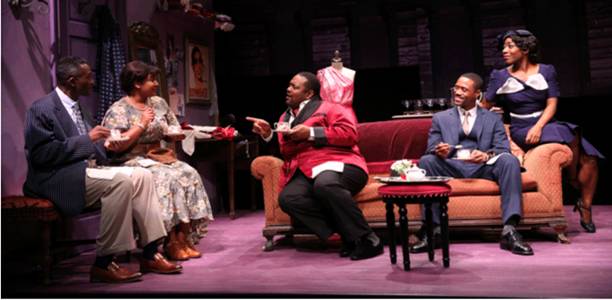 Sheldon Woodley, Jasmine Johnson, John-Andrew Morrison, Khiry Walker, Alfie Fuller
Photo by Carol Rosegg
Big Names get tossed around, in Blues for an Alabama Sky. Delia works with Margaret Sanger and attends the church where Adam Clayton Powell preaches; Guy and Angel party with Langston Hughes – and though Hughes remains offstage, the echoes of his most famous poem, "Harlem," offer the explanation why Blues for an Alabama Sky seems like one dream deferred after another.
Yet, for moments in the second act, it looks like everyone's deferred dreams are going to come true. Guy has heard from Josephine Baker in Paris; Sam and Delia have found love; a pregnant Angel agrees to marry Leland. It's all very neatly wrapped up, if barely credible – until Angel makes some decisions that push everything out of whack, and the consequences have impact on everyone.
Those deferred dreams are given vibrant life by wonderful performances, particularly from Alfie Fuller and John-Andrew Morrison, and a terrific set (You-Shin Chen), excellent costume design (Asa Benally), evocative music and sound design (Lindsay Jones) and lighting (Oona Curley), as they all work together with LA Williams's direction.  It's worth seeing Blues for an Alabama Sky for the hope, the sadness, the performances, and seeing the story of what happens to a dream deferred. It's a pleasure to welcome this play to New York, where it belongs.
Blues for an Alabama Sky
By Pearl Cleage
Directed by LA Williams
At Theater Row
410 West 42nd Street, New York
Through March 14
Tuesday, Wednesday, Thursday, 7pm; Friday, 8pm; Saturday, 2pm and 8pm; Sunday, 3pm
Running time: 2:45 with one intermission
Tickets $28-65
https://www.telecharge.com/Off-Broadway/Blues-for-an-Alabama-Sky/Overview?aid=ven000193900&_ga=2.41249826.1038564713.1583173894-1217598430.1582760135