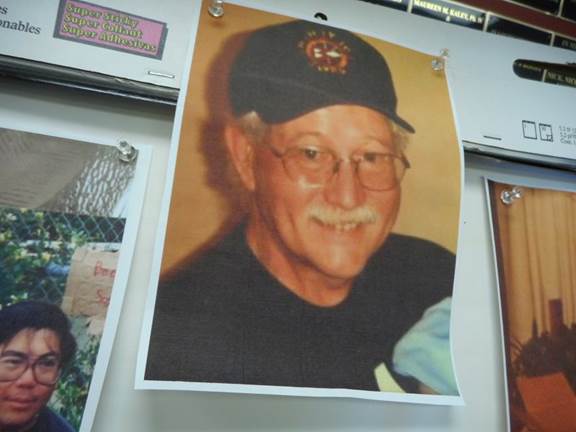 BOBBY RUSH MEMORIAL TRIBUTE 9/19
With salt water in his veins and Irish Coffee fueling his joie de vivre, Bob Rush encompassed the spirit of Kismet from the 1960's when he arrived to his recent passing. Bob settled here as a Fort Schuyler Merchant Marine Academy graduate. He spent years at sea as a merchant marine before settling on the Staten Island ferry later in life. Friends with Rich Grenemeyer (another Kismet stalwart) from their pre-teen years in Freeport, Bobby started as a waiter at the Kismet Inn before buying the Kismet Out with Warren Lem and Jack English in the 1970's.
Bobby enjoyed his life at the beach and his friends here were his anchors. Few people knew he was fluent in EWOC, as an avid Star Wars fan. The more beers he consumed the better he was at EWOC. He was also an avid member of the Kismet Fire Department for close to forty years.
His career as a merchant marine took him all over the world and his favorite places; outside of Kismet were the Philippines and Costa Rica (the latter was where he had an apartment). He retired several years ago to Staten Island where he passed away over the July 4d' weekend. This Kismet original who can trace his family to one the signers of the Declaration of Independence will be sorely missed.
                                                  Tom Licari , Lauren Dennis
Old timers, and Older Timers, fellow fire fighters and Kismet friends gathered to reminisce about one of Kismet's more colorful denizens. The KFD came out in full dress uniform, a tribute to Bobby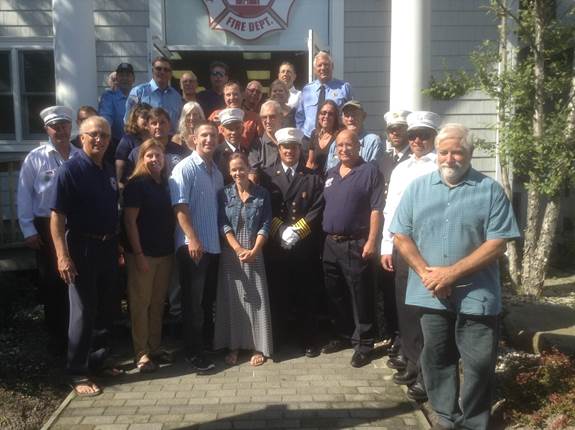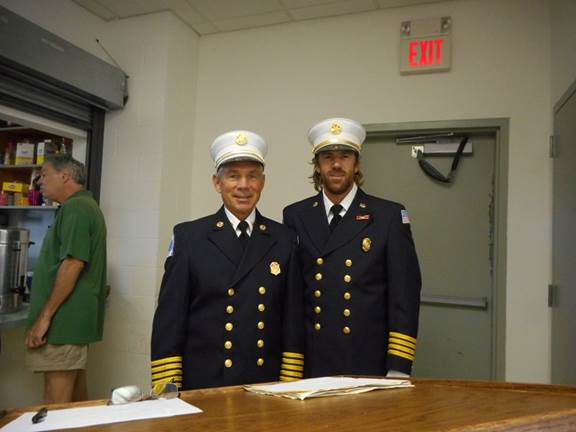 Emcees Buddy and Cody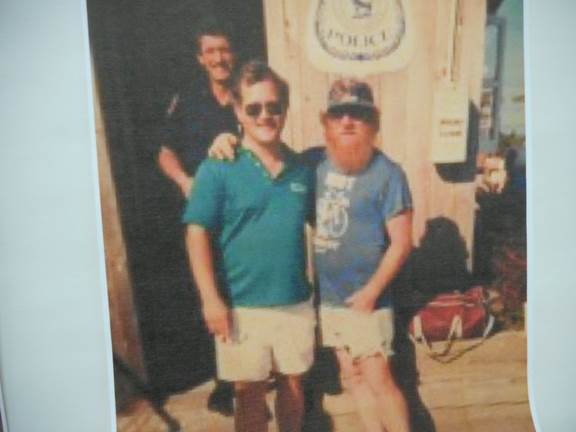 With Murphy

Daughter Shannon
A plaque was dedicated to him and some past members; Angie and Hank Ferrar, Dudley Fields, Frank X Mayer Saturday 9/19at 10 at the Firehouse, open to all, was followed by lunch at the Inn, cash bar.
A  Freeport school mate, Ritchie Grenameyer (Dick's son), brought Bobby out for a summer vacation at Kismet Then Bobby started as a kitchen boy in the INN. He worked there for a few summers and climbed the ladder of success to waiter and then bartender.
After graduating from the Merchant Marine Academy he tearned up with Warren Lem and bought the Green Isle, which eventually became The Out.
Bobby left that to join the Merchant Marines working on the Staten Island Ferries from which he retired after many years to live full time in Kismet and Staten Island.
After a long illness he died this past July 4th weekend.
Attendees and speakers.
Tales were told illustrating both the mischievous side of Bobby and his gracious good deeds.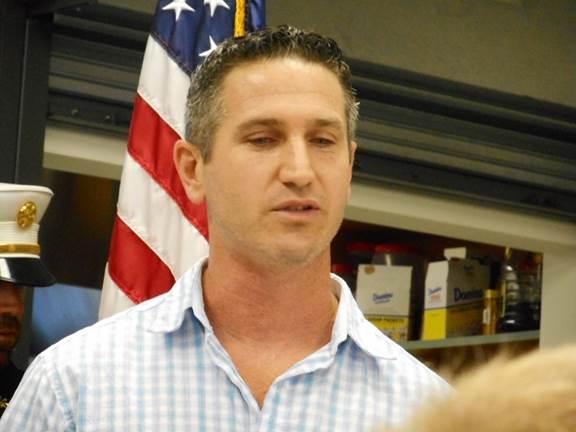 Shannon's husband, Joe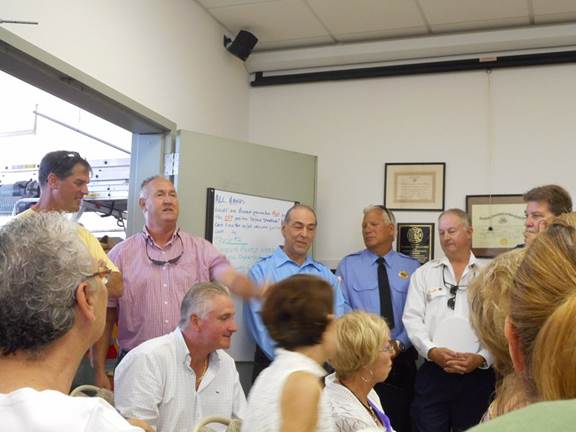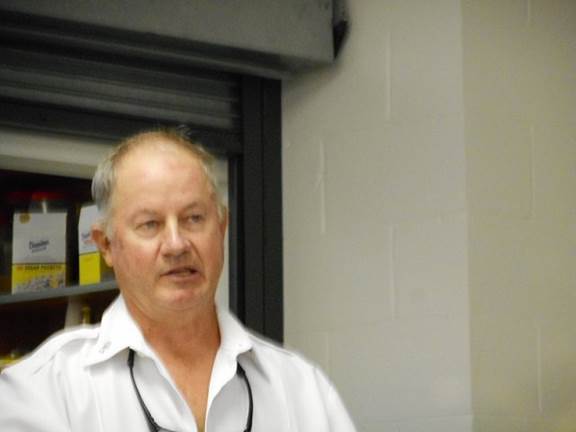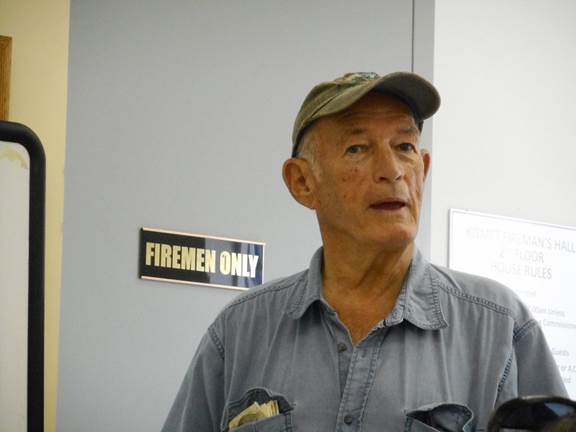 (Karl Dahl has the best, largely unprintable stories of Bobby – worth a sit down)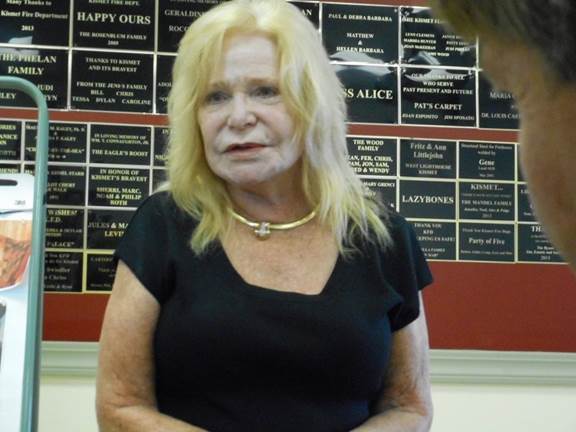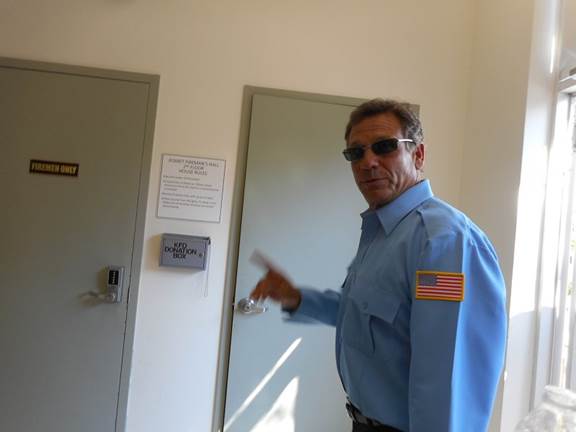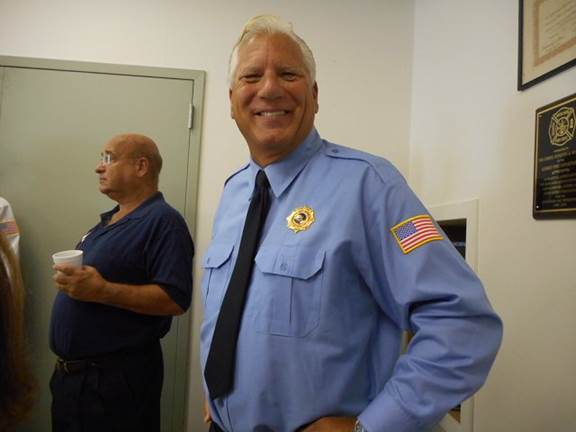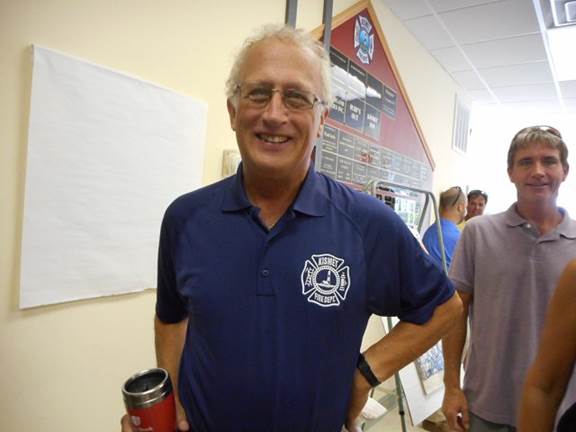 "He was a guy's guy and the love of his life was his daughter Shannon, her husband Joe and his three grandchildren. It was a perfect ceremony bringing laughs as well as the sentiment"
 Larry Cole