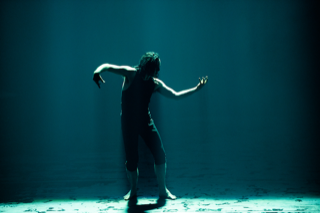 Alan Cumming in Burn at the Joyce Theater
Photograph: Tommy Ga-Ken Wan

Burn

By Deirdre Donovan

Thunder, lightning, and torrential rain on stage meet the audience in the opening scene of Burn at the Joyce Theater. Starring Alan Cumming, this solo dance-theater piece draws on the life and legacy of the 18th century poet-lyricist Robert Burns, who is widely regarded as the national bard of Scotland.

Created by Cumming and choreographer Steven Hoggett (Harry Potter and the Cursed Child, Angels in America), and featuring the music of contemporary musician and composer Anna Meredith, Burn doesn't conjure up your traditional portrait of the Scottish national hero. This work delves into the letters of the poet for a raw depiction of his seldom-explored inner life.

Burn had its premiere at the Edinburgh International Festival this past August, and this 60-minute piece apparently has seasoned well as it crossed the Atlantic. Cumming, who is making his Joyce Theater debut with this work, looks utterly at ease on stage, and the production itself is a well-oiled machine.

We first see the 57 year-old Cumming in silhouette against Ana Inés Jabares-Pita's bleak and monochrome set. Tim Lutkin's back lighting effectively outlines Cumming's physique, his trim body and bulging biceps giving him the appearance of a man decades younger.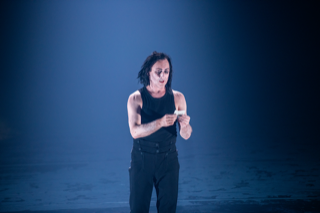 Alan Cumming in Burn at the Joyce Theater
Photograph: Tommy Ga-Ken Wan

Cumming, who is well-known for his unforgettable portrayals of the emcee in Cabaret and Dionysus in The Bacchae, is placing himself in unfamiliar territory with this dance-focused show. But, wisely, Cumming doesn't try to pull off any fancy dance pyrotechnics on stage. He simply fits words with gestures and movements, and let's their subtle magic work. His arms sometimes swoop and sway; his body moves in rhythm to a spoken verse. Indeed, the most athletic moment in the show is when he breaks into a Highland dance for the well-heeled in Edinburgh, with Meredith's buoyant music for "Nautilus" playing in the background.

But, most importantly, Cumming anchors himself as storyteller here. Billed as dance, Burn is actually dominated by Cumming's recitations of selected letters from Burns' archives. Cumming, in effect, is more raconteur than dancer in this hybrid show. True, that might get some dance enthusiasts nose out of joint. But if you are a Cumming's fan (and who isn't?), the emphasis on words rightly dovetails with the show's highlighting of Burns' letters.

No, this is not a cradle-to-grave depiction of Burns' life. But it does give one an accurate and non-sentimental portrait of the great poet. Or as Cumming, as Burns, pointedly says five minutes in:

"You have doubtless heard my story, heard it with all its exaggerations. But I shall just beg a leisure moment of you until I tell my own story my own way."

Cumming certainly does tell the story of Burns in his own way in this piece. This is no "biscuit-tin" portrait of the national bard of Scotland. It shows the artist, warts and all.

The spine of the work is evident in its outlining of Burns as an earthy man, a ploughman from Ayrshire, who wrote verses in his idle time between farm chores. Lady Luck, of course, smiled upon Burns. Although he would continue to have hardships and heartbreaks in his life, Burns would go on to have his poetry and lyrics published, and his fame grow.



Alan Cumming in Burn at the Joyce Theater
Photograph: Tommy Ga-Ken Wan

Burn gets better as it goes along. And its use of synecdoche is one of its master strokes. Indeed, all the women of Burns' life are represented by shoes, which hang from the flies. Burns addresses each, in turn, as a surviving relic of a dalliance, a failed love affair, or conjugal partner. Burns was an admirer of the fair sex. But, as gleaned from his letters, he was far from a faithful lover.

Burn is a run-through of Burns' life that clocks in at one hour, and leaves you wanting more.

Cumming succeeds in Burn by incorporating the multiple disciplines of drama, poetry, music, and a hint of dance, to sensitively illuminate Scotland's most famous son. And, inspired by Burns' letters that often show him in his darker moods, we see the artist in a more realistic light than is traditionally rendered. In short, Cumming's study of Burns takes the poet off his pedestal and infuses him with humanity.

Near the show's end, Cumming recites a line from one of Burns' letters that may well unlock the secret to the bard's huge success:

"And still my motto is: I dare." Simple but powerful words indeed. And they equally could refer to Cumming as well.

For the finale, Cumming sat down on the lip of the stage and recited "Auld Lang Syne." It was both a tribute to Burns who created the verse and Cumming's own way of meaningfully connecting to the audience in the here and now.

Yes, the Scottish-born Cumming breaks new ground with Burn. And, if it's a stretch to call him a dancer, he clearly proves in his new show that he's a consummate artist who is ever-attempting to redefine his art and the cultural landscape.

Five performances only. September 20th - 25th.
At the Joyce Theater, 175 Eighth Avenue at West 19th Street.
For information on future shows at the Joyce, visit www.Joyce.org.
Running time: one hour with no intermission.