Burn This
                           By Ron Cohen
Burn This, Lanford Wilson's 1987 improbable, meandering love story, is given an expertly calibrated revival under the direction of Michael Mayer. The show is an unquestionable showcase for two actors who can generate romantic heat burning through personality clash, and Mayer's starry duo at the top of his excellent cast, Adam Driver and Keri Russell, do exactly that – wonderfully.  Mayer, Driver and Russell make every moment count, even if they can't completely overcome the more than a hint of rom-com staginess that pervades the proceedings.
The two also get top-line support from Brandon Uranowitz and David Furr as two other men brought into the script, and it's all embedded in the kind of sleek production that fairly shouts, this is Broadway, folks!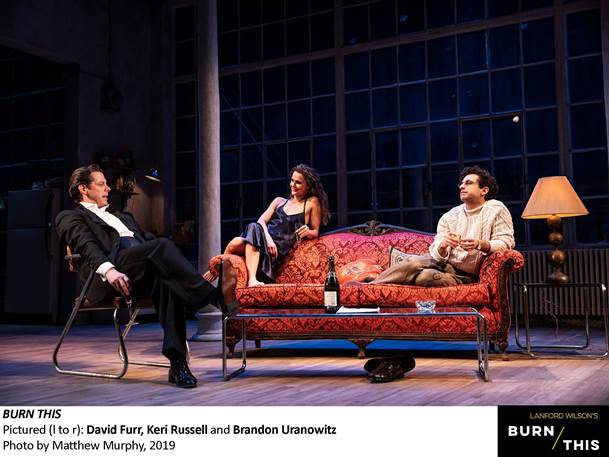 The play is set is one of those vast fairy-tale lofts that exist only in the minds of playwrights, set designers and folks with millions of dollars stashed in foreign bank accounts who want a somewhat rougher edge for their Gotham pied-a-terre. Derek McLane designed it, and its awash by lighting designer Natasha Katz in the varying shades of blue coming in from the cityscape seen through the back wall of windows.
The loft is inhabited by Anna (Russell), a woman of obviously well-to-do means and protected life. "She's never had to carry her passport or plane tickets" we're informed at one point. The smart wardrobe provided her by Clint Ramos is another clue, especially a sumptuous New Year's Eve formal gown.
Anna's also a modern dancer now moving into choreography. She has two gay male roommates: Robbie, a brilliant young dancer, a soul mate, that she has been creating dance with and for; and Larry (Brandon Uranowitz), a tart-tonged ad executive.
Things start with a jolt to Anna's life. Robbie and his lover Dom have been killed in a boating accident, hauling their stuff home in a motor boat after an island vacation. Anna and Larry have been to Robbie's funeral, where Robbie's distinctly lower-class family mistook the deeply grieving Anna for his lover and cajoled her into staying on for the wake, not a good experience either.
Now, Anna is back at the loft, and Burton (David Furr), her long-time sort of boyfriend just returned from a trip to Northern Canada, has come to quickly console her. Burton is a very rich Hollywood screenwriter. In addition to the big fees he receives for first drafts, he was, as we're told, "born rich." Larry adds to the conversation, having arrived from grocery shopping. They talk some more, Burton bids adieu, Larry tells Anna amusingly about the problems he's having in designing an international Christmas card for a client, Chrysler Corp., Anna fills in Larry on the horrors of the wake, expressing her anger at Robbie's family, in that they never let her tell them about the real Robbie, his dancing.
"Dammit, they wouldn't leave me alone. I didn't even have a damn minute to say goodbye," she says. "I'll never forgive those bastards for that."
Then, the stage is pitched into darkness, we hear some banging on a door, and you may quickly realize that all the grief about Robbie and the rest of the other sometimes jaunty dialogue have been just prelude to the main course.
Some time has apparently passed (Wilson is sketchy about time shifts in this play.) And the door-banging announces the arrival of Jimmy, but better known as Pale because of his drinking preference for VSOP, Very Special Old Pale. Once let in by Anna, attractively adorned in a Hapi Coat, barely covering her short night shirt, Pale explodes with an extended harangue on the difficulty of finding a parking space, and the overall condition of the neighborhood – 'You could lose a Toyota some of those potholes."
Pale is Robbie's older brother; he has come to pick up Robbie's things. Anna has been leaving messages for him at various spots, and that's another thing he hates. "I don't like little pieces of paper. You put them in your pocket, you got six or eight little pieces of paper stuffed all over you."
And he's got plenty more to yell about, but the magnetism between Russell's Anna and Driver's Pale is almost immediately palpable. Or does it just seem that way, because we know where it's all going?
At any rate, there's plenty more to get through: Pale's New Year's Eve visit to Anna's loft, including a physical confrontation with Burton and another amorous tryst with Anna; New Year's morning, with Anna realizing this thing with Pale can't go on. Then, the final, tender moment of connecting again. It's the night of Anna's premier as a choreographer.  Larry acting as a Cupid has sent Pale a ticket, with an admonition that he burn the message. (Aha! You see where the play's title come from.)
Anna's dance has touched something in Pale.  He saw Robbie in it. He saw Annie and himself in it. "Only we ain't ever danced." And they collapse into a moment of blissful tenderness, both admitting, not very convincingly, that this isn't what they want. But it is what they're getting, and it's obvious they're giving themselves up to it.
Yes, you can almost hear the rom-com wheels creaking away. But barely. That's because the performances of Russell and Driver are so rewarding. And the play is most vibrantly alive, when Driver is on stage. He's a dynamic actor, funny, dangerous and magnetic, yet sharing the stage generously with Russell's lower-key Anna.
And with all the combustive foul-mouthed haranguing, the sensitive, conflicted soul within Pale – a hardworking restaurant manager, irretrievably separated from his wife and two kids – is made appealingly evident. At this point in his career, Driver hardly needs the validation of a Broadway triumph. His appearances on the Girls TV series and in the Star War movies have won him legions of fans
among the young, while his roles such as his Academy Award-nominated turn in Spike Lee's BlacKkKlansman, have won him admirers among those drawn to more serious fare.
Russell, too, is awash in plaudits and credits, including a long list of film roles and three Emmy Award nominations for her six seasons on the FX series The Americans.
Lanford Wilson, who died in 2011, was one of the leading playwrights of his generation. He created such memorable works as The Hot L Baltimore, Fifth of July, and the Pulitzer Prize winning Talley's Folly. It's a gratifying experience to see Driver and Russell bringing validity as well as marquee glamour to this sensitively, sometimes flashily written but not always convincing work by this American master. 
the Hudson Theatre
141 West 44th Street
855 801 5876
thehudsonbroadway.com
Playing until July 14