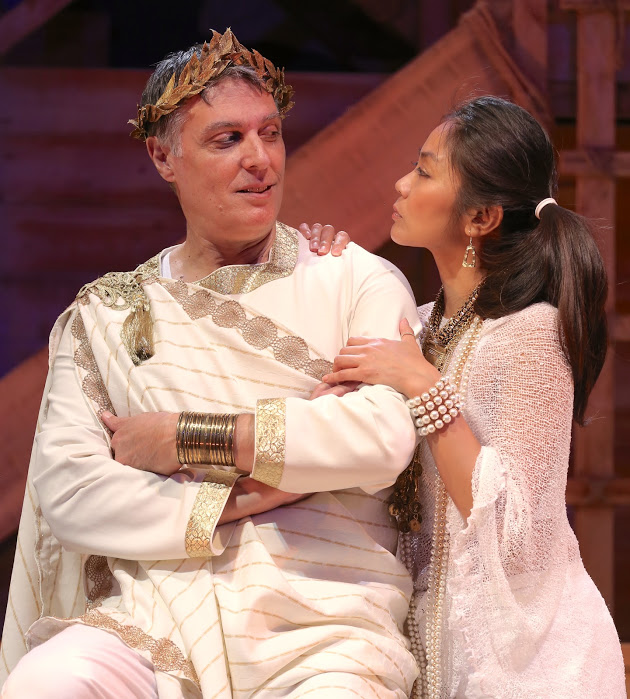 Robert Cuccioli and Teresa Avia Lim photos by Carol Rosegg
Caesar and Cleopatra
By Ron Cohen
A Shaw classic get a classy revival
The romantic comedy embedded in Caesar and Cleopatra, George Bernard Shaw's fictionalized treatise on a slice of the tangled history between Rome and Egypt, takes front and center in this bright revival by Gingold Theatrical Group.
Dating back to 1899, the play details how the aging but hardly aged Roman leader, the wise and humanistic Julius Caesar (here played with a great mix of panache and gravitas by Robert Cuccioli), teaches and molds the teenage Cleopatra (a winsome and winning Teresa Avia Lim) into taking her place as the regal queen of Egypt. He coaches her how to hold herself, address her subjects and her enemies, contain her wilder impulses and most importantly, how to believe in herself.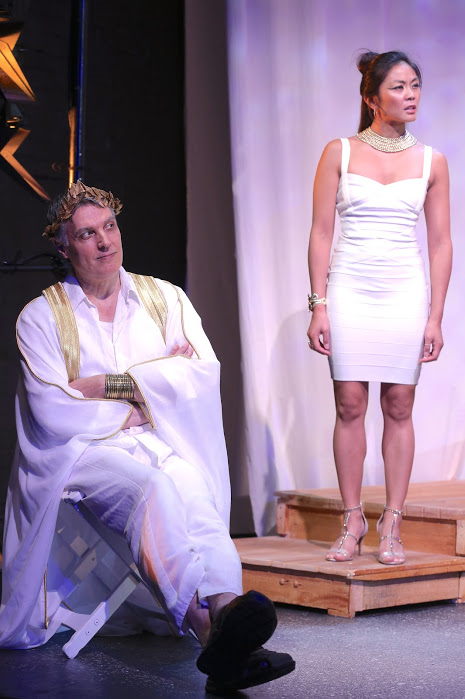 Yes, in its brilliant male teacher-unique female student nexus, it may remind you of Shaw's Pygmalion, much better known in large part due to its musical adaptation into My Fair Lady.
Caesar and Cleopatra, however, has its own distinctive flavor, weaving historical detail, a touch of epic adventure and lots of trenchant moralizing into its rich tapestry. It's a play in which Caesar makes such ultra-pertinent observations as: "There's the eternal war between those who are in the world for what they can get out of it and those who are in the world to make it a better place for everybody to live in.'
And it all moves briskly through a swift two hours or so (including intermission) in this tight and generally tidy adaptation by director David Staller. Staller is artistic director of Gingold Theatrical, a 14-year-old company, dedicated to presenting readings, discussions and productions of the works of Shaw and his contemporaries, and Staller's affection for and intimacy with the canon is a tangible asset of this production.
Some of the descriptions of political intrigue and military strategizing do become a bit of jumble, but they're depicted with such enthralling energy by the talented cast of seven, they may well convince you that you know what's going on.
Providing the effervescence that makes this production particularly bubble, though, is the interplay between its two titular characters. It's not a May-September affair, to be sure, but it's not exactly asexual either. There is a definite chemistry between these two, the witty and woman-loving Caesar and the impetuous Cleopatra, who feels no compunction about wildly embracing Caesar when he says something that delights her. Deeper desire almost boils over in the long kiss that Caesar bestows on Cleopatra's forehead at their final parting. And it's all wonderfully played out in the performances of Cuccioli and Lim.
There is, of course, a third party – unseen but definitely there – turning this situation into a triangle as well. That's Marc Antony, the handsome warrior whose image remains indelibly and erotically fixed in Cleopatra's memory. He came to Egypt once when Cleopatra was still younger and his return now is promised by Caesar.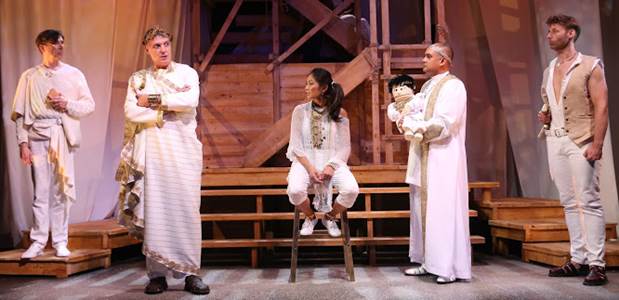 Jonathan Hadley, Robert Cuccioli, Teresa Avia Lim, Rajesh Bose, and Jeff Applegate
Meanwhile, various other characters fill out the proceedings admirably.
Ftatateeta, Cleopatra's dedicated nursemaid, is given a vivacious embodiment by Brenda Braxton. And in this version, she also serves as the play's narrator, smartly setting the story's shifting locales.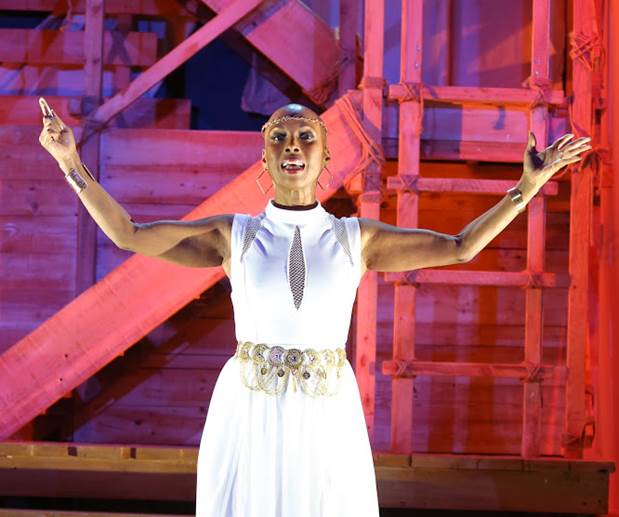 Brenda Braxton
Caesar's two close military aides, the rugged Rufio and the very proper Englishman Britannus, are brought vividly to life by Jeff Applegate and Jonathan Hadley, while Dan Domingues adds more than a touch of exuberance as Appolodorus, the dashing carpet merchant from Sicily.
Finally, handling much of the plot's political chicanery is Ponthius, the shrewd caretaker of Ptolemy, Cleopatra's despised younger brother. Not only must she share the throne with Ptolemy, he's also her husband. As Ponthius explains, "the kings and queens of Egypt may not marry except with their own royal blood."
Rajesh Bose delivers a persuasive rendering as Ponthius, and in one of director Staller's more meta-theatrical touches, Bose manipulates the ventriloquist dummy who portrays Ptolemy. Believe it or not, it's a conceit that works.
Staller's staging also makes effective use of the fairly limited space provided by the theater's stage, dominated in Brian Prather's set design by a large wooden scaffold-like structure, giving the actors a multitude of stairways to climb along with exits and entrances. Actors also on occasion come on stage or leave through the audience.
A touch of glamour is provided the silky white fabric draping the rear of the set. it's a color motif also dominating Tracy Christensen's costumes, which have a basic timeless look, almost resembling smart resort clothes, but with the addition of a few pieces, such as a cape or crown, take on a more specific feel.
As the play reaches its conclusion, Cleopatra may not yet have become the imperious temptress of legend, but you'll feel that she's well on her way to becoming her. At the same time, you should be sure that the production has well validated Shaw's dramatic genius, both to entertain and instruct.
Review posted September 2019
Off-Broadway play
Playing at Theater Row
410 West 42nd Street
212-239-6200
Telecharge.com
Playing until October 12