Phillipa Soo and Andrew Burnap (Photo: Joan Marcus)
.
Photo:Joan Marcus
Camelot
By Deirdre Donovan
Lerner and Loewe's problematic musical Camelot from 1960 is revived on Broadway with a new book by Aaron Sorkin.  Directed by Bartlett Sher, it mostly succeeds with its attractive cast and able creative team.  But the ghosts of the original Broadway cast--Richard Burton, Robert Goulet, and Julie Andrews--seem to be hovering in the wings at the Vivian Beaumont, making it a tough go for the current principals to have their own brief shining moments on stage.
Based on T. H. White's The Once and Future King, Camelot is a romantic tragedy about two men –King Arthur (Andrew Burnap) and Sir Lancelot du Lac (Jordan Donica) -- who have a deep affection for each other and love the same woman, Guenevere (Phillipa Soo), sharing her until their love triangle is discovered and Arthur exposed as a cuckold to his kingdom. 
Sorkin's take on Camelot is more than a love story gone wrong, however. It also becomes a search for democracy, a toiling after justice, and ultimately a cautionary tale about three idealistic but imperfect human beings whose tarnished lives often makes a lump arise in the throat of musical theater lovers.
Noses have long been thumbed at Lerner's weak book for Camelot.  Although its first act is structurally sound, it has a breach of style in the second act, with an ill-conceived subplot that has Arthur's bastard-child Mordred (Taylor Trensch) maliciously devising a plan to get Arthur to visit his sorceress mother, Morgan Le Fey (Marilee Talkington).  In his absence, Guenevere and Lancelot succumb to temptation at the palace and fall into each other's arms. 
Sorkin's new book might not resolve all the problems of this structurally challenged musical, but he does manage to accomplish two things:  He jettisons magic from Camelot to good effect, and he expands upon the idea of democracy and equality.  The upshot is that Arthur seems much more human and less a myth from the Middle Ages. This is best driven home when Guenevere explains to Arthur that the reason he was able to pull the sword out of the stone is that it had been loosened by so many other king-wannabes before him.
Michael Yeargan's enchanting set and Lap Chi Chu's romantic lighting can't make up for the rough patches in the narrative, but it does provide a misty mythological backdrop to the tale.  The musical, in fact, is a sumptuous feast for the eyes.  And one doesn't have to wait for the first scene of Act I to enjoy it.  The audience can watch a ballet of simulated snowflakes falling through the sky of Camelot leading up to the opening scene.
The production has some of the best costumes of the season, contributed by Jennifer Moeller.  These costumes are laudable because they have character and are organic to the musical instead of being mere display goods for the performers to wear on their bodies.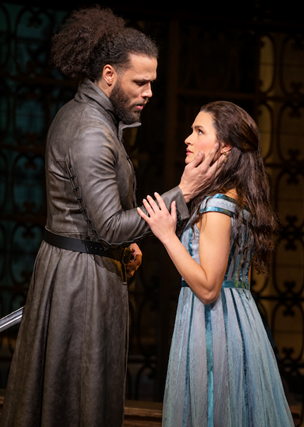 Jordan Donica and Phillipa Soo (Photo: Joan Marcus)
Since the principals are involved in a menage a trois, they clearly have been chosen with an eye to their looks. There's Burnap, playing Arthur with suitable idealism.  Even though he does look young compared to his famous Broadway predecessor, he has strong musical chops and elicits chuckles from the audience early on with his first song, "I Wonder What the King is Doing Tonight?"  Phillipa Soo is well-cast as Guenevere, and vocally she's on the money with her rendering of "The Simple Joys of Maidenhood" and "The Lusty Month of May," her delicate soprano casting a spell over all.  Jordan Donica inhabits Lancelot with a passionate fervor, belting out "C'est Moi" with the robustness of a rooster at dawn, his rich baritone voice undoubtedly heard by all, whether they are sitting in the first row of the orchestra or last row in the balcony.  The rest of the large cast acquit themselves well, delivering the dramatic goods without upstaging the principals.
The musical's connection to the late President John F. Kennedy can't be overlooked.  In fact, in Lerner's reprinted essay "The Street Where I Live" in Lincoln Center's Theater Review (Spring 2023), he remembers that Theodore H. White went to Hyannisport the week after President Kennedy's assassination to interview his widow Jackie for Life magazine.  She shared that her husband had a love for the musical Camelot, especially the lines: "Don't let it be forgot, / That once there was a spot, / For one brief shining moment / That was known as Camelot."  Indeed, this recollection of Jackie Kennedy touched the hearts of many in the dark days following Kennedy's death—and underscored the power of Lerner and Loewe's 1960 musical.
Jordan Donica (Photo: Joan Marcus) 
It's difficult to point to any one scene from this production as the "best," but a couple are particularly riveting.  There's the opening scene when the French princess Guenevere attempts to escape her fate as Arthur's politically-arranged bride by secretly disembarking from her carriage, only to meet Arthur in the field and discover that he actually is quite a charismatic king.  If this episode is warm and inviting, the scene when Guenevere and Lancelot are caught in the act of adultery is utterly bone-chilling—and abruptly changes the musical comedy into a tragedy.
This overhaul of Camelot won't please everybody.  But for those theatergoers who yearn to see a show that has enchanting music, a gorgeous set, visually stunning projections (by 59 Productions), and actors worth their salt, this revival is worth a visit.
Camelot
At Lincoln Center's Vivian Beaumont Theater,
150 West 65th Street.
Tickets $49-298
Tuesdays and Thursdays at 7pm; Wednesdays, Fridays, Saturdays at 8pm; Wednesdays and Saturdays at 2pm; Sundays at 3pm
For more information, visit https://camelotbway.com/
Running time: 2 hours; 55 minutes with intermission.