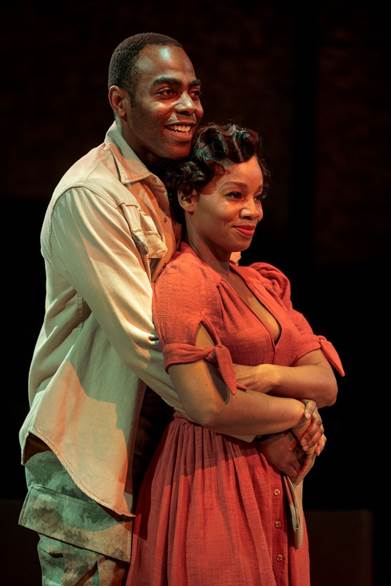 Clifton Duncan, Anika Noni Rose. Photos by Joan Marcus
                                    By Marc Miller
If you think Oscar Hammerstein II was all about raindrops on roses and larks learning to pray, do you ever have a surprise in store. That the great librettist-lyricist was no milquetoast is borne out. rousingly by Classic Stage Company's revival of Carmen Jones, Hammerstein's resetting of Carmen, a 1943 hit notable for a) plunking Bizet down in the middle of wartime America, b) giving underemployed African-American opera singers a welcome 503-performance gig, and c) proving that Oscar could write sexy, violent, and funny.
Consider: Carmen (Anika Noni Rose), now a sassy, unruly worker in a parachute factory. She's poured into a tight red dress (and later a tighter, redder, lower-cut one—Ann Hould-Ward did the provocative costumes), willfully drawn to flying school candidate Joe (Clifton Duncan), and musing on the effects of love, to the tune of the "Habanera": "One man gimme his diamond stud/ And I won't give him a cigarette,/ One man treats me like I was mud/ And all I got, that man can get." And this is the guy who wrote "Climb Ev'ry Mountain"! Carmen Jones is, maybe even more than the source material, about sex and the destruction it can leave in its wake. It's frank about it. And it's a hot show.
Hammerstein's parallels with and differentiations from the Henri Meilhac-Ludovic Halevy adaptation of the Prosper Merimee novella are fun and surprising. Escamillo, the toreador who pursues and eventually wins Carmen, is now—you'll love this—prizefighter Husky Miller (David Aron Damane), six-feet-something of pure testosterone with a resonant baritone, and the Toreador Song now ends, "Until you hear that bell, that final bell, stand up and fight like hell."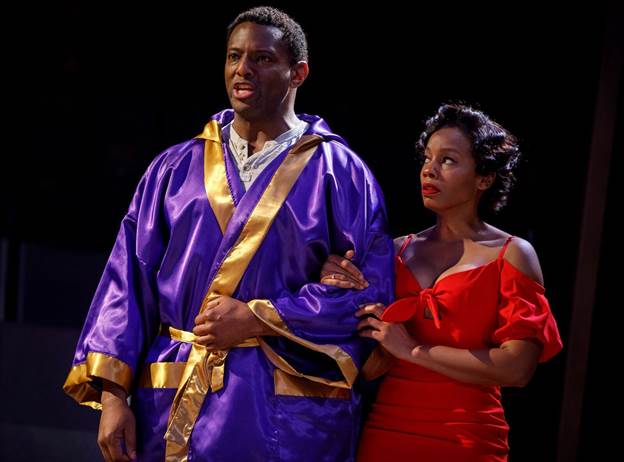 David Aron Damane, Anika Noni Rose
The quintet for Carmen's friends, a generalized thing in the original with her gypsy pals going on and on about what fun-loving scamps they are, is now "Whizzin' Away Along De Track," where they're urging Carmen, on Husky's orders, to travel with them to Chicago—more plot-specific, it forwards the action, and it's hilarious.
Lindsay Roberts
"Micaela's Air," with Jose's innocent ex-girlfriend singing, essentially, "I'm scared," becomes "My Joe," with Cindy Lou (Lindsay Roberts, excellent) lamenting how Carmen has robbed her of her happy existence. And Hammerstein's libretto, probably trimmed down here, is tart and snappy. "I don't waste my time," barks Sergeant Brown (Tramell Tillman), Joe's randy superior, chatting up Carmen. "You wastin' your time now," she purrs back.
The language is a bit problematic: lots of "deses," "doses," "I'ses," and such. Hammerstein liked to write phonetically for his characters, whatever their race—check out his Oklahoma! libretto, chock-full of spellings like "wimmern" for "women"—but these do read as condescending in this age, and they easily could have been fixed. Director John Doyle elected not to, and he's made some other curious choices. No overt Doyle-isms, no actors-with-instruments stuff—the fine six-piece orchestra, playing Joseph Joubert's expertly stripped-down orchestrations, is safely above the stage—but you'll stop counting the number of times Doyle just arranges the actors in a straight line, facing out. The staging's on the stiff side, and the choreography, by Bill T. Jones—Bill T. Jones!—is skimpy, though he's come up with a hell of a seduction dance for Carmen. But it's a welcome conceit to have this cast frequently sidle up the steps into the audience, where we can more directly hear how beautifully they're singing.
This may be the best vocal ensemble on a New York stage right now, and Dan Moses Schreier's sound design, while it amplifies them, keeps the sound clear and natural. The "Beat Out Dat Rhythm on a Drum" of Frankie (Soara-Joye Ross), even without an actual drum, raises the CSC roof, and Duncan, while he has to resort to head voice on some high notes, has just the timbre for desperate, besotted Joe. It is 10 people, so there's a lot of double- and triple-casting, and the children's chorus is, of course, gone. But what wonderful sounds everyone makes.
The characters aren't multidimensional or complex, but then, were they when Carmen was a grand opera? What's impressive is how every writer from Merimee to Hammerstein treated the title character. Carmen Jones is, as Joe correctly assesses her just before stabbing, a bitch, but she's also free-spirited, assertive, and smart, a self-sufficient female in a society that doesn't know what to do with one. Rose, in sultry voice and form, gives us a Carmen who enjoys the havoc she creates, and, receiving an ill omen in a fortune-telling moment ("De Cards Don't Lie"), is philosophical and life-affirming about it: "While I can fly around, I'll do my flying high/ I'm gonna keep on living up to the day I die." She's a terror, but a voluptuous, exciting terror.
The plot's basic, but the emotions are deep, and the singing's gorgeous. A couple of brief City Center revivals and one Musicals in Mufti aside, this is the first Carmen Jones New York has seen since 1945. While it lacks the resources of a full-size, all-out staging (the original was also praised for its lighting scheme, with every scene bathed in one filtered color, which gave Joshua Logan his disastrous concept for filming South Pacific), it works just fine in this smaller rendering. The action's closer to us, and so's the splendid vocalizing, and so's the heat.
Through July 29, 2018
At Classic Stage Co., 136 E. 13th St., Manhattan.
For tickets, visit classicstage.org or call (212) 352-3101 or (866) 811-4111
Running time: 1 hour 40 minutes with no intermission.