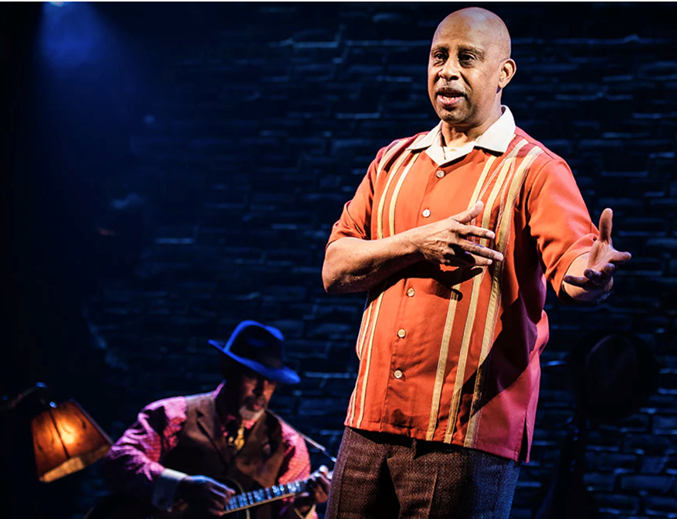 Junior Mack and Ruben Santiago-Hudson. Photo by Marc J. Franklin
Reviewed by Julia Polinsky
Caroline, or Change and Lackawanna Blues. Two shows with music about strong Black women; one with all the Broadway razzle dazzle you could desire; one with all the heart you can use.
Lackawanna Blues is the simpler, cleaner, sweeter of the two. Ruben Santiago-Hudson tells the story – literally, stands on stage and spins tales -- about Miss Rachel, also known as Nanny, the proprietor of a boarding house in Lackawanna, NY, in 1956. To hear him tell it, she is the embodiment of compassion, doling out advice, Everything Soup, and shelter to a group of people who sometimes fall through the cracks; crazies and criminals and just-trying-to-make-ends-meet people. He describes her, memorably, as tough and generous – and like the government, if it really worked.
The simplicity of the show, in Michael Carnahan's spare design, is elegant in its way: two performers (Junior Mack plays gorgeous acoustic Blues guitar throughout), a couple of chairs, some perfect light (Jen Schriever), a terrific brick-and-window backdrop; a harmonica – Santiago-Hudson wails on it from time to time, when words are not enough. The story, and the love, come through with no more set dressing and theater tricks than that.
Junior Mack and Ruben Santiago-Hudson. Photo by Marc J. Franklin
Santiago-Hudson embodies the characters as he tells their stories. His magical talent for becoming someone else gets full rein in the 20+ people he plays, from the one-legged man to the abused mother, the little boy to Nanny herself, the drunk, the gambler, the ex-asylum inmate with his uncontrolled tongue: all these, and more, come vibrantly to life when Santiago-Hudson weaves their stories into Nanny's tapestry.
All things end; Santiago-Hudson's loving celebration of Nanny's life ends with her death. More than one person in the audience wept, for the beauty, respect, and love he brought to life in Lackawanna Blues.
---
A couple of blocks uptown and a world away, at Studio 54, the Roundabout Theater Company has mounted a revival of Caroline or Change, a superb evening of musical theater about a strong Black woman. A star turn by the star that redefines how good a performance can be. A cast that knocks everything out of the park. Magnificent set and costume design. But no heart.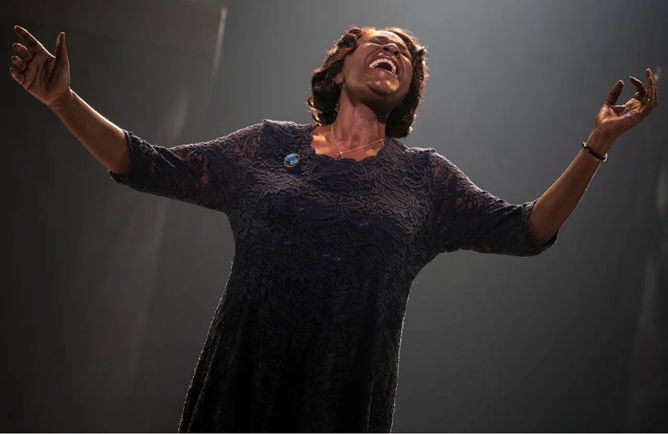 Sharon D. Clarke as Caroline. (Photo: Joan Marcus)
Caroline (the extraordinary Sharon D. Clarke) is the Black maid for a Jewish family – father, son, stepmother -- in Lake Charles, Louisiana, in 1963. The change of the title is both the impending change in American society, and the coins in the laundry that the manipulative stepmother Rose (Cassie Levy, so, so good) uses to bribe to Caroline and a punish stepson Noah (Adam Makke), who "carelessly" leaves change in his pockets. Caroline, humiliated, takes the money for her own family, her young sons Joe and Jackie, (Jayden Theophile and Alexander Bello) and her daughter, Emmie (Samantha Williams).
At a Hanukkah celebration, Noah's step-grandpa (Chip Zien) gives him a $20 bill for Hanukkah gelt. Noah leaves that bill in his pocket, and Caroline keeps it; he wants it back, of course. They exchange shocking, bitter, unforgivable words. Caroline leaves, for several days; when she returns to work for the family, and Noah asks if they can be friends again someday, she replies, "Weren't never friends."
Company. (Photo: Joan Marcus)
Caroline or Change is visually stunning, with Fly Davis's two-level set and dynamite costumes; the ethereal Moon (N'Kenge), the bubbly Washing Machine (a superb Arica Johnson), and Radio (holy cow performances from Nasia Thomas, Nya, and Harper Miles), the warmly electrified Dryer and the ominous Bus (Kevin McAllister, smoldering and heavily moving, by turns). They are her only friends, it seems. Everyone else, even her kids? Weren't never friends.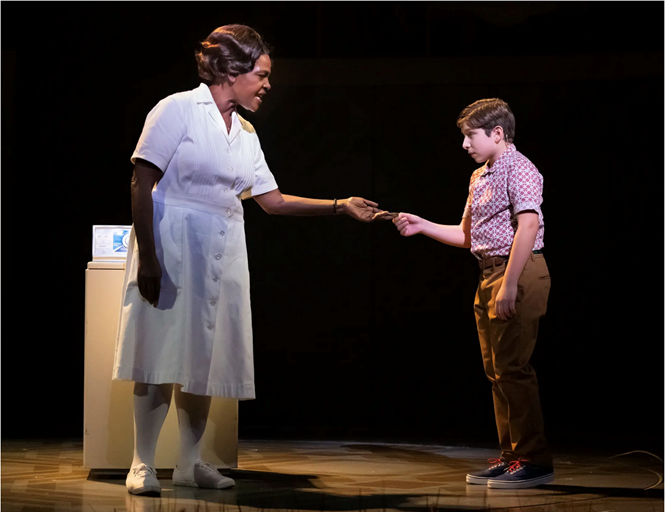 Sharon D. Clarke and Adam Makke (Photo: Joan Marcus)
Each member of the Gellman family, and everyone associated with them, copes with love and loss, but nobody's coping mechanism matches anyone else's need. The feckless Noah (Adam Makke in this performance); the remote father (John Cariani in a note-perfect performance) who copes by withdrawing to his clarinet; the iconic Wicked Stepmother, complete with bad-girl red hair: who you gonna root for, here? Certainly not the stone-faced Caroline. And that's a problem. Weren't never friends. Not with anyone.
Jeanine Tesori's complex, layered score works well in so many styles; there's 60s pop, Motown, R&B, klezmer, spiritual-inflected power anthem, among others. The show is almost sung through, more of an opera than a musical, so Tesori's prodigious talent gets to flex its wings. The complexity matches beautifully with Tony Kushner's semi-autobiographical book; Kushner digs into family relationships, race in America, grief, and hope for reconciliation among people who fundamentally weren't never friends.
Caroline, or Change channels rage, grief, guilt, and race, all wrapped up in the best performances and the finest professional razzle dazzle Broadway can offer. It's magnificent to watch and to listen to. But even at the peak of the show, when Caroline sings her rage, her sense of being trapped, her challenge to God to murder her: even then, the woman who describes herself as mean and tough and strong is all that, but not lovable. No heart.
Lackawanna Blues and Caroline, or Change: two shows, a few blocks apart, about strong Black women. One is all heart; one is not. Couldn't be more different; couldn't be more worth seeing.
Lackawanna Blues
Manhattan Theatre Club
Through November 12, 2021
Samuel J. Friedman Theatre
261 W. 47th St.
https://www.telecharge.com/Broadway/Lackawanna-Blues/Ticket?AID=BWY001349600&utm_source=show_site&utm_campaign=Lackawanna-BluesSS&utm_medium=web
Lackawanna highlights video
https://www.youtube.com/watch?v=y10jRrRIjc4&ab_channel=Theatrely
Caroline, or Change
Roundabout Theatre Company
Through January 9, 2022
At Studio 54
254 W. 54th St.
https://www.roundabouttheatre.org/get-tickets/2021-2022-season/caroline-or-change/performances
Caroline highlights video
https://www.youtube.com/watch?v=IJNVBYmEA5U&ab_channel=Theatrely