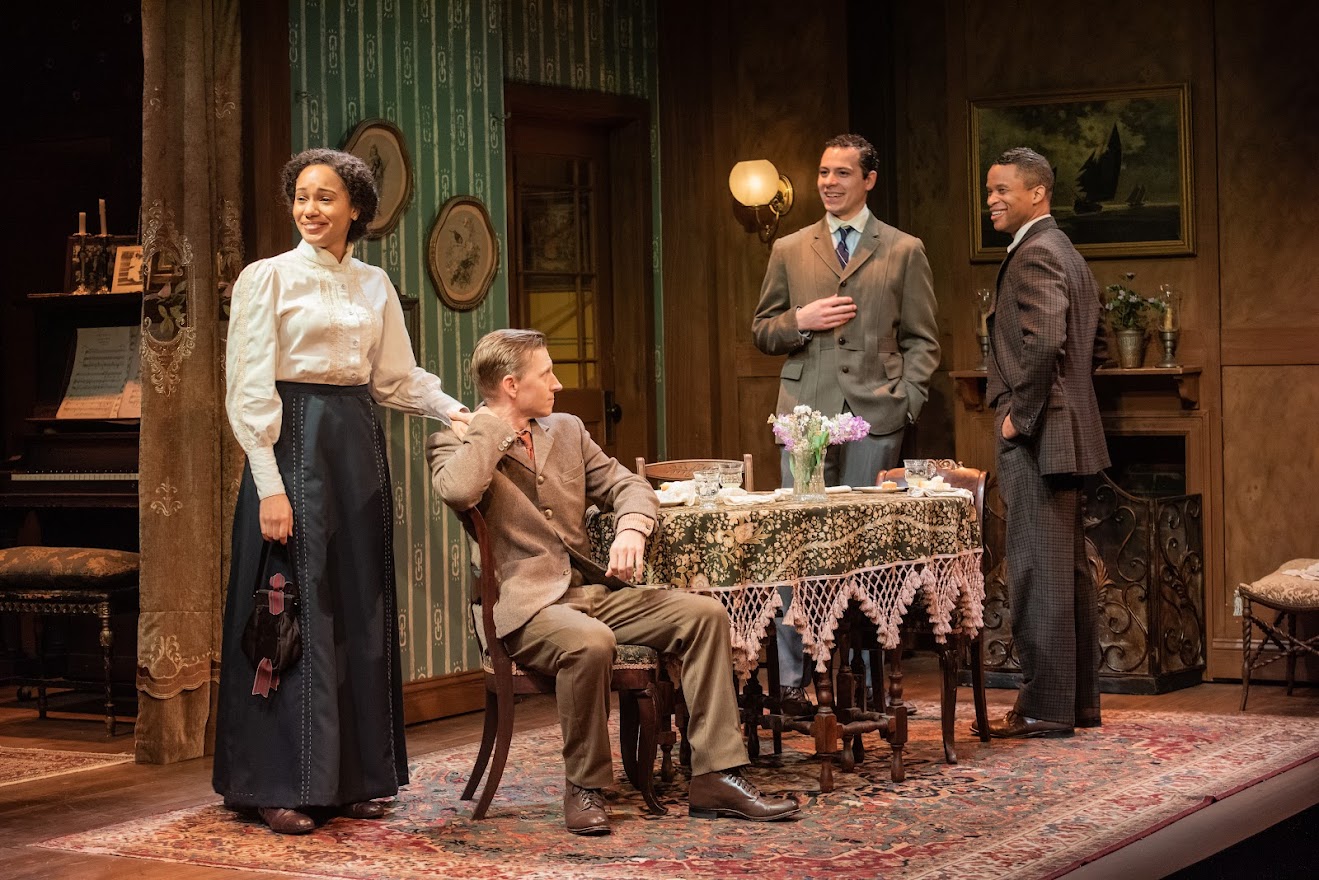 Laakan McHardy, Jeremy Beck, Avery Whitted and Peterson Townsend in a scene from Mint Theater's American Premiere of CHAINS by Elizabeth Baker, directed by Jenn Thompson. Photo credit: Todd Cerveris
Chains

by Marc Miller


Well, they've done it again. The Mint Theatre Company, dedicated to introducing contemporary audiences to worthy old plays they've never heard of by equally obscure writers, and recuperating from a bad spill with an incomprehensible effort by D.H. Lawrence a couple of months ago, has another winner on its hands.
Chains is likely unfamiliar to you, and so is its author, Elizabeth Baker (1876-1962). A British working-class miss, she became infatuated with the plays of George Bernard Shaw and Harley Granville-Barker in early adulthood, and resolved to try her hand at writing one of her own. She presented her first, a one-acter, to the Court Theatre, and was sufficiently encouraged by the response to expand it into a full-length evening. That became Chains, and its London premiere, in 1909, was a sensation. Baker kept writing plays but never had a comparable success; in fact, for years, while playwrighting, she held down a job as a stenographer-typist.
Judging from the Mint's production, it's easy to see why Chains was such a success: It speaks, plainly and clearly but with great verve and insight, to the longings and concerns of the lower middle classes of the day. We're in Hammersmith, a leafy, underwhelming London suburb, in the shabby-genteel home of Charley Wilson (Jeremy Beck). (John McDermott's set is admirably detailed, and a magical thing happens after intermission, when it swiftly turns into another home altogether.) Charley, a low-level clerk, struggles to pay the bills for him and his wife Lily (Laakan McHardy), and that extends to renting an upstairs room to a boarder, the polite, unassuming Freddy (Peterson Townsend). Freddy unexpectedly announces he's checking out, leaving his own low-level job and high-tailing it to Australia, with no prospects, to seek his fortune.
And this unleashes a surfeit of unspoken longings in Charley, longings with which many in the 1909 audiences must have identified, and many still may today. He's not particularly happy in his work; what if he just chucked it, threw what little security he has to the winds, headed out for parts unknown and tested facets within him he's not sure he has? Charley says it better than I can: "What's the good of sticking on here all our lives? Why shouldn't somebody risk something sometimes? We're all so jolly frightened—we've got no spunk—that's where the others get the hold over us—we slog on day after day and when they cut our wages, down we take it as meek as Moses."
The unrest Freddy's decision sparks in Charley frightens Lily, and is met with varied reactions by the other characters on the crowded stage. Charley's sister-in-law Maggie (Olivia Gilliatt), about to marry Walter (Ned Noyes), a wealthy, well-meaning widower she doesn't love for security's sake, cheers him on. But his in-laws (Anthony Cochrane and a scene-stealing Amelia White) are appalled, and Morton (Brian Owen), the Wilsons' good-natured, lazy neighbor, can't understand why one wouldn't want to accept one's lot in life and slog along. Will Charley, torn between rueful responsibility and unexplored inner desires, give in to the latter? The answer is not necessarily the one you'd expect, and Baker throws some deft plot contrivances in the way as she speeds to a satisfying, if bittersweet, curtain.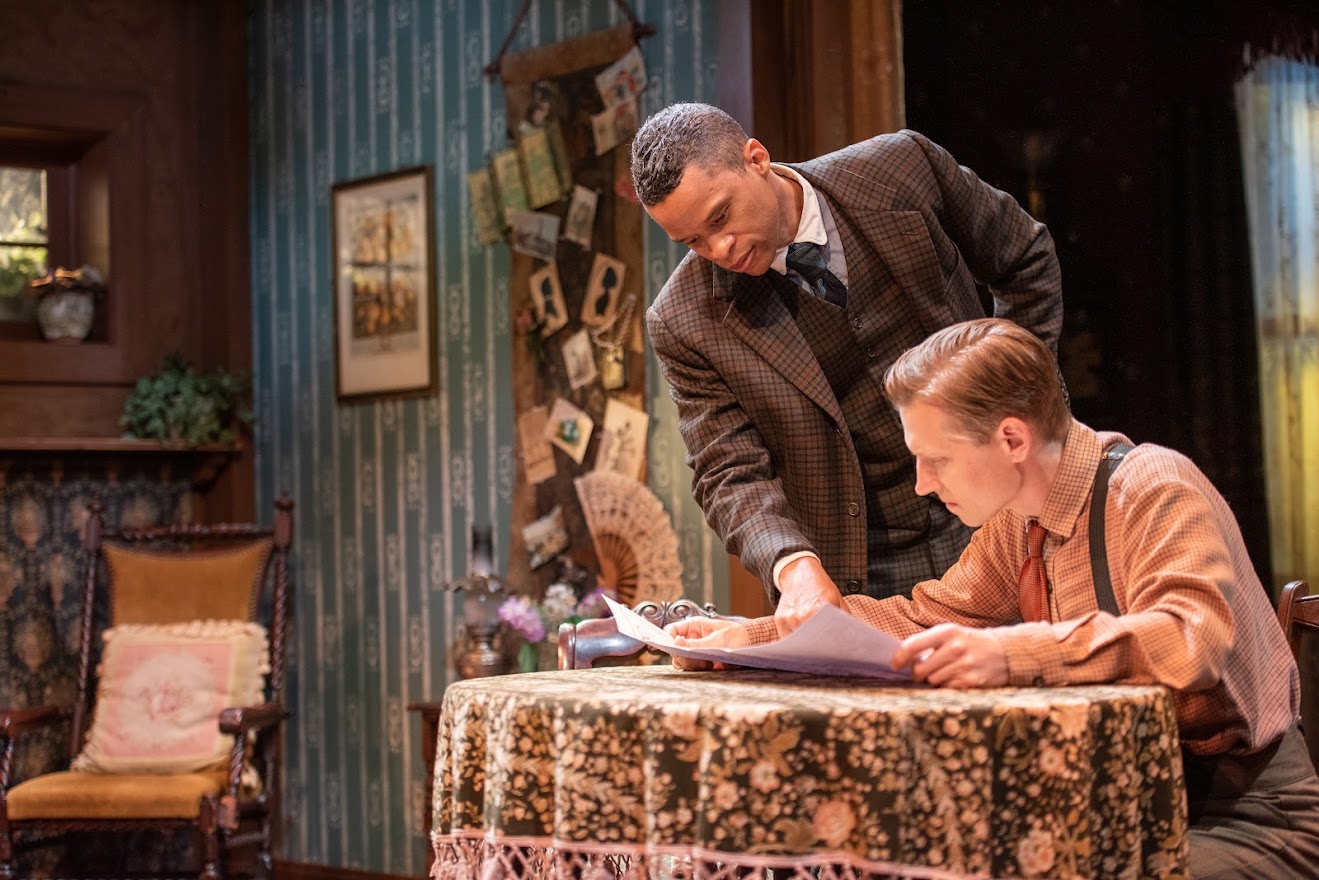 Peterson Townsend and Jeremy Beck in a scene from Mint Theater's American Premiere of CHAINS by Elizabeth Baker, directed by Jenn Thompson. Photo credit: Todd Cerveris
Jeremy Beck reads young for Charley, and doubtless read even younger two years and some months ago, when this entire identical cast was about to begin rehearsals and was felled by Covid. But he's brilliant, his restless body language and urgent line readings evoking an Everyman who feels trapped. McHardy feels a little pallid in contrast, but then, Lily is a less interesting part, a doting wife whose buttons are being pushed by emotions in her husband she wished he didn't have. Gilliatt gets Maggie exactly right, a spunky independent thinker frustrated by the limited choices society has assigned her, and Claire Saunders, Avery Whitted, and Christopher Gerson do well in smaller roles. Jenn Thompson's direction has a snap that makes a century-old-plus play feel brand new (she might encourage her cast to go a bit easier on the accents), and special mention must be made of David Toser's costumes, which speak as much about their wearers' stations in life as does Baker's text.
It's what we'd today call a well-made play, a realistic narrative that plays by the rules and evolves logically to a gratifying finish. Chains won't set the world on fire, it's too conventional, but goodness, how eloquently it expresses its characters' wants, and how expertly it mixes light comedy and persuasive working-class drama. Viewing this fine production, we can instantly see why a forgotten play thrilled its audiences back in the day, and thank the Mint once again for affording us the opportunity to discover another lost treasure.
Chains
Off-Broadway play
Playing at Theatre Row,
410 W. 42nd St.

minttheater.org/production-chains-2022
Playing through July 17, 2022
Running time: 2 hours 5 minutes