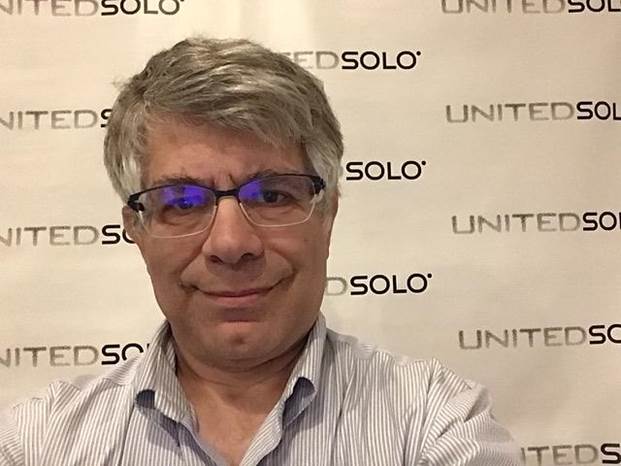 How I Found an Affordable Apartment on the Upper West Side of Manhattan without Really Trying
                                   by Deirdre Donovan
Charles Gross' new one-man play How I Found an Affordable Apartment on the Upper West Side of Manhattan without Really Trying is a delightful journey through the mind and heart of its author.  Written and performed by Gross, and presented as part of the United Solo Festival 2019, it is an autobiographical play that is as delicious as a fresh bagel with a schmear of cream cheese.
Directed by Miriam Liba Gross (Yes, she is the playwright's daughter!) with Leslie (Hoban) Blake as creative consultant, it served as the perfect antidote for theatergoers who have grown weary of watching ponderous plays that stretch on forever.
Based on Gross' book of the same title, it invites theatergoers to time-travel with the actor-playwright, on the cusp of his 30th birthday, and how he actually found living quarters in the Big Apple that fit his budget.  Nostalgia rules here.  Gross rewinds the decades back to pre-Giuliani Manhattan when crime was still up, Blockbuster video stores were still blinking their garish neon lights in the neighborhood, and reasonably priced apartments were rare as hen's teeth. 
Although the promotional blurb in the program describes his monologue as a "Spalding Gray-meets-Jerry Seinfeld take on life in little old New York in the 1990s," I would add that some of his jokes have a Neil Simon-esque flavor.  Take his opening line:  "I was born on a small island off the coast of New Jersey, more commonly known as Manhattan."  Indeed, Simon himself would approve.
A true raconteur, Gross neatly encapsulates his family's migration out of Manhattan, to Riverdale, and then on to Bergen County, New Jersey.  He good-naturedly adds that his childhood and young adulthood passed quite happily in the Garden State, thank you.  But his story gains more edge when Gross confides to the audience that on the cusp of his 30th birthday, he decided to move out of his parents' home in Englewood, New Jersey, and find an affordable apartment in Manhattan.
Gross painted a portrait of Gotham that smacked of reality, providing you not only  go with its socio-political backdrop but the hot spots of the day.   Or as Gross puts it:  "It was February 1990 when Clinton was Hell's Kitchen, Dumbo was an elephant, and CBGB was a club not a franchise." 
Gross didn't have immediate success.  But he did learn that no two rentals advertised were alike.  A sampling of his search?   The first apartment he described bordered on the absurd.  It was being leased by a "good doctor" for $750 on West 96th Street.  The problem, however, was that Gross wouldn't be able to set foot in it until after the doctor finished seeing patients at 8pm on weekdays.  Although the doctor pointed out that his examining table would make a good bed and had romantic possibilities (Don't ask!), Gross passed on the bargain, even though the doctor told him he could occupy his office on weekends round the clock.
Fortunately, the third listing on West 96th  Street proved to be just right.  Although I refuse to be a spoiler, Gross leveled with the audience at this point in the narrative, noting that the immediate appearance of an attractive young woman in the building's elevator enroute to the laundry room helped him to sign the lease.  He also confessed that after moving in, he unabashedly bought 6 months supply of laundry detergent and fabric softener.  Yes, his mother would be proud.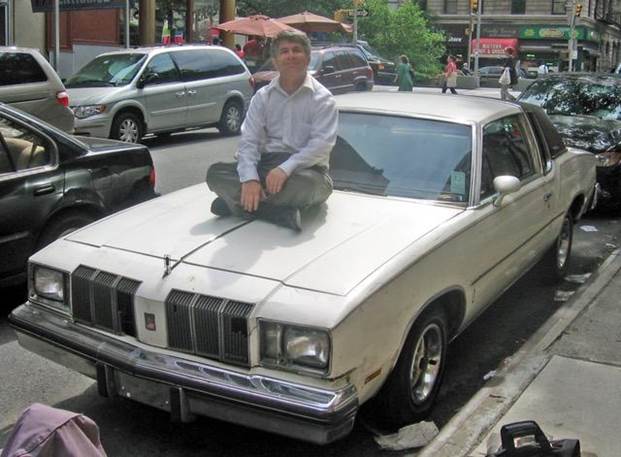 Each anecdote seeds the next.  And you eventually get a snapshot of Gross as a young professional in real-estate who moonlighted as theater critic.  While the narrative starts with his tenacious search for a Manhattan apartment, it segues to include his fierce determination to keep his 1979 Oldsmobile Cutlass Supreme (aka as Kid) in Manhattan.  His tales about his Cutlass, in fact, gets some of the best laughs in the show.  And after he became engaged to his sweetheart (and eventual wife) Margie, he shared that his car prompted a jealous outburst from her one day:  "You care about that car more than you car about me."  He reassured her that he cared just as much about her as he cared about the Cutlass.   According to Gross, his fiancée didn't talk to him for weeks.
If ever there was a production to which the "less is more" principle applied, How to Find an Affordable Apartment would be it.   The Studio Theatres' intimate stage was swept bare, except for a stool and a few scattered chairs for our narrator to sit upon as he spun his narrative.  And the lights were just enough to illuminate Gross' animated facial expressions and expressive body language throughout.
What is truly astonishing about his show is that Gross performed it cold with no preview performances at all.  Yet he delivered it with warmth, energy, and unmistakable sincerity.
Gross is best-known of course as the creator and co-host of "Two on the Aisle" that can be viewed on Manhattan Neighborhood Network and YouTube.  He also is the former theater and film critic for "The Palisades Papers" in New Jersey and has written for various other publications.  Indeed, you can only admire Gross' gutsiness and nerve for crossing over to the other side of the footlights.
Whether Gross' foray into acting at the United Solo Festival 2019 will lead to other theatrical projects is anybody's guess.  But whatever the sequel might be, one can only wish him well.
One performance only, October 10th, 2019
Theatre Row, at the Studio Theatre
410 West 42nd. Street, Manhattan
For more information on upcoming shows in the festival, visit www.unitedsolo.org.