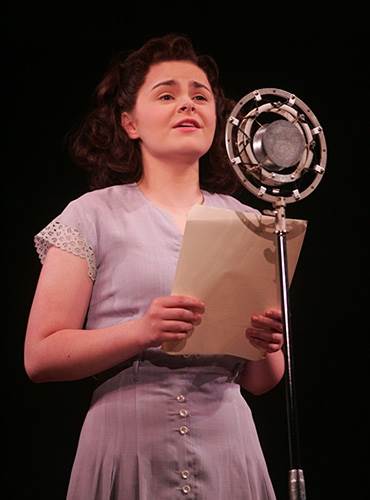 Ruby Rakos
Chasing Rainbows The Road To Oz
                               By David Schultz
With so much media attention to the uber talented Ms. Garland in her waning years and troubled drug addled/drinking end of life…it is a pleasure and breath of fresh air to roll back the years to see the very early stages of this beloved entertainer. This spirited valentine to this teenage MGM teen star moves with cinematic scenes that show in detail how it all happened.
The dark edges of her youth have been carefully smoothed over by playwright Marc Acito. All the elements are on view…. the way she was marketed to the public, driven to lose weight, highly addictive pills popped in ever increasing doses, driven to succeed with a volcanic drive, pushed to the limit by her obsessive mother. But these destructive elements are downplayed instead offering a poignant look into how she sacrificed so much as she became a musical superstar. In this telling her father had a huge influence on her life, and in effect this musical is a homage and gracious touch of grace from father to daughter.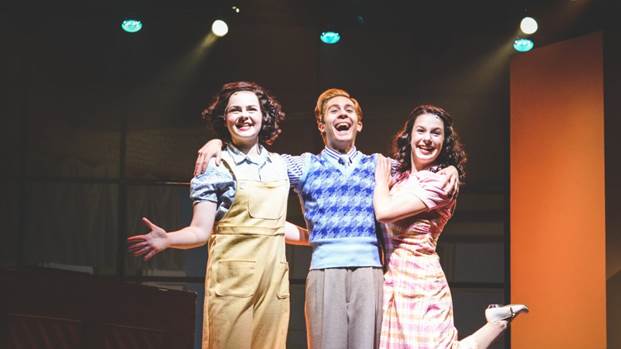 The opening scenes depict young Frances (Ruby Rakos) performing with her two sisters in a musical trio called The Gumm Sisters.  They are stuck in Minnesota, without much hope until her father Frank (Max Von Essen) and her mother Ethel (Lesli Margherita) move the brood to California, to hopefully hit the big time. Frank operates and manages a movie theater, and lovingly presses young Frances to audition for various musical acts. Her domineering mother also presses hard and drives her three girls into never-ending lackluster gigs. The musical doesn't shy away from some unseemly parts of the tale…seems Frank has been secretly having a series of hidden affairs with men from town. This development gives a dark back story, as Frank is fired and separates from the family. Ethel keeps her three girls away from the situation and gives an ever-increasing push for her kids to succeed at all costs.
Eventually Frances is enrolled into a dramatic arts school and her vocal talents are quickly detected. One glaring problem…it seems her appearance and average weight were not at all in line with the superficial glamorous look of the stars back in the 1930s. But despite the initial difficulty of her appearance, she makes quite a splash with her classmates and teacher (Karen Mason).
Michael Wartella and Ruby Rakos
 Everything seems to coalesce and come together when she meets an eager bright faced student named Mickey Rooney (Michael Wartella). And in lickety split time Frances is renamed Judy Garland. Is it true that vaudeville comedian George Jessel renamed her on the spot in an impromptu stage performance? Well…indeed, yes it seems.
The Mickey and Judy films proved very popular, yet limited for both of them. There are just so many ways to say "Let's Put on A Show"! The remainder of the musical chronicles the entry of Judy into high society, and attempts to gain film acclaim. Her constant struggles with weight as she is fitfully groomed to become a star, prove to be a consistent stumbling block.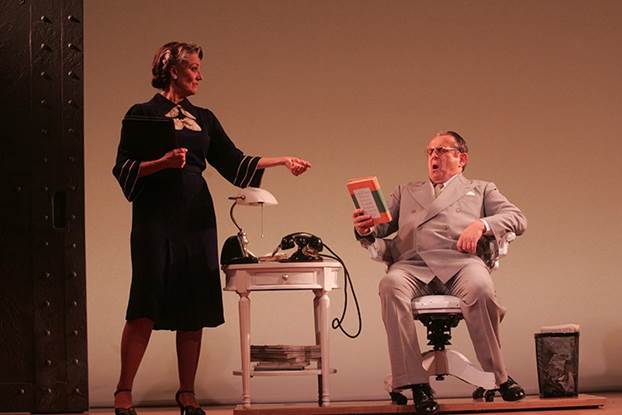 An amusing appearance by MGM mogul Louis B. Mayer (Stephen DeRosa) drives home the way in which she was consistently pushed into a preset visual mold by the studio that she couldn't fit into.  The familiar plotlines lead tantalizingly to the early stages of the making of the classic 1939 film The Wizard of Oz. To think that the original Dorothy slated to lead the film was none other than Shirley Temple! Everyone knows who snagged the part in the end. But the fun in this musical is seeing how the film, with a plethora of missteps and rewrites came to fruition.
The new music written for this piece is perfectly in tune with the era. The music adapted by & additional music is penned by David Libby. But the standout music…. who woulda guessed are the classic songs that embrace the evening. With songs like "You Made Me Love You", "I'm Always Chasing Rainbows", "I Can't Give You Anything But Love", and "Over The Rainbow", it is hard not to swoon.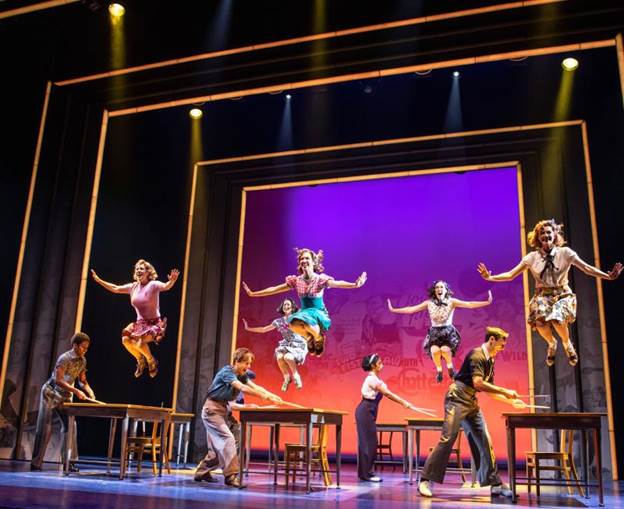 The exhilarating choreography by Director Denis Jones hits many high points. The over the top tap-dancing is complex, intricate and blissful. An early scene at the school that the students attend has a mind-blowing set piece that gives tap dancing aficionados something to savor. Scenic Designer Alexander Dodge works well under limited means with tasteful visual touches throughout. Ditto for Costume Designer Linda Cho, her spot-on colors and textures in her couture envelopes her performers, and crisply defines the 1930's era with a keen knowing eye.   
Lead performer Ruby Rakos bears an eerie resemblance to the young Judy Garland, and sings like a dream. The future seems limitless in the telling of this tale, the musical ends on the cusp of the filming of the Oz film. The actors and crew had no idea, no doubt on the impact the film   would have on generations to come. Knowing how it would all play out for this singular singer in the decades ahead is bittersweet. The pleasure in this rare and upbeat version is seeing how it all came together. A mere 80 years ago the MGM classic The Wizard of Oz gave us the yellow brick road, and we have been traipsing and skipping on those golden bricks ever since.
Playing at The Paper Mill Playhouse
22 Brookside Drive, Millburn N.J.
973 376 4343.    PaperMill.org
Playing until October 27th