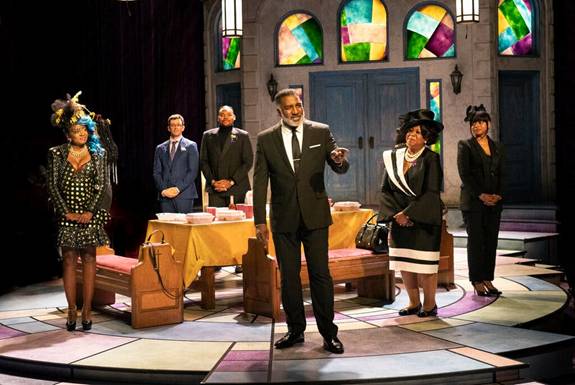 Chicken & Biscuits
by Deirdre Donovan
What's cookin' on Broadway? Douglas Lyons' uproarious new comedy that recently opened at Circle in the Square. Under the direction of Zhailon Levingston, it's overly long, but if you want to see a play that hilariously captures the crossfire of family members, this is your comedy.
Despiite its home spun flavored promotional ads and title the playwright has unfailing comic instincts and creates eight characters that are bursting with life, longings, and very human idiosyncrasies. Lyons' dialogue is pitch-perfect, echoing the lingo of a black family living in the new millennial. We hear references to Facebook, Tik-Tok, Uber, Lyft, Jenny Craig, Amazon gift cards, and more.
And Lyons also tucks an unexpected twist into his domestic comedy that would make the master plot-twister O'Henry proud.
The lights go up on a modest-looking living room, where fifty-something Baneatta Mabry (Cleo King) is applying make-up while soulfully singing "No Not One." Baneatta is the wife of Reginald Mabry (Norm Lewis), the new pastor of the home church, who inherited the pulpit from his late father-in-law Bernard Jenkins.
Although Baneatta is mourning the loss of her beloved father, what is really pressing on her mind is how she will maintain her Christian composure with her relatives as they all say their final "goodbye" to their patriarch. Or as she puts it: "Lord. . Bless me with your patience to deal with my family, for they know not what they do. Lord, help me keep my eyeballs rolled forward, as they have a tendency to roll backwards around foolishness. And Lord, keep me from strangling my baby sister, no matter how much she tests me. For you and I both know . . . she'll try it."
No question that family gatherings can sometimes turn into battlegrounds in a blink, in which past grievances can flare up into fresh arguments and pointed accusations. So prepare yourself for some good old-fashioned mud-slinging as the characters collide in this domestic comedy.
Beyond the laughs, Chicken & Biscuits takes a deep-dive into contemporary issues like gay life and interracial relationships. Case in point: Kenny Mabry, (Devere Rogers) the 20-something gay son of Baneatta and Reginald Mabry has brought unannounced his white Jewish boyfriend, Logan (Michael Urie), to the funeral celebration. It's a bold step for Kenny as his family has hardly acknowledged Logan in the past. In fact, his mother annoyingly mis-remembers Logan's name each time she greets him.
Significantly, Kenny's grandfather had no problem at all remembering Logan's name. In fact, he had pulled Kenny aside after first meeting Logan and whispered "Ken-Ken, if that Logan boy makes you happy, he's alright by me. I want you happy. You keep him close. Don't you let him go, for nobody."
Unsurprisingly, the presence of Logan at the funeral celebration becomes a kind of litmus test on tolerance for the entire black family. And it also places Kenny in a situation in which he must show his backbone as a gay man. Will he retreat to the "closet" during his grandfather's funeral and pretend that Logan is just his friend? Or will he stand his ground and introduce Logan as his partner? Indeed, how Kenny—and his family evolve—over the course of the play, provide for some of the most poignant moments in Chicken & Biscuits.
Lyons' play would be nothing without the right actors to keep it afloat. And, fortunately, the cast is buoyed up by a strong ensemble. Although you might at first be surprised to see Norm Lewis, a musical theater veteran, cast as the new Reverend Reginald Mabry, you will soon understand why when Lewis belts out a soul-stirring hymn with his rich baritone voice that crosses the footlights like liquid gold. Cleo King is ideal as the righteous but loving Baneatta Mabry. Alana Raquel Bowers plays Simone with an appropriate sweetness. Ebony Marshall-Oliver inhabits the single mom Beverly Jenkins with real ferocity. Camille Upshaw (understudy to Aigner Mizzelle) nails the part of the loquacious 15 year-old La'trice Franklin. And Natasha Yvette Williams performs Brianna Jenkins with a touching sincerity. Devere Rogers is well-cast as the gay son Kenny Mabry, as is Michael Urie as his lover Logan Leibowitz.
No complaints with the creative team. Lawrence E. Moten III's minimalist set uses backless benches to suggest alternately the interior of the Mabry home, a hotel, and a church. Adam Honoré even lighting allows viewers to see all the action unfold in the theater in-the-round. And Dede Ayite's costumes are spot-on, from Baneatta's conservative black dress to Beverly's risqué one, which, when worn with a push-up bra, looks steamy indeed.
Yes, the intermission-less show runs too long at two hours. If some scenes were trimmed, it would likely make audience-members shift less in their seats during the last half hour.
Still, Chicken & Biscuits is one scrumptious piece of theater. And, hands down, it's the funniest show of the new season.
Chicken & Biscuits
Through November 28th (show was originally expected to run through early January).
at Circle in the Square Theater, Manhattan
For more information, phone 212-239-6200 or online chickenandbiscuitsbway.com.
Running time: 2 hours with no intermission.