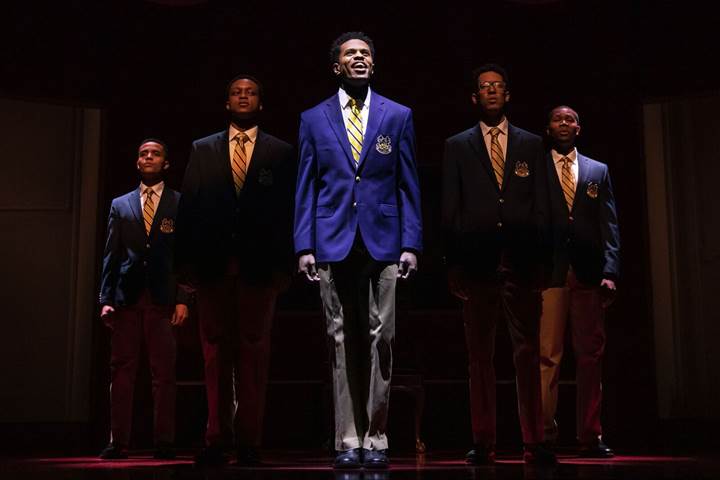 Nicholas J. Ashe, J. Quinton Johnson, Jeremy Pope, Caleb Eberhardt ,John Clay III
                                                           Photos by Matthew Murphy
,
                                 By Ron Cohen
In 1968, the writings of Lorraine Hansberry were adapted into a posthumous play entitled To Be Young, Gifted and Black. The title, later shaped into a song by Nina Simone, became an anthem for its generation. Now, Tarell Alvin McCraney in his Choir Boy extends the equation with an additional element – gay –and it makes for a drama that is both absorbing and illuminating.
Choir Boy was first presented in 2013 in Manhattan Theatre Club's small Stage II space, receiving strong reviews and two extensions. Since then, McCraney has added to his laurels with an Oscar for co-writing the screenplay for Moonlight, which also took the Academy Award as best film of 2016. (The screenplay was based on his script In Moonlight Black Boys Look Blue.)
With this current Broadway mounting by MTC, Choir Boy more than lives up to both its and its author's reputation.
The play depicts the coming of age of a group of students at an exclusive preparatory school for black males. While the concerns deal specifically with being black, and even more particularly, with a student who is gay, McCraney's writing vibrates with a universal appeal in its understanding of the turmoils of simply growing up and in colorfully revealing the foibles and the strengths of his characters, both the students and the adults guiding them.
As the center of the story is Pharus Jonathan Young (Jeremy Pope), who seems comfortable with both his sexuality and his occasional effeminate behavior. His standing in the school is fortified by his phenomenal singing and talented musicianship, qualities that in his senior year have given him leadership of the school's celebrated choir. The problems that arise come from the reactions he causes among his fellow students, most prominently Bobby Marrow, whose homophobia runs deep, aggravated by the scars of racism.
The play begins at the commencement exercises at the end of Pharus's junior year, when he has the honor of singing the solo that ushers in the graduates. His concentration is momentarily distracted when Bobby behind him snickers quietly: "Sissy… Dis sissy… This faggot ass Nigga…"
As the play moves through Pharus's senior year, the confrontations between the two mount, and one point, Bobby is removed from the choir, despite being the nephew of the school's headmaster. Warning a fellow student against association with Pharus, Bobby says: "Don't let these sissies get you by association…My daddy say they used to let you get away with a lil bit because they know how hard it is to be a  black man out there. Now, everything got to be watched, gotta be careful, gotta be cordial. Don't say nothing, don't say that word…"
Then, comes an untoward incident shattering Pharus's self-confidence. One of his closest friends is expelled from school and Pharus is put on probation, barring in any way his soul-defining participation in the choir. But in a conclusion that quietly glows with grace, Pharus's sense of self is restored by an act of pure friendship and acceptance from a fellow student.
The storytelling is further deepened by the introduction of the white teacher Mr. Pendleton, a civil rights activist who, we're told, marched with Martin Luther King. Pendleton has come to the school to teach pro bono a class in creative thinking. He is a welcome force and also becomes the faculty sponsor of the choir. His time at the school, however, is cut short when he blows up over the appropriation by Bobby of the N-word, something the teacher cannot understand or tolerate. "I've lost enough friends behind that word," says Pendleton.
With Trip Cullman, who directed the original production, again guiding the proceedings, the script is given a life that crackles with urgency and meaning. Jeremy Pope is a tremendously winning Pharus, endowing the character with a bone-deep manliness beneath the sometimes and never overdone swishy mannerisms. J. Quinton Johnson exposes tellingly the motivations behind Bobby's anger, and John Clay III and Caleb Eberhardt deliver fully delineated portraits of other students deeply involved in the narrative.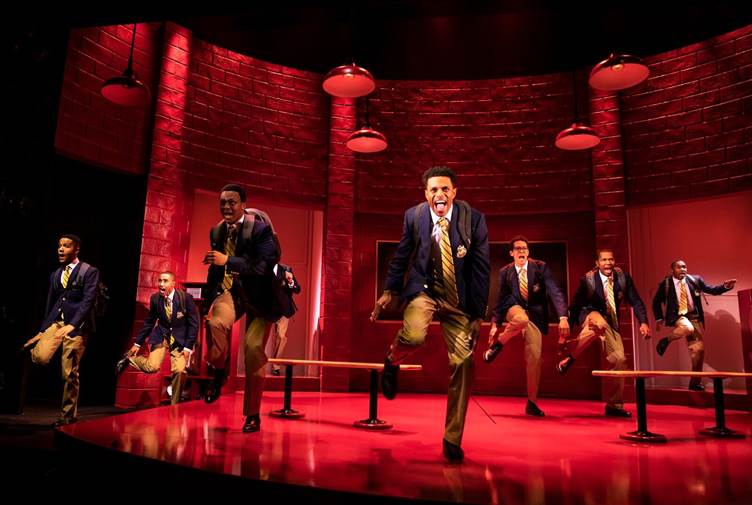 The four also enhance the stage further with a bevy of musical numbers, spirited and soulful, validating the reputation of the school's choir. Some of the numbers are augmented by a four-man ensemble, consisting of Daniel Bellomy, Jonathan Burke, Gerald Caesar and Marcus Gladney. Music direction and arrangements are by Jason Michael Webb, who also contributed original music along with sound designer Fitz Patton. Camille A. Brown's lively choreography is another important ingredient.
The company further boasts a perfect portrayal of the benevolent and understanding overseer in Chuck Cooper's headmaster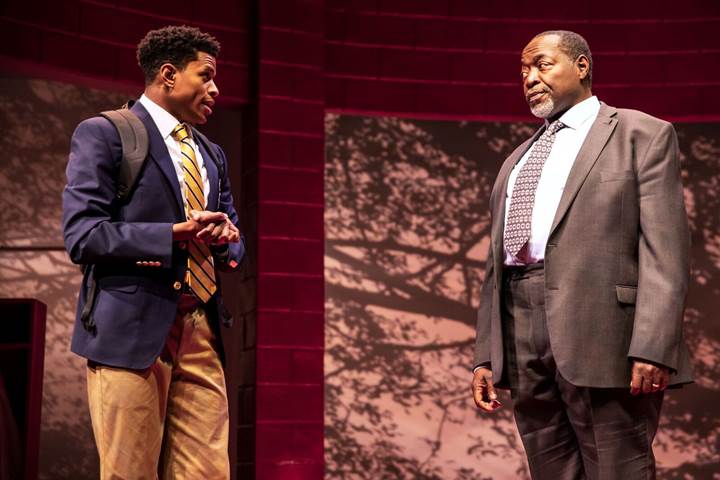 Jeremy Pope and Chock Cooper
and the wonderful wit and emotion in Austin Pendleton's Mr. Pendleton. (Yes, both the character and the actor have the same last name.)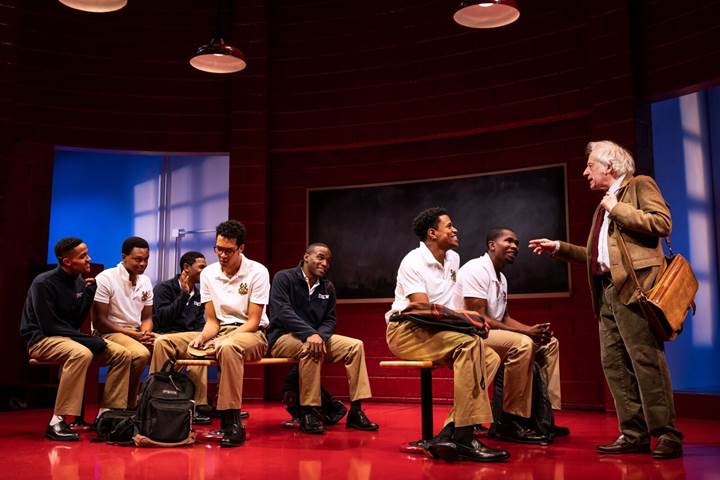 Austin Pendleton and cast
The cleverness of David Zinn's set design is barely noticeable as it switches – under Peter Kaczorowski's lighting – in the proverbial blink of an eye to immediately recognizable locations on the school's campus, such as the quad, classrooms, a dormitory room, even a steamy shower room. Zinn also did the costumes, further helping to define event: casual gear for classroom, neckties and dark blazers for graduation.
The thoughtfulness of all elements befits a play that like Hansberry's (and Simone's) To Be Young, Gifted and Black has the earmarks of become a seminal work of its time.
Review posted January 2019
Off-Broadway play
Playing at Manhattan Theatre Club's Samuel J. Friedman Theatre
261 West 47th Street
212-239-6200
Telecharge.com
Playing until February 24