Cirque Du Soleilís Luzia


By Eugene Paul


That great treat, fantastic Cirque du Soleil is back in New York as part of its North American tour under the brilliant white and gold Grand Chapiteau, a circus tent so big it not only hosts two thousand people as audience but also is a village of artists, technicians, high tech equipment, musicians Ė and this time, animals, huge, awesome creatures designed by Max Humphries, performing with the extraordinary Luzia company of rare artists from around the world in this extravaganza dedicated to the richness of Mexican soul. It took fifty trailers to bring the Grand

Chapiteau to New York and nine days to physically prepare for performances.
But the more things change the more they are the same. Where once upon a time you might have been able to buy only hot dogs and candy apples inside the tent now there is everything from champagne and VIP lounges to whole shopping malls of things to catch buyers eyes, not just young ones. Because Cirque du Soleil is a lure for everybody from tots to grandsires and granddames. And Luzia is Cirque du Soleil in top form.
Itís extraordinary to remember that this giant global enterprise started in 1984 as a tiny group of Canadian street performers with high hearts, high spirits and a couple of mad visionaries, Gilles Ste-Croix and Guy Laliberte. Now, 35 years later, it is the biggest theatrical producer in the world, with 20 shows in 280 cities. And worth $1,500,000,000. Its world headquarters remain in Montreal in their immense complex housing studios, gyms, training facilities for their four hundred gifted engineers and riggers, their technological specialists, their 1300 artists. You see the results all before you, thrilling at the marvels in Luzia, not only the superb human performers but the technical wizardry.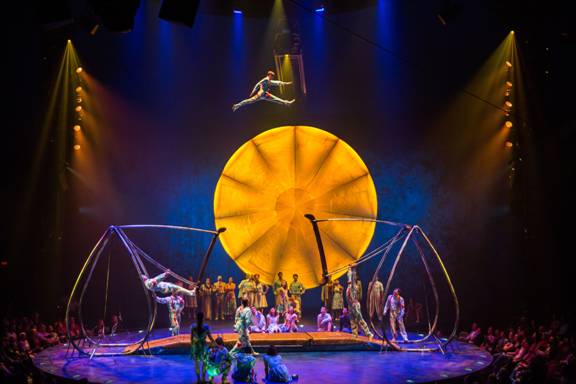 Right before your eyes more than a hundred feet over your head, as a great, mellifluous voice warns you to fasten your seat belts a man falls from the sky inside the huge tent. He tries to open his parachute, he tries to slow his fall until, in desperation, he opens up a silly little umbrella and lands in a beautiful field of flowers. Heís our clown, and heís gaga at everything and not aware of the magic around him as the field of flowers morphs into a magic space where a running woman, half butterfly, with gigantic, billowing wings, plays and dances with a prancing silver horse as the vast turn table rotates and magical birds dance, fly through silver hoops and clutch themselves in awe as their rotating world presents three daring men tossing an incredible girl among them in dangerous beauty. We are completely in the midst of the show, ever moving, ever musical, ever breathtaking.
But Luzia, the name of our show, is made up of Luz, light, and Lluvia, rain. And magical rain falls. On incredible act after act, lending its shimmer and beauty. And fun, when our clown tries to catch some to drink, playing with him, teasing him. Then, when you think the rain can do nothing more than rain, you are dazzled by what happens within the exquisite rainfalls.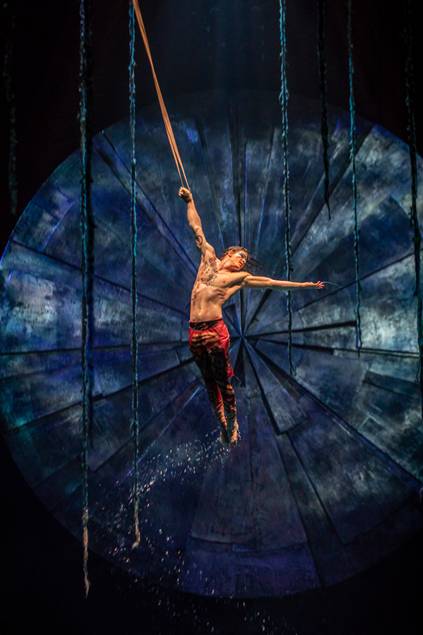 Itís difficult to choose among the amazements, the Tarzan in the pool and the immense jaguar, the breathtaking hand balancing, the brilliant soccer ball freestylers, , the rotating trees and among them the beautiful acrobats on silver poles, the swinging trapeze artist, to the top of the tent, the impossible juggler, the truly fantastic contortionist, the great balancing swings, and through it all that great bozo of a clown playing with the audience.
You are hardly aware that there at the periphery of the great, rotating stage the huge, blacked out towers with technicians lighting and running the show high over our heads, fulfilling the creations of overall creative artist Daniele Finzi Pasca, with the sophisticated support of his talented team, dazzling costumes by Giovanna Buzzi, the incredible acrobatic rigging by Danny Zen, the myriad sets and props by Eugenio Caballero, and throughout, the music of Simon Carpentier, all part of the magical juggernaut that is Cirque du Soleil. Enjoy.
*
Luzia. At Citi Field, 1 Roosevelt Avenue, Flushing. Tickets: $74-$321. 1-877-924-7783. 2hrs, Thru June 9.