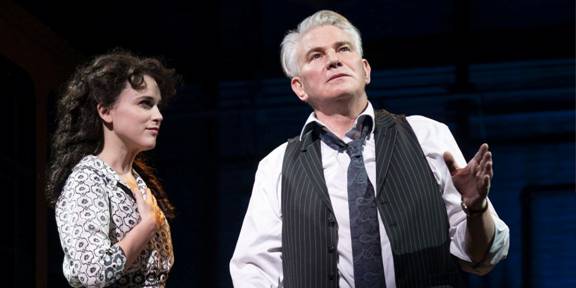 City Center Encores! Mack & Mabel
                         by Jeanne Lieberman  and David Schultz
Mack and Mabel are back in town!
Its a long time since they fled Broadway in 1974 (after 66 performances and 6 previews).
Since then they knocked around the UK in concerts and prestigious playhouses to more appreciative fans.
In fact British ice-skating team Torvill and Dean won the gold medal for ice dance in the World Figure Skating Championships in 1982, performing to the Mack & Mabel overture.
Composer Jerry Herman long dreamed of fixing his troubled "problem child" and bringing it back to Broadway.
He died this year before his dream was realized. And yes, they did get back but not quite to Broadway, just a half block away, in a rousing endearing production at the City Centers Encores! series for flawed but flavorful old time musicals.
Audiences rejected the dark second act:
In 2013 they tiptoed back to the US in a concert version in California but it was Jerry Herman's dream to work on it until it was Broadway ready for its come back. Francine Pascal, original book writer Michael Stewart's sister, has created a newly revised version for this production.
Mac & Mabel starts sunny and joyful at first, then, with its various shades of grey in the Second Act, the darker aspects of this tale emerge. But this variation in tone is heartbreakingly true, albeit a melancholy bittersweet sadness permeates the remainder of the evening.
Audiences in 1974 were not expecting such a 360 degree turn in tone from the cheerful, sunny musicals by Mr. Herman. The gorgeous melodic numbers swerve into a more introspective aspect of the story at hand.
Since then there have been many "Musical Tragedies" replacing the musical comedy expectations of the public with great success.
Perhaps  Mack and Mabel was ahead of its time.
Audiences nowadays can and would no doubt embrace the concept of the duality of the telling.
In fact the show's second act commonly, deemed as problematic, includes some of Herman's best songs: "Time heals Everything" and "Tap Your Troubles away".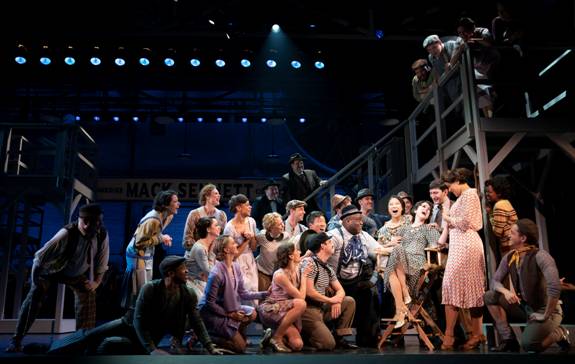 Why is the show called bi polar (schizophrenic)?
The plot of the musical involves the tumultuous romantic relationship between Hollywood director Mac Sennett and Mabel Normand (transformed from an artist's model to a waitress from Flatbush, Brooklyn for the musical) who became one of his biggest stars.
In a fluid series of flashbacks, Sennett relates the glory days of Keystone Studios from 1911, when he discovered Mabel Normand and cast her in dozens of his early "two-reelers" through his creation of Sennett's Bathing Beauties and Keystone Cops to Mabel's tragic death from tuberculossis in 1930. Her addiction to pills and drugs exacerbated her downfall. This musical looks fondly back at a more innocent time, without ignoring the darker aspects of those early days of filmmaking.
The gorgeous score by Mr. Herman works brilliantly as a counterpoint to the happy, madcap, melancholy underpinnings of the tale.
The show goes from sunny to sad
It IS biographical.
In the First Act Mack Sennett and Mabel first met, worked together and fell in love. He made her a  big star of the silent movies.
Second act things fell apart and they went separate ways.
They DID reconnect briefly in the end.
The sad ending gave it dramatic heft so common in later day musicals
(though one British production put in a happy ending) The bittersweet drama of Act II gave it more dimension and substance.
Full of clichés?
One criticism is that the book, especially the revised one,
is full of cliches, but the subject of the show is silent movies which were all about cliches. The language of silents were clichés

Alexandra Socha
The performers:
While Robert Preston talked rather than sang his songs many years before Rex Harrison perfected it in My Fair Lady, by comparison Douglas Sills seemed to be forcing it. Even  the tender love song "I Won't Send Roses" was delivered full throttle
Alexandria Socha appears to have channeled her predecessor Bernadette Peters in her letter perfect embodiment of the role.

Lilli Cooper
As Lottie, the show's second banana, Lilli Cooper, Chuck Cooper's daughter, while admittedly not a dancer, did an admiral job tapping.
Evan Kasprzak was outstanding as the lovelorn writer who aspired to  help Mabel through the years.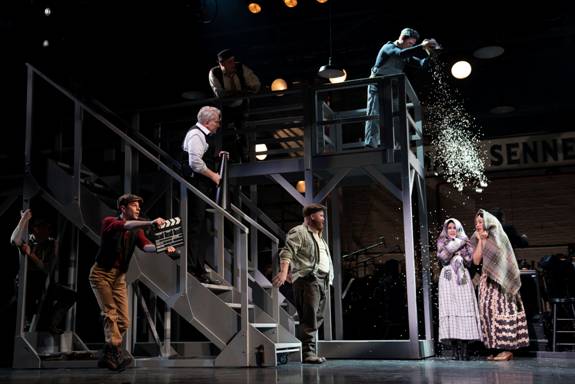 The production:
In keeping with the minimalist concept of Encores! scenic designer Allen Moyer utilized his limited budget creatively employing a flight of stairs to indicate parts of the theater, and later a ramp up the cruise ship that Mabel didn't take.
Costumes by Amy Clark were spot on, even to the tightly coiffed finger waved (uncredited) wigs.
Director Josh Rhodes' chorography delivered the best qualities we have come to expect in the golden age of musicals…. before sneakers replaced heels and gym worthy aggression leveled the sexes.
The Mack Sennett signature Keystone Cops sequence was lifted from former Encores production Hey, Look Me Over and the bathing beauties' creative use of beach balls also doubled as scene changer.
The superb Encores! orchestra, under the experienced baton of music director Rob Berman bathed the house in the vivid score.
In a fitting tribute to the show's creator three panels, suspended from overhead, dropped down to commemorate Jerry Herman and drew applause from the theater savvy crowd.
The touching reflective finale unspools a variety of comic reproductions of The Sennett magic onto a film screen in the rear of the theater. This fitting finale shows the ineffable magic of those early days at the dawn of slapstick cinema. The magical scratchy grainy films are shown in mini snippets showing Mabel Normand in high comic relief that make one laugh at first, then finally grasp the behind the scenes internal drama and pain that produced an endearing visual artform.
Mack & Mabel truly deserves to be fully mounted yet again on Broadway. This time it very well may become the fully-fledged classic that eluded Jerry Herman in his lifetime.