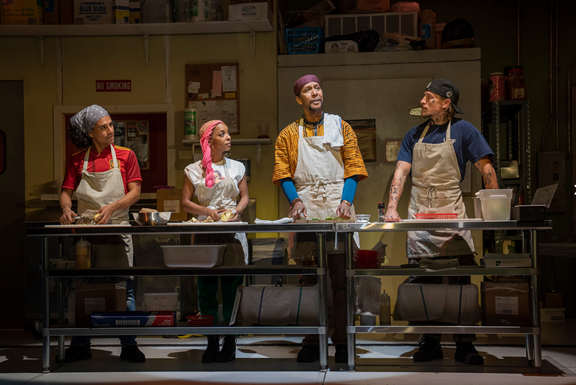 Reza Salazar, Kara Young, Ron Cephas Jones, Edmund Donovan (Joan Marcus)
Clyde's
By Lynn Nottage
Directed by Kate Whoriskey
Reviewed by Julia Polinsky
It's such a relief to laugh in the theater again that it might escape you that, really, Clyde's is a morality play: a demon and a boddhisattva wrestle for the souls of the condemned, in the kitchen of a roadside sandwich place in Pennsylvania. The sacrament of salvation? Making the perfect sandwich.
On the surface. Clyde's is a terrific battle of wills, a running exchange of fierce, sharp, destructive sassiness from Clyde (Uzo Aduba), the tougher-than-nails owner of the roadside sandwich place, and reasoned, hopeful, and thoughtful responses from Montrellous (Ron Cephas Jones), one of her employees,. Montrellous preaches the gospel of honesty, using great ingredients, being more than the sum of your parts. He is kindness itself; she doesn't do pity. The staff gets caught between them.
Those members of the kitchen staff are ex-cons, as is Clyde herself. In the course of the play, we learn the crimes for which they were punished, as well as some back story of their lives – drug dealing; assault; theft; the stupidest bank robbery ever. Rafael (Reza Salazar) and Tish (Kara Young) are already working there when Jason arrives, covered in white supremacist prison tats and just wanting to go along to get along. After the pro-forma rough introduction, Jason becomes part of the crew, and accepts the teachings of Montrellous. When he designs his own perfect sandwich, committing to his final ingredient, it's as if he's come into his own.
Performances are excellent across the board, but the women really, really shine. Uzo Aduba's larger than life presence, magnificently costumed by Jennifer Moeller in one outfit more expensively vulgar than the last, burns up the oxygen in the room – sometimes literally, as she's always got a lit cigarette and sometimes the kitchen bursts into flames around her (demon, remember?).
With her blood-red lipstick and her spike-pointy manicure, she walks the line between viciously mean and maybe thinking about a bit of compassion, between power player and being played (the batch of Chilean sea bass that "fell off the truck" turns out to be rank? Fry it!). From time to time, she's tempted to leave the dark side; a staff sandwich, lit from above as if by a ray of light from heaven, causes her to pause, but she stays mean, in the end. (Christopher Akerlind's lighting design is masterful).
Kara Young gives a lithe, appealing, flexible, chip-on-the-shoulder character to Tish, who's coping with a special needs child and a useless ex and this loser job. Some of her moments, when she's just being purely herself, are delightful: she dances, she chops lettuce, she garnishes a sandwich with panache. Wonderful.
Reza Salazar is appealingly vulnerable as Rafael, who's not too bright; Edmund Donovan's Jason burns beneath his quiet but tattooed surface; completely ignorant of how a kitchen works, he gradually eases into the culture of the kitchen and Montrellous's teachings.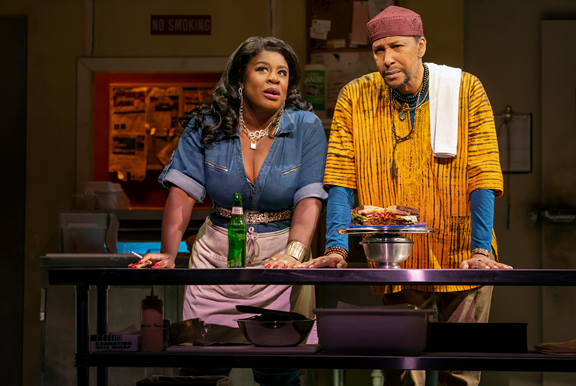 Uzo Aduba and Ron Cephas Jones in Clyde's Joan Marcus
As Montrellous, Ron Cephas Jones balances this tedious job with being too overtly saintly. He's teaching and preaching all the way through the show, leading by example. He creates an atmosphere where the staff can imagine and create new, artisanal sandwiches while prepping tuna on wheat – giving Rafael, Tish, and Jason something to dream of, to aspire to, to express themselves. (Some of those sandwiches sound amazingly delicious; the audience moaned, from time to time, just listening to the ingredients).
Yet Clyde can't let Clyde's be more than it is. She's brutal to the staff when the local paper gives Clyde's a good write-up, and doesn't give a damn that she breaks their hearts. Back to work, everyone. That sadistic meanness provokes the real resolution of Clyde's, setting the stage for her staff to think outside the box in a superbly theatrical way. It's a brilliant end.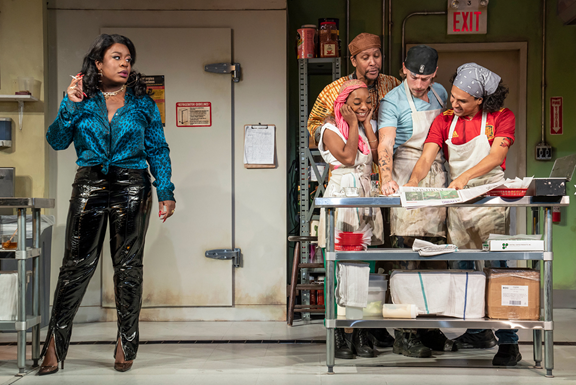 Uzo Aduba, Kara Young, Ron Cephas Jones, Edmund Donovan, Reza Salazar (Joan Marcus)
Kate Whoriskey has directed Clyde's at breakneck speed, with pacing so fast it feels like frenzy. Whoriskey's collaborations with Nottage go back a while, and she's directed everything from opera to regional theater, as well as Broadway, so it's no accident. However, the pace feels like she had to cram everything in to 95 minutes; there's no breath, no chance for people to absorb what just happened.
Still, in Clyde's down-at-heel kitchen (scenic design by Takeshi Kata is note-perfect), it's a pleasure to root for the characters, to hope they aren't really trapped forever. In this battle between warriors of good and evil, maybe there's hope for everyone.
Clyde's
Roundabout Theatre Company
Through January 16, 2022
At the Helen Hayes Theatre
220 W. 44th St.
Trailer: https://www.youtube.com/watch?v=WK8rUWIUliE&ab_channel=SecondStageTheater