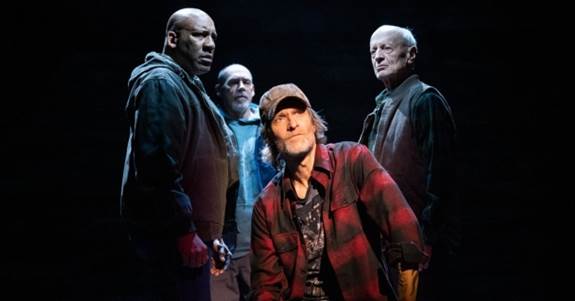 (l-r) Ezra Knight, Carl Palmer, Michael Laurence, and Thomas Kopache.  (Joan Marcus)
Coal Country
By Fern Siegel
The raw, evocative power of Coal Country rests in its simplicity. Seven excellent cast members portray family members of those killed in a horrific UBB mining explosion in Montcoal, West Virginia, in 2010.
The wood stage setting is bare — the words paint vivid portraits of the death of 29 miners that could have been prevented — had Massey Energy CEO Don Blankenship put people before profits. Massey had been warned — repeatedly — that safety standards were being violated and methane was building up against the longwall, which houses the top-grade coal deep inside the mountain. Once methane is ignited, a deadly fireball was inevitable.
As Gary (Thomas Kopache) a decades-long mining veteran and union man makes clear, the tragedy would never have happened had the union remained in charge. In those years, the men were protected. Shifts were mandated. Safety was a byword.
But Massey had opened a nonunion mine, and exploitation ran riot. Any man who noted problems was summarily given a warning: Put up or shut up. Speaking out meant a job loss — and in Montcoal, the mines were the only real employment option.
The miners were trapped — above and below ground.
As Blankenship's greed and personal bonus expanded, so did the dangers. And as each actor tells another victim's story, we are reminded of the human cost of unfettered capitalism.
The stories are specific to the teller, but the group functions almost as a Greek chorus under Jessica Blank's direction, delivering a poignant, moving elegy of preventable loss. The drama is accompanied by three-time Grammy winner Steve Earle's original music, which is pitch-perfect: mournful at one moment, filled with country swagger the next. His rousing "Union, God and Country" song sums up the miner's motto.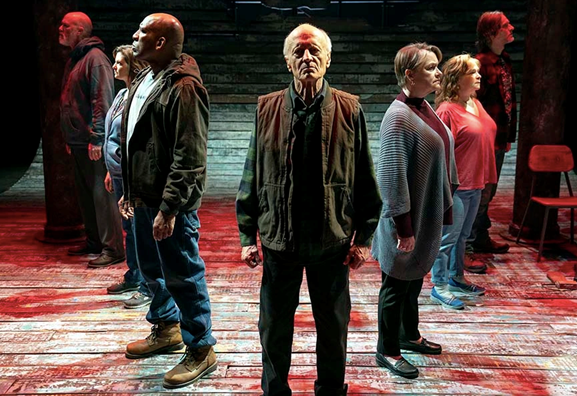 (l-r) Carl Palmer, Mary Bacon, Ezra Knight, Thomas Kopache, Deirdre Madigan, Amelia Campbell, Michael Laurence  (Joan Marcus)
Now at the cozy Cherry Lane Theater, Blank and Erik Jensen's documentary-style theater piece gives voice to the often voiceless. Coal Country reveals the class struggle in America and the high price workers pay to sate corporate greed.
Coal Country gives each victim's family member a chance to speak. And the stories are heartbreaking. Patti (Mary Bacon) recalls her boyfriend. Having endured tough divorces, they decided to live together with their kids. Four happy years later, they decided to wed. But as Patti notes, the pressure on the men got tougher, and the sickness her partner endures from toxic chemicals got greater.
Roosevelt (Ezra Knight) says his dad, his hero, gave up teaching because the mines paid better. He worked double shifts to support his family, but he always made time to coach his son's teams. Tommy (Michael Laurence) has a particularly gut-wrenching saga. His family proudly produced generations of miners. He, his brother, nephew and son are close. They all work at the UBB mine — and they know conditions are lethal. They just don't know where to get help or how else to provide for their families. So when the explosion hits, Tommy confronts not one loss, but a staggering three.
Yet even within the tightknit West Virginia community, class divides emerge. Judy (Deirdre Madigan), a city doctor, comes from a mining family. She is there to speak for her deceased brother, who worked underground. Yet when the worst happens, friends and neighbors suddenly view her as an outsider, compounding her misery. Mindi (Amelia Campbell) and Goose (Carl Palmer), a sweet married couple, round out the cast. Mindi represents what miners' wives endure, never knowing if their husbands will come home.
The facts of the tragedy aren't in dispute; the issue is who bears responsibility. The victims' families saw charges brought against Blankenship, but the result is a travesty of justice — even in the community where he caused the most misery. Incredibly, Blankenship had the gall to publish a book after the trial blaming anyone but himself for the 29 deaths.
Blank and Jensen, responsible for the play The Exonerated, have created another stirring work with a first-rate ensemble. The horror is palpable, and the show delivers an emotional punch that resonates long after you leave the theater.
Coal Country, Cherry Lane Theater, 38 Commerce St.
90 minutes, no interruption
Tickets: https://www.cherrylanetheatre.org/coal-country