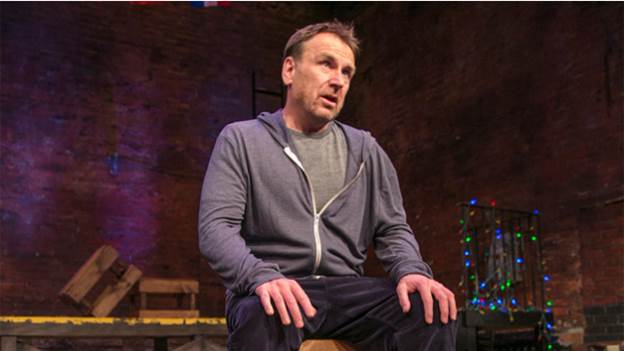 By Michall Jeffers
There's a great line in the movie Mississippi Burning: You marry the first boy who makes you laugh. It's no secret that laughter is a great aphrodisiac. How else can it be explained that in pulling out all the stops to make the audience laugh, stand- up comedian Colin Quinn comes across as downright sexy. He's scruffy and unshaven; certainly not chic in his well-worn T-Shirt, slacks, and white sneakers; and he doesn't even try any sweet talk. And yet, there's just something totally appealing about the guy.
Colin Quinn The New York Story couldn't be more aptly named. The lights come up to the sound of the old Disco hit from 1977, "Native New Yorker." Ah, the good old days. Ed Koch had just been elected mayor, and the City had yet to become politically correct. According to Quinn, the age of never offending has all but ruined the character of his beloved metropolis. In a voice that sounds alarmingly like Donald Trump, Quinn expounds on the topic all alone on stage for almost an hour-and-a-half. He chronicles the various ethnic groups who have contributed to the New York of Colin's childhood. The Lenape Indians were here first- or so they said. The first white settlers were from the Netherlands, explains Quinn from his stoop (a Dutch word, he informs us). In fact, in addition to the brick wall, and ropes of laundry and flags of many nations above his head, there's onstage throughout a crate with the lettering "Dutch East India Company." The British followed, and the Germans; each group contributed to the New York style.
But when the Irish arrived, things really began to take shape. Not surprisingly, Quinn truly excels at taking on the mores of his kinsmen. They became policemen and firemen largely because they were the only ones who truly understood the meaning of the Mass: we are all sinners, and will suffer the torment of hell and whatever punishment is available. Quinn also scores big detailing the entrance of the Jews into the local lower class society. The Hebrews were the only people who demanded to be tested for Tuberculosis at Ellis Island; they alone read all the fine print, and would agree to a contract only after "I'll have my nephew take a look at it at;" and they excelled at an important quality of the New Yorker, finding opportunities where no one else even sought to look for them.
By the time the Hispanics and Blacks showed up, the City of Attitude had been firmly shaped. Never give a simple answer to a question; always maintain a certain swagger, and most of all, carefully hone the image of being a Blue Collar Snob. This requires a shrug when dealing with Ivy Leaguers: "Yeah, he's book smart, but…," said with a sneer. When in Italy, order pizza, then note that it's good, but it's "NotNew York pizza." No one, nowhere, no how can compete with being from New York.
Worst of all, we live in an age of being politically correct, which is so not New York. Quinn contrasts his hero, Ed Koch, with the present mayor, Bill De Blasio. While Quinn feels that Big Bill (6'5") seems to waffle through speeches, he points out that Koch had no problem telling people they were crazy if his feathers were ruffled. Quinn starts to tell an ethnically offensive Polish joke, then stops to try to put it in more sensitive present day form. In doing so, the humor is wrung out, and Quinn is done for the evening.
In a monologue of this sort, it's almost impossible to separate the performer from the director. What exactly has Jerry Seinfeld brought to the game, and what is strictly Colin Quinn? How off the cuff is the performance? Are topics discussed in the same order every night, and is there any room for improvisation? Of course, Quinn's comic genius is the fact that he makes us feel that we're all good friends, just shooting the breeze. He's the guy you wished you'd sat next to on that long plane ride; the fella who cuts through the keening at an Irish wake, and makes everyone remember how good old Mike would screw up the words to "Danny Boy" when he was in his cups; and yes, Colin is the dreaded blind date who ends up being the man of your dreams. That effortless charm, that ability to make us laugh in spite of ourselves, is Quinn's super power.
Colin Quinn The New York Story, Cherry Lane, 38 Commerce St., 212-727-3673
Website: www.cherrylanetheatre.com
Running time: 80 minutes; through 1/31/16
Author: Colin Quinn
Director: Jerry Seinfeld
Cast: Colin Quinn
Technical: Scenic design, Sara C. Walsh; Lighting design, Sarah Lurie