Jeremy Pope and Paul Bettany in The Collaboration. Photo by Jeremy Daniel
The Collaboration
By Julia Polinsky
Anthony McCarten's The Collaboration, as directed by Kwame Kwei-Armah at the Old Vic in London, has been beautifully transferred to the Manhattan Theatre Club. Interesting, eye-filling, and talky, The Collaboration presents the manipulated collaboration and unexpected friendship of two artists: Andy Warhol (Paul Bettany) and Jean-Michel Basquiat (Jeremy Pope).
Although McCarten is known for writing about notable people from real life, The Collaboration is not a gossipy biography of these two famous artists. Nor is it art worship; the Warhol images on the walls of Warhol's studio are the predictable Marilyn and soup cans, for example, and Basquiat's canvases are not really displayed.
McCarten's play is far more than that: a master class about how we learn about ourselves, our boundaries, about life, conflict, death, salvation, and love, all seen through the prism of two artists making – or not making -- art. To see The Collaboration as the theatre equivalent of a biopic does it injustice.
An enormous part of the pleasure of The Collaboration comes from the performances by Bettany and Pope. They are both so staggeringly good that it's difficult to choose where to focus. Each actor is charismatic; you don't want to take your eyes off Bettany's almost freakish Warhol, but also can't tear them away from the astonishing Jeremy Pope.
The framework is: in the late 1980s, Andy Warhol's agent (Erik Jensen) suggests reviving his career, his prices, and his reputation by collaborating with the hottest young painter in New York, a Black street kid from Brooklyn, Jean-Michel Basquiat.
Warhol balks. To put it mildly. Basquiat? This so-called graffiti artist who has perhaps eclipsed Warhol's fame? Plus, painting? Warhol had, by this time, long ago moved on from painting to screen printing and video. You can feel his contempt for the street-inflected painting of Basquiat, the new kid on the block.
How terrible for Warhol, to have been the enfant terrible yourself, and be bypassed by the newest wunderkind, in your perfectly curated studio, seeing the world at a remove, through a viewfinder.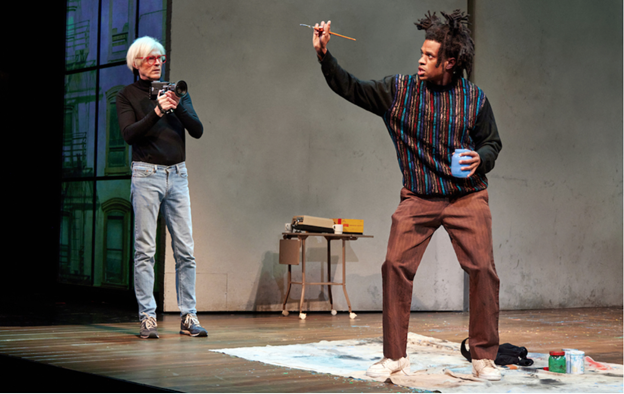 Paul Bettany and Jeremy Pope in The Collaboration. Photo by Jeremy Daniel
How exciting for Basquiat, to be the next big thing, beloved of the art world, selling for serious money and stashing the bucks in the fridge in your horrible downtown apartment (scenic design by Anna Fleischle). How alive you are! Why on earth would you agree to work with this old guy? And how is that going to pan out?
At the start, of course, it doesn't. Warhol wants to film Basquiat, not paint with him. Basquiat seeks freedom and improvisation in his painting, averaging about two hours to do a canvas; Warhol, once he's persuaded to pick up a brush, projects a corporate logo onto canvas, copies it, carefully fills it in. Meticulous vs brash; age vs youth; street vs establishment, irony vs complete authenticity, and, of course, incredibly white vs black (at one point Basquiat asks, "Why are you so white?"): The Collaboration sets up the kind of battle of opposites that seems insurmountable.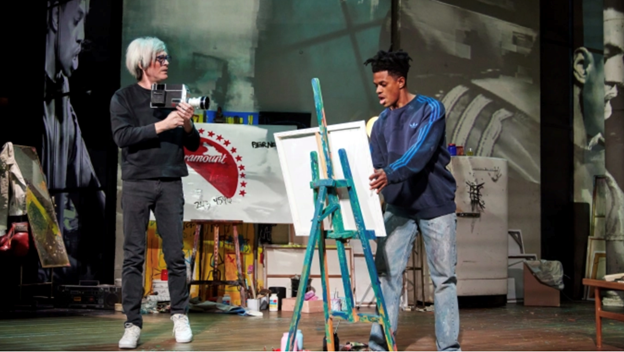 Paul Bettany and Jeremy Pope in The Collaboration. Photo by Jeremy Daniel
What happens next, of course, is that the insurmountable is indeed overcome, and the two artists truly collaborate, even become close friends. Much of this change happens over two years in the artists' lives  that the audience doesn't see, although it's implied in the projections shown during intermission (excellent work by Duncan McLean). You can watch the relationship between the two men change, as it sets up the second act.
The conflicts of the first act are resolved, in part, in the second, simply because things fall apart so spectacularly. Each of the artists shows his scars, Warhol's literally (he was shot in 1968) and Basquiat's in his heroin addiction, his rage and grief at the death of a fellow graffiti artist at the hands of the police, his touching, mystical belief that he can save people with his art, bringing them back to life.
The takeaway, from The Collaboration: art brings people to life. Ironically and sadly, both Basquiat and Warhol died within a couple of years of their collaboration.
The Collaboration
At the Samuel J. Friedman Theater
261 W. 47th St.
Through February 11
Running time: 2 hours, with one 15 minute intermission
Tickets, $74-318; https://www.telecharge.com/Broadway/The-Collaboration/Overview?_ga=2.212843284.1034729027.1674407055-1793490066.1665254006#perf_no_13376