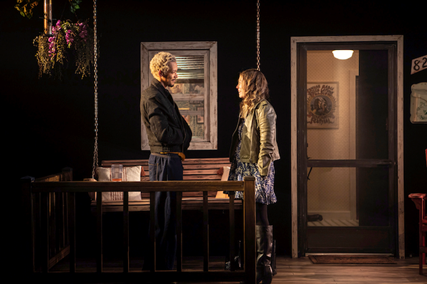 Caleb Eberhardt and Susannah Flood (Photo: Monique Carboni)
The Comeuppance
By Deirdre Donovan
Some plays demand reflection; others ask that you place yourself in their frame-of-mind.  With Branden Jacobs-Jenkins' provocative new play, The Comeuppance, you must do both.  Directed by Eric Ting, this unsettling new drama invites theatergoers to take a close look at the lives of five friends approaching middle-age.
The premise:  A self-proclaimed "Multi-Ethnic Reject Group"—Ursula (Brittany Bradford), Emilio (Caleb Eberhardt), Caitlin (Susannah Flood), and Kristina (Shannon Tyo)--plus Kristina's cousin Francisco (Bobby Moreno), are gathering to pre-game for their twentieth high school reunion.  Imbibing spiked "jungle juice" and weed (it's legal now!), they attempt to reconnect with their past and present selves.
So far, The Comeuppance might sound unremarkable as a play.  After all, what could possibly be compelling about eavesdropping on five friends gossiping about their high school days and current lives.  But what gives this piece its electricity is that Death will mystically insinuate itself, in turn, into the voice of each character.  And the character Emilio will be the first human vessel, in which Death will take up temporary residence: "Hello there. You and I, we have met before, though you may not recognize me.  People have a tendency to meet me once and try hard to forget it ever happened, though that never works, not for very long."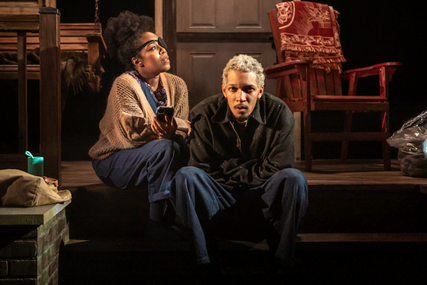 Brittany Bradford and Caleb Eberhardt. (Photo: Monique Carboni)
What makes this otherworldly phenomenon so intriguing is that Death is ever watching and waiting in the wings at this cozy gathering.  And, inevitably, it builds a strong feeling of suspense into the play.  What's more, when Death decides to interrupt the action at pivotal moments and speak through a given character, you learn that character's hidden secrets and more.  
For example, the partially blind Ursula, who is hosting the pre-game get-together on her porch, has had quite a few brushes with Death over the years.  Ursula's mother, in fact, died in a freak accident at the hospital after giving birth to her, resulting in her father running off and leaving her to be raised by her grandmother.  Her grandmother, who recently died of about 15 cancers, is her latest encounter with mortality. But, then again, isn't the eye patch Ursula wears a kind of mortality marker in itself?
While the friends' merciless scrutiny of one other's lives fuels the action and allows them to comment on their good and not-so-good fortunes, the reunion itself becomes a symbol of time passing and can heighten the angst that some already acutely feel.  Or as Emilio bluntly puts it: "I feel like before Facebook, reunions were a real encounter with the brutal beatdown of time.  You just sort of showed up and had no idea who would be there or how f*** up they would look and then you realized that maybe you looked a little f*** and every encounter was like a whole dark ritual of the soul where each party was confronted by the specter of their own mortality. . ."
The staging, by Ting, is as airtight as one would expect from the director of The Far Country, which had a run Off Broadway at the Atlantic Theatre last December.  While Arnulfo Maldonado's scenic design and Amith Chandrashaker's lighting are understated, its depicting of the post-pandemic world that the play's characters live in, is convincing.  What's more, Maldonado's realistic set solidly anchors this work that draws on surrealism to make its important points.  The play's themes--life and death, love and sex, time and eternity-- are the same as those employed in the Greek tragedies.  But they couldn't be more pertinent to reflect upon today.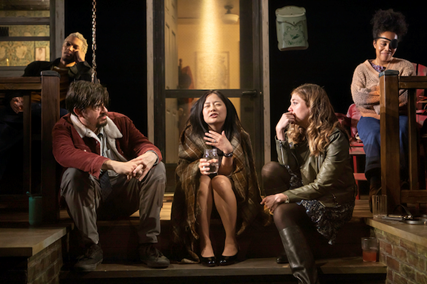 Caleb Eberhardt, Bobby Moreno, Shannon Tyo, Susannah Flood, and Brittany Bradford (Photo: Monique Carboni)
No question that the personal history of each character keeps the audience leaning in:  Caitlin has tied the knot with a police officer who somehow got himself entangled in the January 6 uprising at the Capitol; Kristina is a doctor with lots of kids and a drinking problem; Francisco, her cousin, once dated Caitlin, a relationship that went sour because of his insensitive behavior toward her.  Emilio an artist (and likely a stand-in for the author), can be overly judgmental of others, though he himself is sorely struggling with his post-pandemic identity and career direction; Ursula, who has generously welcomed all her friends to her home, is the most physically impaired by time, her partial blindness making daily routines difficult.
When it comes to the acting, there's no weak links in this sterling cast. And the good chemistry among the cast is one of the reasons that this production truly flies.
The Comeuppance is one of those rare plays that comes along and reminds you of the transcendent power of theater to tell profound stories.  Those theater lovers who had the great good luck to catch it at the Signature, experienced something special.
Through July 9.
At the Signature Theatre, 480 W. 42nd Street, Manhattan.
For more information, visit www.signaturetheatre.org
Running time:  2 hours; 10 minutes.