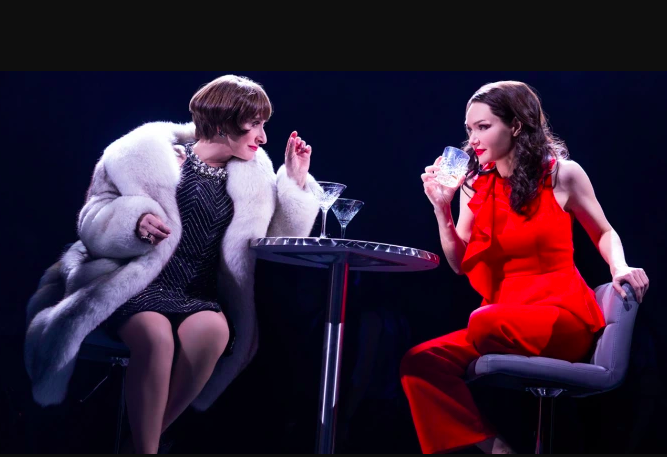 (L-R) Patti Lupone, Katrina Lenk (Matthew Murphy)
Company
By Fern Siegel
Stephen Sondheim went out on a high note: a Broadway revival of Company, an off-Broadway revival of Assassins and the Steven Spielberg-directed film West Side Story.
Spielberg tweaked the beloved movie musical a bit, and so did Sondheim and Marianne Elliott in the latest version of Company, now at the Bernard B. Jacobs Theater.
The playbill doesn't cite a new writer, but George Furth's original book has been updated. The plus in the ensemble cast is Patti Lupone's Joanne, who drips with well-timed venom and upstages everyone just by opening her mouth. Her "Ladies Who Lunch" number is a literal showstopper.
The score remains wonderful and insightful, given its wry, world-weary observations on relationships, but the premise may seem dated. In Company's 1970 debut, a 35-year-old bachelor with a lot of Upper East Side married friends seems plausible. Now, a disconnected person can still take an emotional journey and discover the pluses to companionship, but by altering gender, turning Bobby into Bobbie (Katrina Lenk) as the 2021 revival does, it shifts into more fraught terrain.
Telling a woman, repeatedly, that she must be married sounds far more anti-feminist than suggesting a man find a suitable mate. The pressure to wed has traditionally been more acute for women than men, who can be older than their intendeds without anyone questioning their choices.
So what of the talented Tony-winning Katrina Lenk? She was incandescent in The Band's Visit and Indecent and can belt out a number with genuine feeling. But here, she is either miscast – or more likely – misdirected.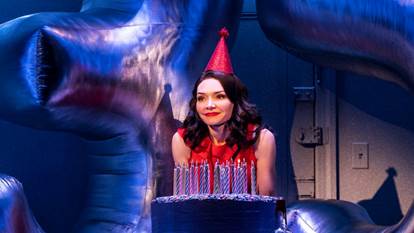 Katrina Lenk (Matthew Murphy)
The director posits Bobbie in an Alice in Manhattan guise. She is trapped in subways, tiny apartments or unfulfilled personal relationships where neither she, nor the men she dates, get her. That includes Claybourne Elder, who acts stupid/clueless with a kind of sweet charm. And in a fantasy/nightmare scene, her biological clock is ticking.
Bobbie's character has always been something of a cypher, on the outside looking in, eyeing the prospect of marriage with cynicism and doubt. She examines her friends in various stages of commitment — marriages that appear frayed, one that breaks and a gay couple about to take the plunge. Like her former male counterpart, she weighs the pros and cons, eventually deciding there are more reasons to commit than going it alone.
But Lenk doesn't seem fully engaged in the process. Dressed in red palazzo pants and a sleeveless top, she relies more on facial expressions to signal her intentions. That may be Elliott's failure to fully utilize Lenk's considerable range. She doesn't appear to hunger for connection, despite her shrinking apartment set, which suggests if she doesn't click soon, she'll loose all sense of proportion.
This Company, with its updated lyrics and visual references, seems more disjointed that the 2006 revival with Raul Esparza. It's hard to believe all these people are friends — or even know each other.
Joanne's martinis and multi-marital barbs don't fit with the younger couples, such as Harry (Christopher Sieber) and Sarah (Jennifer Simard), who badly hide their addictions to drink and food in one of the audience favorites "The Little Things You Do Together," sung by Lupone. ("Concerts we enjoy together/Neighbors we annoy together/Children we destroy together," that make perfect relationships.")
Similarly, Matt Doyle as Jamie nails the "Getting Married Today," a super-fast song where it takes enormous breath control and vocal articulation to release all the pent-up emotion. But he and his partner seem to exist in a world all their own.
And that's the catch to Company, which doesn't tell a linear story. It relies on vignettes and character sketches to explore a deeper theme: the value of personal connection. That theme is relevant in every era, though its presentation must have seemed new and decidedly different in 1970.
This round, the show takes place in a series of neon-lit boxes (Bobbie's apartment), a bar, street scene, balcony, living room, bedroom and kitchen. Sets and costumes are by Bunny Christie and the lighting designer is Neil Austin.
Company has something to say; it's all in how you say it. Elliott is blessed with a solid cast and a show that contains many prized songs, including "Being Alive," the astounding crescendo that ends the production. It's a rousing number that reminds us of the value of human connection, even if relationships are complicated, filled as much with love as ambivalence. Or as Sondheim's explained the nuances, we're all "Sorry-Grateful."
It may not be the best revival, but the score, like Lupone's shining moments, are still laudable.
Company – Bernard B. Jacobs Theater 242 W 45 St
Running Time: 2 hours, 45 minutes
Tickets: www.broadway.com/shows/company/