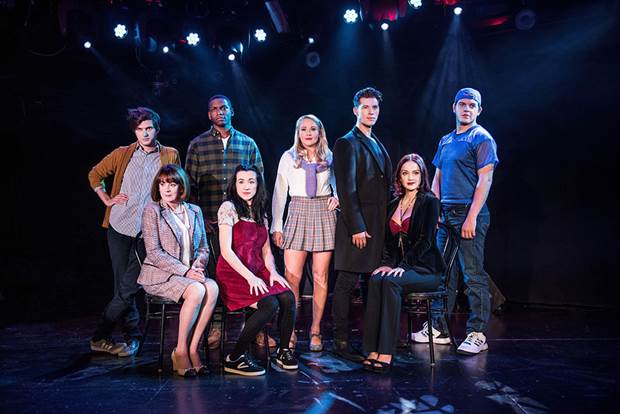 credit Jenny Anderson                                                                                                 
                           by Deirdre Donovan
Remember Roger Kumble's cult-hit film Cruel Intentions?  Well, Kumble's 1999 film has gone from screen to stage with a new jukebox musical of the same name.  Created by Jordan Ross, Lindsey Rosin, and Roger Kumble, and now playing at Le Poisson Rouge, it may well be Off Broadway's raciest new show.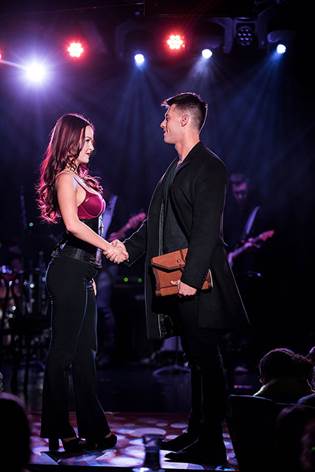 Lauren Zakrin, Constantine Rousouli   credit Jenny Anderson
The scenario:  Step-siblings Sebastian Valmont (Constantine  Rousouli) and Kathryn Merteuil (Lauren Zakrin) are two diabolically charming high school teens who wager a bet between them.  The handsome Sebastian wants to cement his Don Juan reputation and bets he can seduce the incoming headmaster's daughter Annette Hargrove (Carrie St. Louis).  The attractive (and tough as nails) Kathryn schemes on how to get Sebastian to deflower the dull-witted Cecile Caldwell (Emma Hunton).  The step-siblings soon become entangled in a web of intrigues, temptations, and secrets that eventually implode on themselves.  What starts out as a titillating excitement turns into a very dangerous game of love indeed. 
Carrie St. Louis
Feel a rush of déjà vu as you watch Cruel Intentions?  Well, it's no accident.  This musical is a new twist on the classic 1782 French novel Les Liaisons Dangereuses by Pierre Chaderlos de Laclos. The difference of course is the modern setting, the American vernacular, and the 90s hit tunes, courtesy of the artists Goo Goo Dolls, No Doubt, R.E.M., Ace of Base, Jewel, and NSYNC. 
Those who are fans of the Cruel Intentions film will recognize that a few songs from the iconic soundtrack have been sprinkled into this stage version as well.  In fact, Verve's "Bittersweet  Symphony" and Counting Cows "Colorblind" are two of the better-known songs that surface in this intoxicating musical and cast a complete spell over the audience.
Cruel Intentions sets precedent as the first ever fully-staged theater production at Le Poisson Rouge.  It debuted at the Rockwell Table & Stage in Los Angeles in 2015 and migrated two years later to Le Poisson Rouge first for a "pop-up" performance in February 2017 and then for a longer run starting this past November.  The show originally was slated for a 10-week run at the nightclub but its popularity encouraged the producers to extend it to a 21-week run. 
No question one of the show's real plusses is its intimate staging.  Audience members are cozily seated at tables surrounding the stage.  And performers fluidly move on and off stage to execute various scenes.  Depending on where you sit, you may be only an arm's length away from an actor as he (or she) deviously dreams or schemes in their fictive world.
The cast looks like it's having one devilishly good time during the show.   Although it's unfair to pick favorites from such a good acting ensemble, Constantine Rousouli is ideal as the latter-day Lothario, Sebastian Valmont.  Lauren Zakrin, as the demonic Kathryn Merteuil, is cunning as a serpent here.  Carrie St. Louis, as the schoolmaster's daughter Annette Hargrove, is a superb blending of naïveness and propriety.  And Emma Hunton, as the slow-witted Cecile Caldwell, makes good use of physical comedy to pull off the funny seduction scenes.
Under the agile direction of Lindsey Rosin, Cruel Intentions is a delightful nostalgic trip back to the 90s.  It might not have the grandeur of Les Liaisons Dangereuses, but this winking musical about manipulative teens will definitely appeal to those New Yorkers who like their theater hot and spicy.
Through April 8th.
At Le Poisson Rouge, 158 Bleecker Street, Manhattan.
For more information and tickets, visit www.CruelMusical.com
All seated tickets, require a 2 beverage or food minimum.
Running time:  Approximately 2 hours with one intermission.