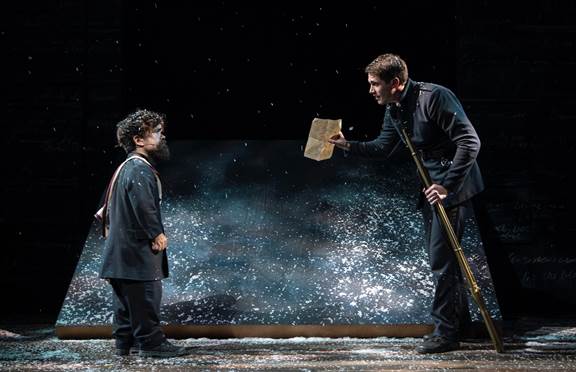 Peter Dinklage  Blake Jenner           photos  by Monique Carboni
Cyrano - A New Group Musical Starring Peter Dinklage
                              by Arney Rosenblat
Outer beauty trumps inner beauty once again in this modern musical adaptation of the 1897 romantic drama of unrequited love - Cyrano de Bergerac written by Edmond Rostand
Though intellectually, most people agree that inner beauty outweighs the trappings of outer beauty, in his play Cyrano de Bergerac, Rostand explored the reality that when it comes to the heart, it's tough to get past outer beauty to discover what is truly beautiful and of value in each human being.
Because of its universal themes of unrequited love, self doubt and assumptions based on superficialities, Cyrano lends itself to multiple interpretations.. The current iteration of Cyrano is a musical, adapted and directed by Erica Schmidt, who happens to be the talented wife of the play's likewise creative lead Peter Dinklage. The play was originally commissioned by Goodspeed Musicals in Connecticut and is the latest offering of the much respected The New Group.
To make Cyrano more relatable to a contemporary audience (the evening I attended, I would guess a major percentage of the audience was under 35 and likely unfamiliar with the Rostand source material), Ms. Schmidt took the aforementioned essence of the play, trimmed and modernized much of the language and its meter, and transported much of the story to an often timeless setting. She also seemingly sought to lodge the play's poetry in its music -- songs by the Grammy winning alternative-rock band, The National with music by Aaron Dessner and Bryce Dessner and lyrics by lead vocalist Matt Berninger and trusted collaborator Carin Besser who have provided a score which complements rather than dominates the story. It does so with varying success as have other attempts to marry music with the Rostand love story, among them Franco Alfano's mid thirties opera and the early seventies Broadway musical directed and choreographed by Michael Kidd which earned Christopher Plummer a Tony.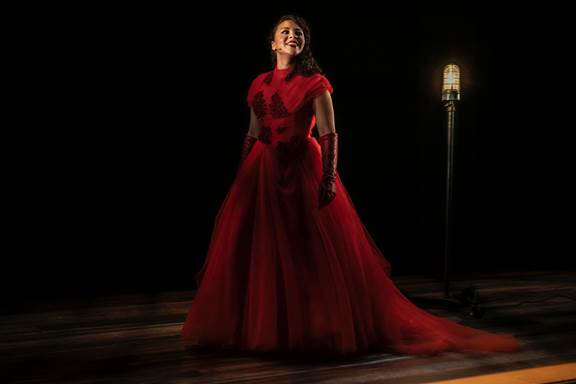 Jasmine Cephas Jones
Another idiosyncratic addition, or more accurately subtraction, to the current interpretation of Cyrano is Ms. Schmidt's expunging of nearly all references to Cyrano de Bergerac's trademark defining trait, his prominent nose and Mr. Dinklage plays the character sans proboscis extension, This leaves a somewhat significant humor hole, in the proceedings but does strengthen Ms. Schmidt's goal to stress the yearning and desire inherent in the story. What few barbs about Cyrano's nose that do occur between Cyrano and the Duke De Guiche,, the play's closest thing to a villain (though he does ultimately repent his ways) Cyrano's retort is, "I am living proof that God has a sick sense of humor,," yet again heightening the play's sadness and melancholy.
Blake Jenner, Peter Dinklage and Jasmine Cephas Jones
Cyrano's greatest character flaws now become self-doubt and pride. These tragic flaws are emphasized in the song "Need for Nothing" in which Cyrano's friend and confident Le Bret, sympathetically portrayed by Josh A. Dawson warns "Why can't you see your pride will lead you to nothing."
A majority of the audience attending the Cyrano production at the Daryl Roth Theatre were drawn by their curiosity about and/or affection for Peter Dinklage, the renowned Tyrion Lannister from HBO's "Game of Thrones." They should not be disappointed either in Mr. Dinklage's embodiment of the tragic Cyrano and in the exceptionally strong cast that surrounds him
The story is a simple one. Cyrano (Dinklage), an adept soldier and poet noted for his proficient skills with a sword and words, because of his physical insecurities, self doubt and pride, is afraid to declare his love for his bright beautiful distant cousin and childhood friend Roxanne, portrayed with both striking vocal and physical strength and clarity by Jasmine Cephas Jones of Hamilton fame.
Roxanne, who has no idea of Cyrano's affection for her, is smitten with Christian, a handsome new recruit in Cyrano's regiment who is good-hearted but not facile with words. Though Christian is often portrayed as a dolt, Blake Jenner, well known for his role in Glee, provides his character with an innate charm and nails each of his song's with his lush voice, particularly in the reprise of the winning song "Someone To Say.". He also provides one of the play's most humorous moments when flummoxed by Roxanne' demand for wit as he tries to speak to her in his own voice and he lovingly responds that "Your hair. It's light and curly like pasta."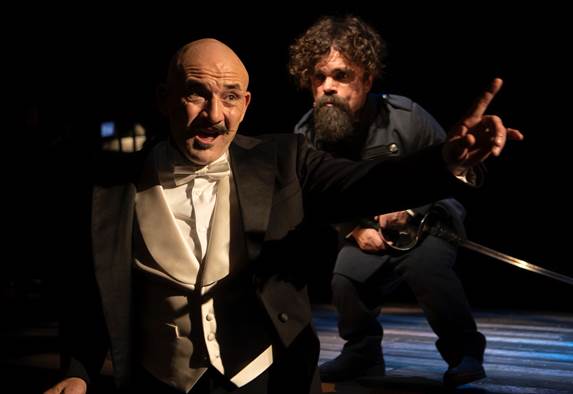 Ritchie Coster, Peter Dinklage
Also desirous of the splendid Roxanne is the rich and powerful De Guiche, a versatile and spot-on Ritchie Coster, who commands Cyrano's regiment at a time when war is about to break out in the region. His conflicted spirit is spotlighted in another strong song, "What I Deserve." Urging Roxanne to be more attentive to De Guiche is her chaperone and confident Marie, perfectly played by Grace McLean who is concerned over the family's dwindling fortunes.
Cyrano can't help but like the sincere but word-challenged Christian and decides to sublimate his own love for Roxanne and assist Christian in wooing her. "I will make you eloquent and you, you will make me handsome," says Cyrano. Spoiler alert -- all does not end well for anyone concerned.
Supporting and helping to drive the melancholy and growing tragic mood of the play is the creative use of the plain stage setting. For instance, Christine Jones and Amy Rubin employ projections and an ever varying back wall with folding and unfolding panels to bring to life a bakery, a wisteria draped garden and balcony, and a battlefield while Jeff and Rick Kuperman's choreography along with Jeff Croiter's introspective lighting enhance the key tableaus that convey the moving love story. A six-piece band under the music direction of Ted Arthur sustains the play's mood while the typically century neutral costumes by Tom Broecker reinforce the timeless tenor of the tale. A nice touch is the writing on the back wall which I presume are excerpts from Cyrano's letters to Roxanne.
This Cyrano musical may not be perfect but it makes a worthwhile addition to the cache of Cyrano de Bergerac adaptations and could benefit from some fine-tuning
.
An interesting side note is that Rostand actually based his original Cyrano de Bergerac play on a real individual and I'd like to suggest using the current musical foray into the lives of Cyrano, Roxanne and Christian as an opportunity to explore Rostand's moving source verse play. Two of the best productions I've encountered featured Kevin Kline and Jose Ferrer, who received an Oscar for the role in a 1950's released film version. No matter how jaded you think you might be, I defy you not to choke up when Cyrano, in the guise of Christian, pours out his heart to Roxanne in the dark under her balcony or when Roxanne finally realizes that she loved but one man and lost him twice.
Cyrano
Daryl Roth Theatre
101 East 15th Street
Runniing time: 2 hours and 5 minutes
Closing Date: December 22, 2019
800-745-3000