Fire Island Dance Festival
Shatters Fundraising Record with $560,133
Presented by and benefiting Dancers Responding to AIDS,
a program of Broadway Cares/Equity Fights AIDS
Performances included Wendy Whelan and Brian Brooks, Ballet Contemporáneo de Camagüey Cuba,
Dance Theatre of Harlem, Gallim Dance, KEIGWIN + COMPANY and MADBOOTS DANCE,
plus choreography by Al Blackstone, Abdul Latif and Darrell Grand Moultrie
On a picturesque waterfront stage overlooking the Great South Bay, this year's Fire Island Dance Festival welcomed ballet, modern and contemporary dance powerhouses on July 15-17, 2016. The 22nd annual edition of the summer's most talked-about cultural and charitable event in Fire Island Pines raised a record-breaking $560,133 for Dancers Responding to AIDS, a program of Broadway Cares/Equity Fights AIDS.
The festival included the world premieres of five works. Since the festival began in 1995, 56 new works have had their premieres at Fire Island Dance Festival (#fidance).
Featuring an unparalleled lineup of dancers, choreographers and generous supporters, the festival set a fundraising record for the sixth year in a row. In its 22 editions, Fire Island Dance Festival has raised more than $4.8 million to help ensure that those in need living with HIV/AIDS and other debilitating illnesses in New York and across the country have access to lifesaving medications, counseling, healthy meals and emergency financial assistance.
 Photo by Daniel Roberts
This year's sold-out festival was hosted by the inimitable Tituss Burgess, a Broadway favorite and star of the hit Netflix series Unbreakable Kimmy Schmidt, for which he just received his second Emmy Award nomination last week.
The festival's five premieres were choreographed by Al Blackstone, whose Freddie Falls in Love premiered this summer at New York's Signature Theatre; Jonathan Campbell and Austin Diaz, artistic directors and co-founders of MADBOOTS DANCE; Abdul Latif, a former Broadway dancer who recently opened his own performing arts firm, Abdul Latif – D2D/T; Andrea Miller, a Guggenheim Fellow and founder, artistic director and choreographer of Gallim Dance; and Darrell Grand Moultrie, an in-demand choreographer who has worked with such diverse talents as Beyonce and Tony Award-winning director Diane Paulus.
"We are in awe of how this community continues to champion our efforts each year to help those in need on Fire Island and across the country," said Denise Roberts Hurlin, founding director of Dancers Responding to AIDS. "Relationships are the cornerstone of all that we do, whether it's the relationships between the dancers and the audience, between donors and choreographers, or between our performers and their hosts. The relationships that have been built over the past 22 years here make this festival continue to happen every year, and, more importantly, ensure that help continues to be on the way to the hundreds of thousands of people we serve."
The 22nd edition of Fire Island Dance Festival featured 32 professional dancers entertaining three sold-out crowds with a diverse mix of Broadway, ballet, contemporary and modern dance. The festival featured these exceptional performances:
 
Photo by Daniel Roberts
Ballet legend Wendy Whelan and contemporary choreographer Brian Brooks performed First Fall, a piece that found Whelan and Brooks physically and emotionally tangled in each other, playing, at times, with a dance version of call and response. Set to orchestral string music by Philip Glass, they relied on each other's bodies to balance and propel their movement until the entanglement ultimately unraveled into a peaceful surrender.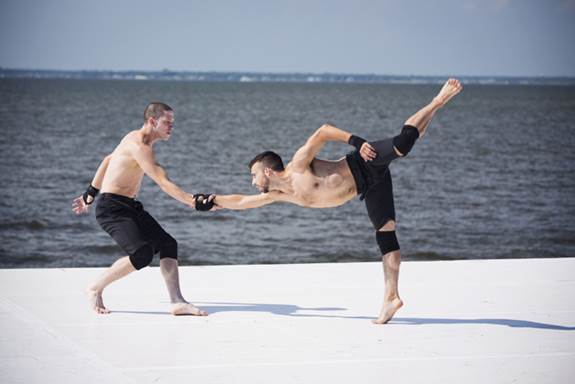 Photo by Whitney Brown
In response to the tragedy in Orlando earlier this summer, MADBOOTS DANCE co-creators Jonathan Campbell and Austin Diaz performed For Us, a gripping piece about love. With the iconic voices of Judy Garland and Shirley Bassey providing the soundtrack, For Us demonstrated the power that we all have when allowed to live freely, unbound by the ties that bind us.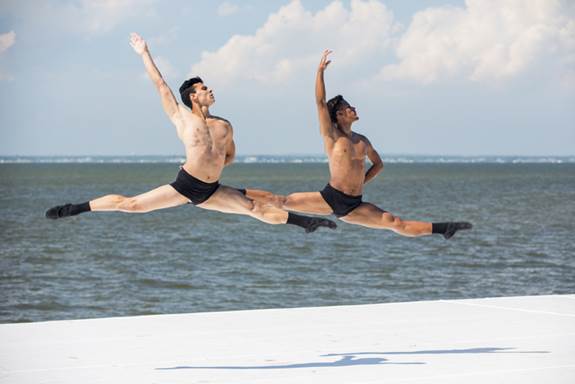 Photo by Whitney Brown
Cuba's Ballet Contemporáneo de Camagüey performed for the first time ever in the United States. Armando Gomez Brydson and Jesus Arias Pagues presented Lasting Embrace, a poetic duet that exposed the sinewy dancers' virility and sensitivity. The piece was choreographed by Pedro Ruiz, the company's associate artistic director and the first Cuban-American to be given an official position with a Cuban dance company.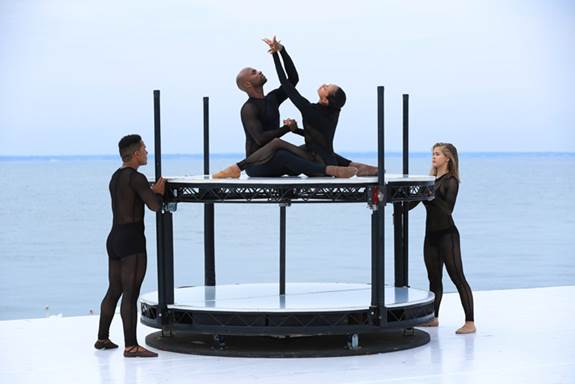 Photo by Daniel Roberts
Husband-and-wife Glenn Allen Sims and Linda Celeste Sims, both dancers with Alvin Ailey American Dance Theater, brought to life Abdul Latif's choreography in MATCH - The First Installment.

Photo by Whitney Brown
Dance Theatre of Harlem debuted Equilibrium (BROTHERHOOD) by choreographer Darrell Grand Moultrie. Through dancers Dylan Santos, Anthony Javier Savoy and Jorge Andres Villarini, Moultrie brought physicality and grace to his new work, which explored the importance of male bonding and how it brings stability to one's life.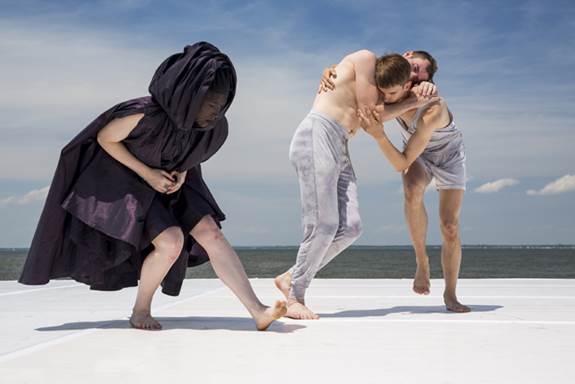 Photo by Whitney Brown
Gallim Dance founder Andrea Miller created Mike and Harvey as a tribute to two friends and Fire Island Pines residents who passed away last year. Miller first met Harvey Alter and Mike Young when they hosted her as a dance festival choreographer and they became good friends. Miller paid tribute to the pair with a dance celebrating unconditional love. Dancer Gwyn Mackenzie was beautifully enhanced by designer Eric Winterling's dramatic, silk taffeta hooded cape, representing Miller in mourning. Austin Tyson and Paul Vickers honored Alter and Young to the sweeping "Adagio for Strings" by Samuel Barber.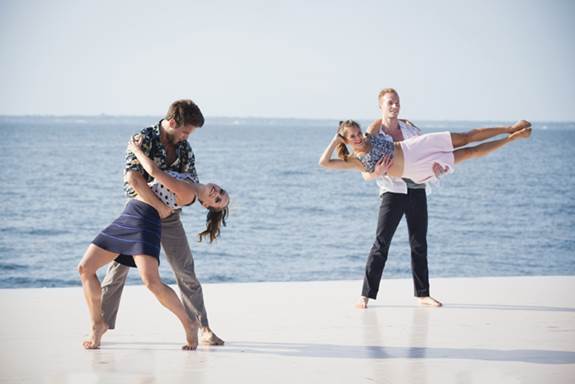 Photo by WhItney Brown
Using the high-spirited and youthful verve of Leonard Bernstein's On the Town, KEIGWIN + COMPANY's excerpts from Episodes seamlessly combined a sense of theatricality with vigorous athleticism. The six dancers' dynamic movement and partnering was imbued with energetic playfulness.

Photo by Whitney Brown
Festival favorite Al Blackstone reimagined a portion of his highly successful, recent work, Freddie Falls in Love, to create "Gay Paree," a lighthearted finale to this year's performances.
Dorrance Dance kicked off the festival on Friday, July 15, with an intricate, ferocious and virtuosic tap performance that brought the audience to its feet. This exclusive performance, sponsored by DIRECTV, was part of the opening event for the festival's Leadership Supporters.
Fire Island Dance Festival is generously sponsored by The New York Times, United Airlines, Rockefeller Brothers Fund, DIRECTV, Movmnt Magazine, Sayville Ferry, Tony's Barge, Inc. and Celebrity Cruises.
Dancers Responding to AIDS, founded in 1991 by former Paul Taylor Dance Company members Denise Roberts Hurlin and Hernando Cortez, relies on the extraordinary compassion and efforts of the performing arts community to fund a safety net of social services for those in need. As a program of Broadway Cares/Equity Fights AIDS, DRA supports more than 450 AIDS and family service organizations in all 50 states as well as the essential programs of The Actors Fund, including the HIV/AIDS Initiative and The Dancers' Resource.
For more information, please visit Dancers Responding to AIDS at dradance.org, on Facebook at facebook.com/DRAdance, on Twitter at twitter.com/DRAdance, on YouTube at youtube.com/DRAdance and on Instagram at instagram.com/DRAdance.