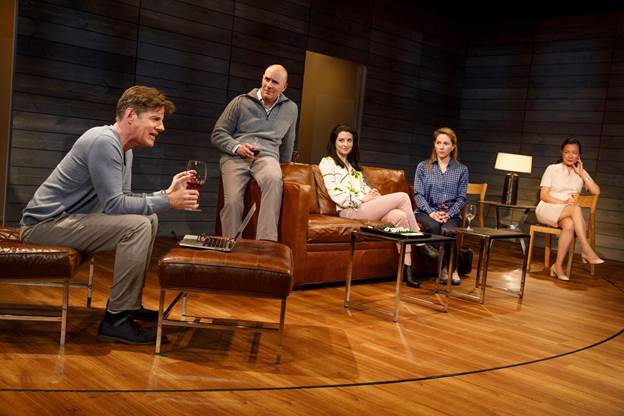 Rick Holmes, Jordan Lage,  Meredith Forlenza, Kristen Bush, Laura Kai Chen
                                             By Ron Cohen
Both the haves and the have-nots get their knocks in Anthony Giardina's Dan Cody's Yacht, a relentless examination of the crossroads of education and affluence.

It's a serious and pertinent theme, and Giardina, a well-practiced playwright (The City of Conversation is among his other titles), is obviously passionate about it, but his play sometimes seems more thesis than drama.
The story posits two neighboring towns in the Boston area, impoverished Patchett, with its rundown schools, and well-to-do Stillwell, with its well-funded and superbly operated halls of learning. A proposal is coming before the citizenry to combine the two school districts. It's a matter of deep importance for Cara Russo, who teaches high school in Stillwell but lives in Patchett. Should the districts merge, it means that Cara's daughter, Angela, a talented, poetry-writing teen, will have the future-assuring opportunity to attend Stillwell.
For Kevin O'Neill, a private equity executive living in Stillwell and a single father whose son attends the high school there, the proposed merger is anathema. It will send a lot of kids to a place they don't have to ability to appreciate, he argues, while lowering the school's standards.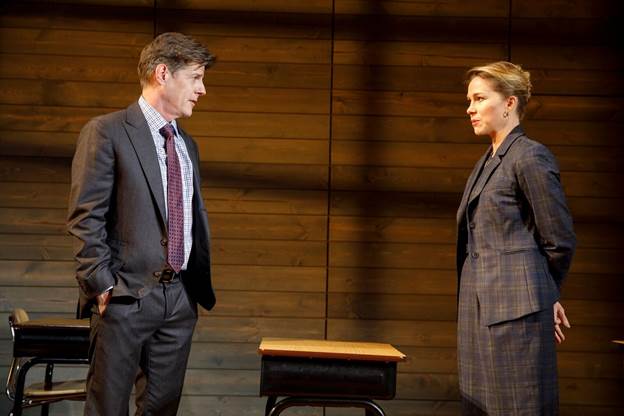 Rick  Holmes and Kristen  Bush
Kevin and Cara first meet when Kevin comes to Cara's classroom to discuss a failing grade given his son Conor's paper on The Great Gatsby, a book which Conor didn't bother to read.  (The play's title comes from F. Scott Fitzgerald's seminal novel. Dan Cody is a character in Gatsby's past who mentored the young man on how to climb the social ladder with ill-gotten gains.)
Kevin and Cara argue about the proposed merger, and touched by her situation, Kevin offers the teacher another solution to her problem. He invites her to join a private investment club he runs with a few rich friends, offering the chance to grow her money enough to allow her to move into Stillwell. She joins the fund, and as the school merger fails, Cara's funds keep growing enough to plan a move to Stillwell. But then her account suffers a deep monthly drop, and frightened, Cara drops out of the investment club and abandons her plan to change residence. She also rejects a proposal by Kevin to put her funds into a more secure but secretive and obviously shady investment, which would be outside the club's purview. She asks Kevin if he is simply trying to prove that she is "corruptible," like he is.
Along with all this, we get to hear the scorn of Kevin, a self-made man, for the poor folks of Patchett and the rich types in Stillwell. "I was hungry," he says, explaining his attainment of wealth. "Forgive me, I don't drive around the streets of your town and sense deep hunger coming from those kids. All I see is hoodies and devices."
As for the parents who can afford to send their kids to the top colleges, Kevin – in trying to talk Cara into his questionable proposal – offers this assessment: 99 percent of them have "gamed the system in their own way. Genetics. Inheritance. Good zip codes. The ability to pay to artificially induce higher SAT scores…All those trust funders who have never had to worry about their kid's futures."
And Kevin himself is obsessed with idea of Conor getting into a top university. He virtually rhapsodizes about Harvard.
For her part, Cara has to face her daughter's fears about moving into the Stillwell enclave of the rich, a place where she will be ignored or looked down upon. Cara's also confronted with the unhappiness of her best friend Cathy from Patchett, another single mother, who worries that the move would end their friendship, they won't meet any more at the supermarket. "You'll do all your shopping at Whole Foods," Cathy cries.
Giardina occasionally softens the schematics of his plotting with humor, a couple of emotional scenes between parents and offspring, and the uncertain layers of the relationship between Cara and Kevin. We're told early on that Kevin is gay. Thus, the possibility of a romance between Cara and Kevin is ruled out. Or is it?
"We've never managed to tell each other everything, have we, Cara?" Kevin asks as the play moves toward its end. The last-minute ambiguity is a welcome addition to the texture of the play.
The proceedings have been directed with admirable efficiency by Doug Hughes on a good-looking array of sets by John Lee Beatty – the classroom, Cara's neat but plain kitchen, Kevin's leather-rich living room, an upscale restaurant, other locales -- moving smoothly into place on a revolving stage.
Within the parameters of the narrative, the cast offers a gallery of sturdy portrayals. Rick Holmes is appropriately loutish as Kevin, and his concern for his son's education shows through mainly as a matter of self-pride. Kristen Bush's Cara leaves no doubt as to the sincerity of her feelings for her daughter, while tempted to improve their situation.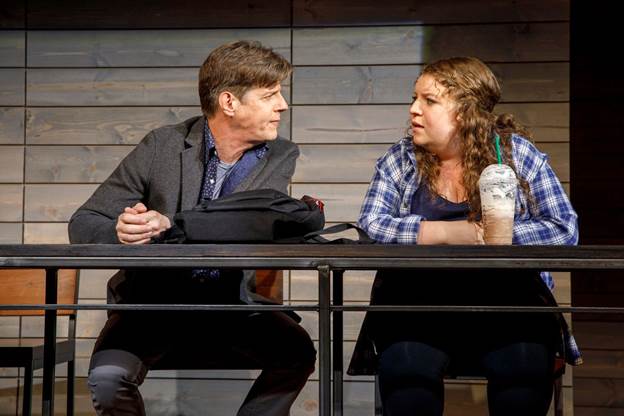 Rick Holmes and Casey Whyland                      photos by Joan Marcus
Casey Whyland and John Kroft are affecting as the children, respectively of Cara and Kevin. Roxanna Hope Radja imbues Cara's friend Cathy with some likeable downscale niceness, while Jordan Lage, Meredith Forlenza and Laura Kai Chen offer all the superciliousness you can want as a trio of Kevin's rich friends.
Giardina's tracking of the importance of privilege in getting a good education, or at least going through the motions of one at a top university to acquire even more privilege, is certainly of import, but it sometimes seem as if Dan Cody's Yacht is like cruising with a dance band that knows only one song. They play it well, but you still may long for an additional melody or two.
Posted: June 2018
Off-Broadway play
Playing at Manhattan Theatre Club
New York City Center
131 West 55th Street
www.nycitycenter.org/pdps/dan-codys-yacht
212-581-1212 
Playing until July 1