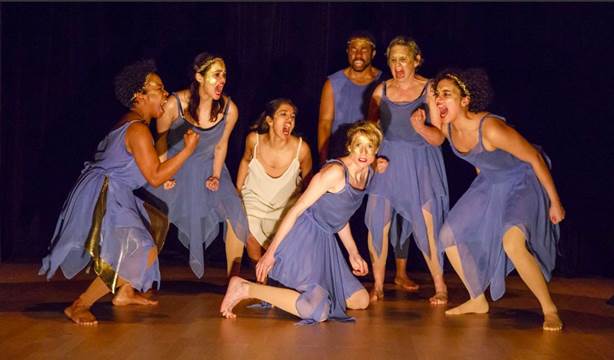 Eboni Booth, Dina Shihabi, Purva Bedi, Lucy Taylor (kneeling), Ikechukwu Ufomadu, Ellen Maddow and Camila Canó-Flaviá
                                       by Julia Polinsky
Everything you need to know about Dance Nation can be found out by reading the Author's Note in the playbill, in which Barron claims to be writing about women, ambition, and desire, then goes on to write about her struggle with dealing with her own feelings. So, she did what playwrights do: she put that stuff down on paper, gave it bodies, set them in motion, and bled all over the page and the stage. Blood is a recurring theme, btw; there's some out-of-left-field vampire imagery, and if you're squeamish about 13-year-olds dealing intimately with menstrual blood, maybe this is not a show for you.
The play focuses on a group of preteen dancers from a studio in the Midwest, rehearsing, hoping, and dancing for the top prize at a big dance competition in Tampa Bay. These kids are shepherded through their ambitious preparations by Dance Teacher Pat (Thomas Jay Ryan), who spouts cliches as he does about what you'd predict. Dance Nation runs through all the predictable characters: the Talented One, the Wannabe, The Others, the Moms, the Boy, and tries to shock while being annoyingly ordinary.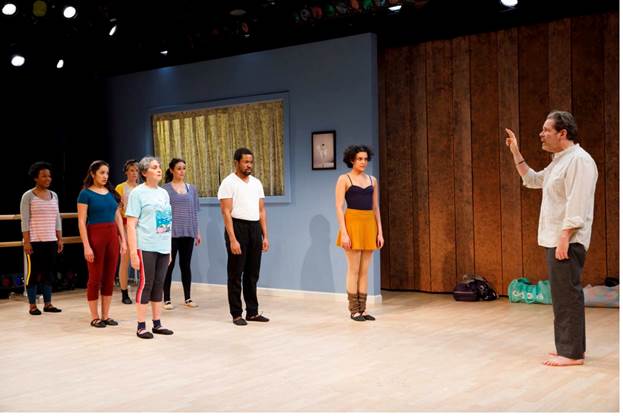 Eboni Booth, Dina Shihabi, Purva Bedi, Lucy Taylor, Ikechukwu Ufomadu, Ellen Maddow, Camila Canó-Flaviá, Thomas Jay Ryan                                                  Photos by Joan Marcus                         
Dance Nation is just so conflicted! We should be surprised that 13s can be angry and ambitious and monstrous, at the same time that we should cheer on their B-movie-level story about The Big Competition and who's the best dancer. And how she feels about being the best, and her BFF is the less-talent wannabe, and how she feels about that, and on and on, blah blah. The rest of the troupe are mediocrities, more or less; how they feel about being mediocre, which, in all fairness, sometimes actually is surprising, is sometimes couched in the language of mastery, power, rage.
From time to time, the "girls" stop in their studio-time chat/locker room talk and soliloquize about themselves and their futures. Sometimes blazing, sometimes hopeful, sometimes hopeless, these revealing moments pull the characters from present to future, cued by Barbara Samuels' lighting design. Hopes and dreams, folks. Nothing new here, except the repeating motif of "I'm a girl so I'll conceal my excellence, hide my tiara under a hoodie" rather than raging loud and proud. We could be watching a post-postmodern version of A Chorus Line – Dance Nation even makes a cute reference to that show, along the way.
It feels so false. It feels so manipulative. It feels so calculated – especially the casting, which uses 20somethings, yes, but also much older actors. That could have been really effective, if the cast were up to it, but although the 60-ish Ellen Maddow gives a terrific, authentic performance as Maeve, the rest of the "girls" were just plain off target.
As Luke, the one "boy" in the cast, Ikechukwu Ufomadu is also effective as a young teen; body language just right, oozing and radiating hopeless crush/charming naivete. Eboni Booth, as Zuzu, the not-quite-good-enough wannabe who chokes at the worst possible moment, is also terrific; her 13 is a plausible, believable 13.
"Believable" seems a fairly low bar, for an actor, and if it's not met, it's a mess.
It's hard to imagine what director/choreographer Lee Sunday Evans could possibly have done to make Dance Nation work, when it's working so hard against itself, but pulling credible performances out of experienced actors would be an absolute minimum. Although, you have to give him credit for managing to direct a scene in which three characters embody past, present, and future, their separate parts of the stage: one girl plays with toy horses, one focuses on her talent and the future it'll get her, and one washes menstrual blood off her legs. A director has to work hard to make that scene vivid instead of heavy-handed and squirm-y. More power to him. 
In the "what were they thinking" sweepstakes, today's award goes to Dance Nation, a play so carefully balanced between annoying and boring, it was time to check my watch 45 minutes in, with still an hour to go. How appalling, that that this self-indulgent piece of therapy-masked-as-art ever got past the author's keyboard. Dance Nation's odd self contradictions and heavy handed attempts at blending present and future, docility and rage, dreams and shocks just doesn't work.
Dance Nation by Clare Barron
At Playwrights Horizons
416 West 42 Street
New York, NY 10036
212 564 1235
Tues-Fri 7:30; Sat, Sun, 2 and 7
1 hour 45 minutes; no intermission
Playwrightshorizons.org
Tickets $59-99