Kelli O'Hara and Brian d'Arcy James (Photo Credit: Ahron R. Foster)
Days of Wine and Roses
By David Schultz
This haunting chamber musical is perfectly suited for composer Adam Guettel (Floyd Collins, The Light in the Piazza). The complex contrapuntal stylistic music is Guettel's signature calling card. Sweet, simple melodic lines are not within his bag of tricks. This makes the music and lyrics collide in unusual ways that continually challenge the ears. The experience is more of an evening spent listening to a modern opera than your typical musical. It is oddly a perfect choice for this work.
Kirsten (Kelli O' Hara) a secretary, in an advertising firm, meets Joe (Brian d'Arcy James) a PR executive at a office party, on a ship docked in port in NYC circa mid 1950's. Initially thinking Kirsten is one of the party girls, she curtly informs him she is his boss's secretary. (Ouch.) They commence a terse/cute conversation; he offers to buy her a drink; she demurs; not a drinker says she. He pushes on to entice her into finally agreeing to a dessert cocktail. She likes sweet things, so he orders her a Brandy Alexander, and that is the beginning of their romance and addiction to ever-stronger liquid libations.
Adapted from the 1962 film of the same name, starring Jack Lemmon and Lee Remick, which was initially based on a Playhouse 90 teleplay by writer J.P. Miller, this stark tale of addiction has been in the zeitgeist for over 60 years. The musical hews close to the original plotlines, with the addition a six-member band playing music that disorients as it seeks to reveal these two lost souls, with chromatic recitatives.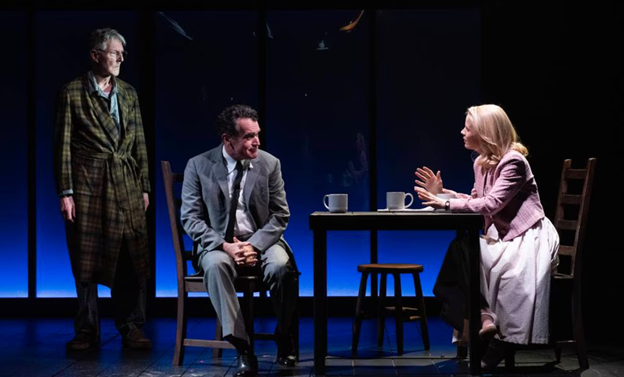 Byron Jennings, Kelli O'Hara, and Brian d'Arcy James (Photo Credit: Ahron R. Foster)
In rapid fashion, these two get married, settle down, have a child. Kirsten's aging father Arnesen (Byron Jennings) has major misgivings about their union and finds much to dislike about his daughter's new tendency to drink. Other ghostly characters float throughout the evening playing various employers and relatives, but director Michael Greif keeps the spotlight firmly on the two leads and gives them dense arias to sing.
With 18 individual songs, Days of Wine and Roses is practically sung through. Ms. O'Hara gets the motherlode, with a significant amount of time to sing. O'Hara's operatic vocal styling grabs hold and creates a gorgeous soundscape for her character.
Keeping on an equal footing Mr. d'Arcy James has less to sing but he is up to the task with his aria-like emotional outpourings of gravitas when the moment demands it. These two savvy performers are perfectly paired and have genuine chemistry on stage, a true rarity these days.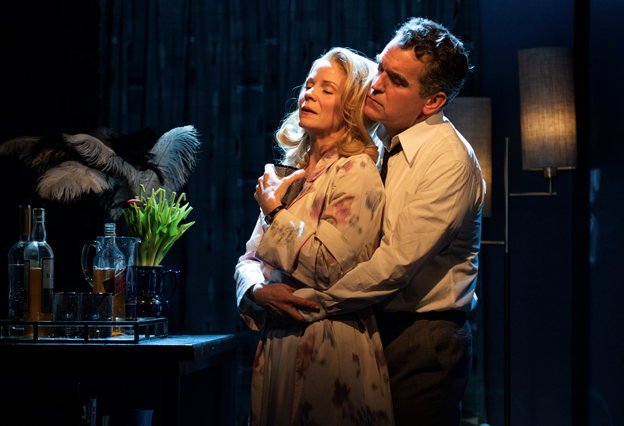 Kelli O'Hara  and Brian d'Arcy James (Photo Credit: Ahron R. Foster)
The nightmarish descent into their dependency on drink becomes a way of life for these tortured souls, and the play brutally observes the push and pull of trying to get sober. The specter of attending A.A. is offered to both, but the constant lure of just one more drink is always a few inches away.
Set Designer Lizzie Clachan works wonders with her gliding cinematic sets that give place and time solid ground, helped immeasurably by lighting designer Ben Stanton. Ditto Dede Ayite's impeccably mid-1950's clothing for the men and women, perfectly capturing the look and feel of the era. Minimal dance movements are given subtle life by choreographers Sergio Trujillo and Karla Puna Garcia. Delicate and precise, they give the work a touch of grace.  
Oddly, this musical is richly emotional despite the dissonance of composer Guettel's interior soundscapes. As the work gradually moves toward its tragic ending (with a glimmer of hope), the piece ends on an elegiac note.
Days of Wine and Roses
Atlantic Theater Company. Linda Gross Theater
336 West 20th Street
Atlantictheater.org
646 989 7996
Playing through July 16th