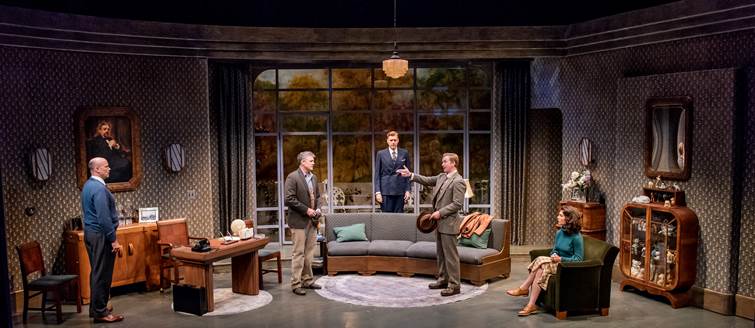 Larry Bull, Chris Henry Coffey, Ted Deasy, Roderick Hill, and Janie Brookshire
                      By Marc Miller
Lillian Hellman herself wasn't satisfied with Days to Come. "I wanted to say too much," she later philosophized, and the Mint Theater Company's revival of her early labor drama, a one-week flop in 1936, backs her up. As the Mint's fastidious program notes reveal, Hellman, coming off the success of The Children's Hour and eager to explore unfamiliar territory, researched her terrain thoroughly, touring plants in Ohio and focusing on the multi-generational relationships between labor and management. After its quick failure, the play haunted and obsessed her; she kept wrestling with and revising it, coming up with a more satisfactory version in 1971, the version the Mint is using. And this production, with the Mint's customary attention to detail and eagerness to rediscover noteworthy forgotten dramas, reveals Days to Come—pointless title, by the way—to be, well, not a bad play. Just sloppy and unfocused, with subplots and characters picked up and discarded like tiddlywinks, and grand speeches that tell us things we already know.
We're in fictional Cullom, Ohio, near Cleveland, in the elegant living room of Andrew Rodman (Larry Bull), co-owner of a brush factory (paintbrushes? hairbrushes? toothbrushes? No clue) whose workers are in the third week of an agonizing strike. Harry Feiner's gorgeous art deco set conveys a life well lived, down to the illuminated console radio downstage left, and the autumnal-vista backdrop suggests a world removed from factory whistles and labor-management strife. Given traditional 1930s labor dramaturgy—The Cradle Will Rock, The Grapes of Wrath, etc.—you'd expect Andrew to be a hissable villain. But, in the first of Hellman's surprises, he's a more-than-decent man, which may help explain why the leftist press savaged this play. Sensitive to the workers' struggle and reminded of it by his old friend Tom (Chris Henry Coffey), now a factory worker, he really wants to meet their demand for 60 cents an hour. He just can't afford it and won't compromise on quality.
Mary Bacon and Ted Deasy
Photos by Todd Cerveris
But the labor conflict, in perhaps Hellman's biggest mistake, is soon made secondary to the family tribulations. Andrew co-owns the plant with his unbearable sister, Cora, who complains, natters, and can't stop sticking her nose in other people's business. As played all too well by Mary Bacon, Cora is such a headache that your heart sinks every time she enters.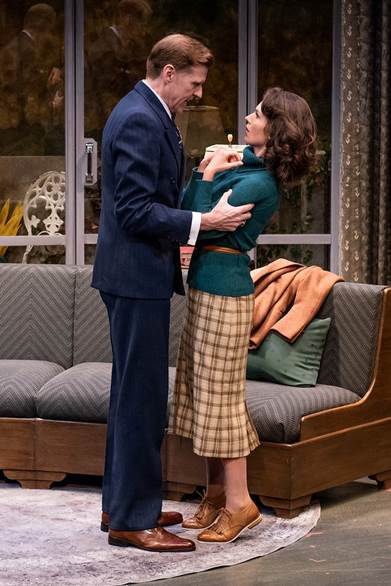 Ted Deasy and Janie Brookshire
 She especially hates Andrew's wife, Julie (Janie Brookshire), a conflicted, spoiled spouse who wants to do some good in the world and, we gradually learn, is and, we gradually learn, is also unfaithful. She may or may not be sleeping with Andrew's lawyer and best friend, Henry (Ted Deasy, who looks great in costume designer Andrea Yarga's double-breasted suits), and she also develops a thing for Leo (Roderick Hill, excellent), who's been brought into Cullom to support the workers and functions approximately as Ron Leibman did in Norma Rae. Meanwhile, the maid (Betsy Hogg) quietly dusts, while the housekeeper (Kim Martin-Cotton) comments tartly and raids the pantry to help feed the starving workers.
Ted Deasy, Dan Daily, Evan Zes, and Geoffrey Allen Murphy
But back to the brush plant. Andrew, in a monumentally bad decision, has determined that the only way to end the strike is to bring in scabs, who will not only grab the workers' jobs but will incite riots. They're led by Sam Willkie (Dan Daily), who's so smooth-talking, confident, and evil that, put it this way, if Days to Come had been a success and the movie rights had been sold, he'd be played by Edward Arnold. He's brought along a couple of goons (Geoffrey Allen Murphy and Evan Zes), allegedly to protect the Rodman family but really to stir up trouble, and they stir up plenty. The first act ends with a murder, and another one happens in the second act, offstage, which Andrew blames himself for—"I don't like being a murderer," he says, though it could easily be argued that he isn't.
So: Labor-management disputes, class conflict, adultery, union-busting, murder, possible insanity (a point brought up very late, and unexplored). What's Hellman left out? Nothing, and to watch Days to Come careen from one point to another is to reveal a dramatist who liked to face vital issues head-on, but hadn't learned at this stage to manage them coherently. Her dialog often has snap—"I hate the poor, but I love what they could be," explains Leo, seeking to rationalize his incurable do-gooderism—but she can't stay focused, and she keeps pushing unresolved plots offstage to move on to the next thing. The last ten minutes of Days to Come are a new play altogether, and a less interesting one than the one that preceded it.
Well, she learned fast. The well-structured, satisfying full meal that is The Little Foxes came just three seasons later, and Watch on the Rhine, Another Part of the Forest, and other successes weren't far off. Watching Hellman grapple and stumble here, folding so many ingredients into Days to Come like an overstuffed pie, holds a fascination of its own, and J.R. Sullivan's sensitive direction tames this unruly work as much as anyone can. Days to Come isn't neat, but it's a worthy addition to the Mint's endless quest of exploring lesser-known old plays worthy of reexamination. And it's a must for Lillian Hellman completists. There must be at least a few out there.
Through October 6, 2018
At the Beckett Theatre, 410 W. 42nd St., Manhattan.
For tickets, visit Telecharge.com or phone (212) 239-6200.
Running time: 2 hours with one intermission.