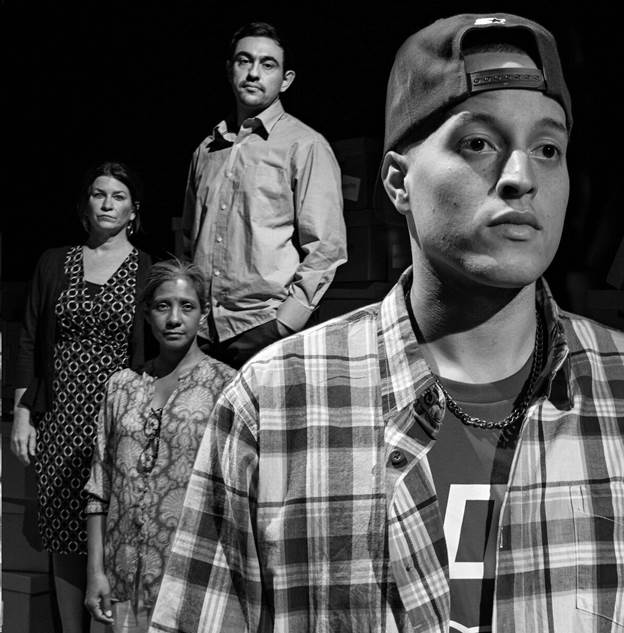 Manny Urena and cast                                         Photo credit Russ Rowland
                    by Deirdre Donovan
True story of a Guatemalan teen in the immigration courts in the United States.
Thanks to Jefffrey Solomon's new docudrama De Novo, theatergoers can now get an insider's look at what really happens in the immigration courts in the United States.  First staged at 59E59 Theaters in 2010, under the aegis of Houses on the Moon Theater Company, De Novo resurfaces at New York Theatre Workshop's newly renovated Fourth Street Theatre as part of the inaugural season of their Next Door @ NYTW project.
The scenario:  It revolves around the true story of a young Guatemalan teen Edgar Chocoy who faced deportation after fleeing to the U.S. to escape gang life.  He had traveled 3,000 miles from his homeland to Los Angeles to reconnect with his mother who left him as a baby to find work in the United States.  However, his former involvement in a gang and his criminal record for selling cocaine and carrying loaded firearms would follow him to the United States.  And what happened to him in an immigration court in Denver, Colorado, in 2004 is at the core of this piece.  Nothing is fabricated here.  Everything is drawn from court transcripts, interviews, police reports, affidavits. legal briefs, and psychiatric exams.
+
Lawrence E. Moten III's set is as bleak as it gets. On entering the black box theater, you see rows and rows of cardboard boxes stacked together to form a faux wall. No doubt it represents the huge backlog of cases of undocumented immigrants in the court system. Two intersecting wires, resembling a metallic clothesline, have various documents clipped to them. The only other props in sight are chairs for the performers and a large screen for projecting images and power point slides with relevant information. The first slide suggests the magnitude of the immigration problem. It reads: Each year "over a quarter of a million children have been in U.S.Immigration Court Deportation Proceedings." Yes, it sets the sober tone of the piece and contextualizes everything we will learn about Edgar Chocoy.
Unsurprisingly, De Novo deals with a lot of hot-button issues like drugs, violence, bullying, guns, and of course undocumented immigrants.  It's certain to raise the emotional temperature of any viewer, regardless of their political orientation or current stance on immigration.
In spite of the generally sober tone of the piece, there's some black humor interspersed into the proceedings.  Or as one speaker ironically observes in the opening scene: "I don't know why they call them [the immigrants] undocumented if they give them so much paper. "
With no special effects, De Novo simulates a courtroom environment and captures the most dramatic moments of Edgar Chocoy's journey through the justice system in the United States.  Will he gain asylum?  Will he be deported?  Will he get a fair trial?  Well, you'll have to get a ticket to this docudrama if you want to find out the answers to these, and other, questions.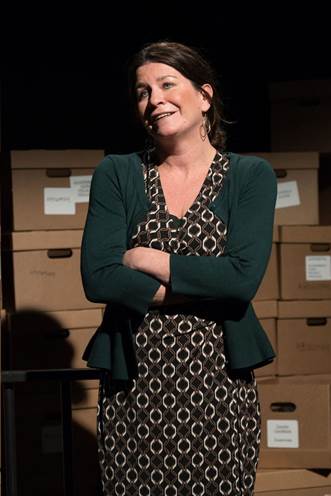 Emily Joy Weiner
In keeping with the tone of the presentation, the acting is understated. Nobody overplays their hand or hogs the spotlight here. Still, the two standouts in the ensemble are Manny Urena, as Edgar, and Emily Joy Weiner, as his pro bono lawyer Kimberly Salinas. Both actors convincingly inhabit their respective character. And watching the bond grow between the lawyer and the young defendant is poignant.
The language spoken throughout De Novo is largely prosaic.  But poetry does surface, now and then, in the silent pauses in the dialogue or sometimes in a moniker like "Lil Silent."  This nickname, by the bye, was what the Guatemalan gang, Mara Salvatrucha, dubbed the then 10 year-old Edgar perhaps for his tender age and quiet manner. 
By all means, stay for the talk-back following certain performances with the creative team and guest speakers.  They offer insights on the docudrama, including its historical background and journey to the stage.  Perhaps the most interesting part of the talk-back was the parsing of gang culture in Guatemala.  The panelists offered different perspectives on this but all agreed that a typical gang member comes from a dysfunctional family and that the gang often serves as a surrogate family
No, De Novo is not for everyone.  Directed by Solomon, it's not light entertainment, an escape from reality, and offers no quick-fix to the immigration problem.  Still, it does resonate with what we see and hear in the media everyday.  Most importantly, Edgar's story gives a face and voice to those undocumented immigrants that pass through the American courts in skyrocketing numbers.  Or to echo a famous line from another drama:  "Attention must be paid."
Through December 22nd.
At New York Theatre Workshop, at the Fourth Street Theatre, located at 83 East 4th Street, East Village.
For more information, visit www.groups@housesonthemoon.org, or call (929) 335-3261.
Running time:  approximately 75 minutes.