The cast of Dear World at Encores!  (Photo: Joan Marcus)
Dear World
By David Schultz
The Encores! Spring season started in earnest with this brief look back on composer Jerry Herman's rare misstep. This book-troubled tuner had a shockingly brief three month run circa 1969. Coming on the heels of his two blockbuster musicals, Hello Dolly and Mame, this would have been his trifecta of massive hits. With leading lady Angela Lansbury just off her Tony Award Winning role in Mame, this lilting musical had the smell of success before opening night.
Originally based on the play The Madwoman of Chaillot, penned by Jean Giraudoux, this addled adaptation was written by the seasoned writing duo Jerome Lawrence and Robert E. Lee. Working with nonsensical plotlines and verging into a cauldron of silliness, the work never caught hold with audiences and critics alike, playing a mere 132 performances. But the score of Dear World was and is a testament to the musical genius of Mr. Herman.
This culprit of a messy mélange of storytelling had fallen into a sadly unheard musical dinosaur. All this changed when Encores! chose it as the first show to open this season. The freshly minted revival has been tweaked with additional score restoration by Josh Clayton. Newly appointed music director Mary-Mitchell Campbell has lavished the score with the gorgeously lush 28-piece orchestra that patrons have come to expect from this series. 
The plot in a nutshell: A wicked conglomerate run by the President (Brooks Ashmankas) wants to secretly bomb a café in the Chaillot Parisian neighborhood. Why? Well, it seems there is oil underneath, and as the story slowly proceeds, they are stopped, stymied and lured into the deep underground sewers and get their comeuppance.
Andrea Burns, Donna Murphy, and Ann Harada in Dear World at Encores! (Photo: Joan Marcus)
These evil autocrats are lured to their eventual doom by a motley gaggle of misfits. Leading the pack is regal Countess Aurelia (Donna Murphy), Gabrielle (Ann Harada) and Constance (Andrea Burns). Also helping in their mission in ridding their town of the evil suits are the Sewerman (Christopher Fitzgerald) and a young fledgling couple on the cusp of falling in love, waitress Nina (Samantha Williams) and a former employee Julian (Phillip Johnson Richardson), who deserted the corporation when he realized the dastardly dimensions of their twisted plot. The wifty butterfly thinness of plotlines only morphs into everchanging looniness. But wait…
If one can overlook the wan fable on view and sit back and enjoy these artsy wackos on their own turf, many pleasures can be gained. Chief among them is the well-known and talented Broadway troupe that gives the musical gravitas and heft that the inert book lacks. Leading the pack: Donna Murphy practically glowed with her innate warmth and sinuous, distinctly earthy voice. A far cry from her performance as Fosca in Passion, here she is the polar opposite: cheerful, kooky, nutty, overly optimistic, with a wistful eye to her past. 
Her equally crazed lady pals are perfectly matched in an unusual contrapuntal song, "Tea Party Trio," that would have brought a tear to Sondheim's eye. Exceedingly complex, this very unusual Herman song is perfection.
Mention must be made of other standout moments, chief among them Countess Aurelia's "I Don't Want To Know." Miss Murphy builds this melodic song to great emotional heights and breaks your heart with the second act remembrance song, "And I Was Beautiful."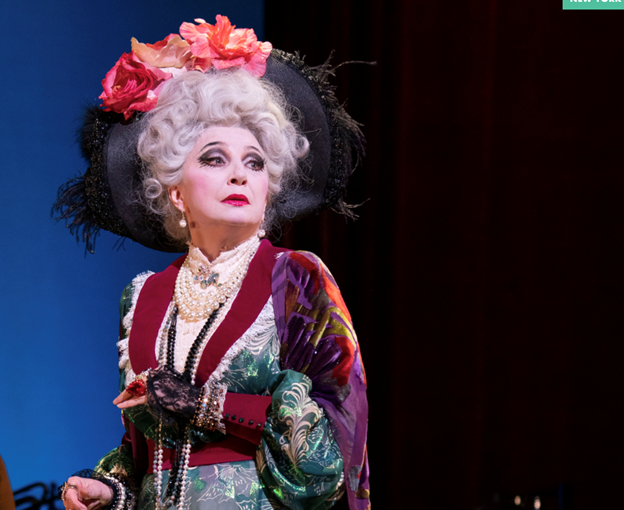 Donna Murphy in Dear World at Encores! (Photo: Joan Marcus)
As mentioned previously if one can just soak deeply in the ravishing music and envelop yourself into Dear World's highly effective and underrated musical score many pleasures can be obtained. Costume designer Toni Leslie James bedecks the cast with effective bohemian swaths of silk, satin, robes and scarves for the ladies. The minimal limited staging is per usual with an Encores! Production, as the full orchestra is on splendid view. The dance sequences are spare; one dancer (Kody Jauron) whose acrobatic skills are on display throughout the production, adding disarming grace to no significant effect. Why he was included is a mystery.
The cast does seem to relish the comical and cartoonish vibe of the evening. Unlike other Encores! productions of the recent past that have moved uptown to Broadway (Into the Woods, Parade), although this wafer-thin musical glides and rides high on its spirited melodic 1960's exuberance, Dear World doesn't have a chance to join those two classic musicals. But for the lucky few who managed to attend the five-day run it was a joyful musical experience. Hopefully a new recording of the Encores! production will be made for posterity. That way new generations can rediscover this lost musical gem.
Dear World at Encores!
At City Center
West 55th Street, Between 6th & 7th Ave
March 15-19, 2022
NYCityCenter.org   
Future Encores! Presentations:
Oliver!  May 3rd—14th
The Light in the Piazza ---June 21st--25th