Cherry Jones and television actor David Aaron Baker            photos by Joan Marcus
                          By Julia Polinsky
At the beginning of Dear Elizabeth, Sarah Ruhl's play inspired by the correspondence between poets Elizabeth Bishop and Robert Lowell, two people, sitting at separate desks, read, in pools of light. A Stage Manager (Peggy Noonan) sometimes comments, establishing time and place, or events.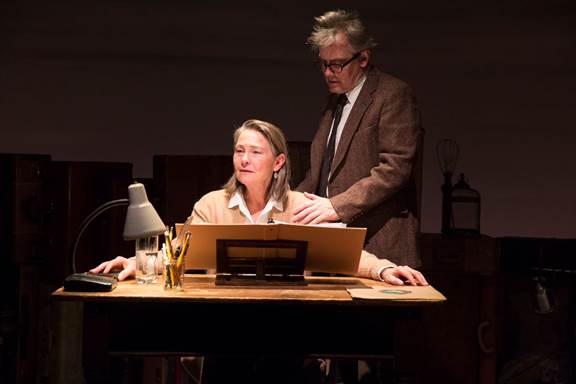 As they read, Cherry Jones, as Elizabeth Bishop, and David Aaron Baker, as Robert Lowell, give transparent, seamless, utterly credible performances. It becomes difficult to sit back and realize these are actors, and not the poets themselves.
Watching Dear Elizabeth feels like eavesdropping on a decades-long intimate friendship. Two of the most influential poets in 20th century America, Elizabeth Bishop and Robert Lowell were each awarded a Guggenheim fellowship, the National Book Award, the Pulitzer Prize, and both had been Poet Laureate of the US.  Serious credentials. Towering figures, perhaps a little intimidating.
Dear Elizabeth, humanizes them. Sarah Ruhl edited these logorrheic writers' 800 pages of correspondence to the absolute pith, and shaped it into a play. We hear, in the poets' own words, of loneliness and loss. They talk of travel; they gossip about other writers, assess the value of cheap burgundy, discuss the complexity of writing poetry, the sweetness of fatherhood, the quality of love.
The letters chronicle the incidents in their lives, as well as discussing their poetry, sharing it, and dedicating it to each other. They travel; postmarks come from Brazil, Italy, London, Maine, Washington DC, New York. Lowell divorces, remarries, divorces again, and becomes a father; Bishop moves to Brazil, meets and moves in with her longtime partner, Lota, who later commits suicide. Lowell is incarcerated in a sanitorium, more than once.
Ruhl frames the intimate friendship between these two poets as a lifetime of misunderstandings and missed chances. Even on the few occasions where they meet face-to-face, Bishop and Lowell make mis-steps: a hug too long and intimate gets carefully rejected. When they meet in Maine, and stand talking in cold water for hours, Lowell thinks of proposing, yet does not. At a weekend at Bard, Bishop extends a hand to the drunk Lowell, who clings to it too long, too hard, and she lets go, substituting a small present for holding his hand.
Other than those few meetings in person, the two opened up to each other on paper. More often than not, Bishop and Lowell understood each other quite well, but sometimes, long silences between letters, then a response that starts with a non sequitur, betray when Lowell has become too confessional, or Bishop, too remote.
From the very start, Jones and Baker draw the audience in to caring deeply about the people on the stage, and the emotional impact of the end packs a huge wallop for something so quiet; more than one audience member was sniffling and red-eyed after curtain call. 
Kate Whoriskey's spare, beautiful production makes Dear Elizabeth moving, even devastating. Antje Ellermann's scenic design lays stacks of old-school suitcases at the rear of the stage. Some of those suitcases are upright, some sideways; some, open, some closed -- how simply that backdrop evokes the emotional baggage of these poets' lives. Light, beautifully used, designed by Mary Louise Geiger, and evocative sound, in design by Jill BC Du Boff and Emily Auciello, contribute to the magic happening on stage.
Deeply emotional, starkly staged, and beautifully performed, Dear Elizabeth makes a satisfying evening in the theater. Rotating casts for the next two weeks will star: Ellen McLaughlin, Rinde Eckert, and Polly Noonan, from Nov. 23-28, and Mia Katigbak, Harris Yulin, and Polly Noonan from November 30-December 5. Dear Elizabeth would be worth seeing again and again.
Dear Elizabeth
by Sarah Rule
At the McGinn/Cazale Theater
2162 Broadway at 76th Street, NY
Performance Times
7:30pm Monday-Thursday; 8:00pm Friday; 3:00pm & 8:00pm Saturday
Regular Tickets Starting at $52
$20 Student Tickets w/valid ID (use code: STUDENT)
Order Tickets Online or Call Toll-Free 866-811-4111
http://wptheater.org/show/dear-elizabeth/