Review by Julia Polinsky
Arthur Miller's Death of a Salesman premiered on Broadway in 1949, and enjoyed successful revivals in 1975, 1984, 1999, and 2012. It's arguably the most famous American play of the 20th Century.
As if winning the Pulitzer Prize weren't enough, every Broadway production has won Tony awards, usually multiples. Death of a Salesman is a dream come true for strong male leads. Full of juicy secondary roles. Speaks to post-War nihilism and despair, family, the internal collapse of the American Dream. It has been taught everywhere. There are film adaptations in several languages (Russian! Farsi! Swedish!), TV versions, radio drama.
Death of a Salesman's been done to death, maybe? Everyone knows the play's basic premise: washed-up, delusional, hallucinating Willy Loman (Wendell Pierce), at the tail end of a mediocre career as a traveling salesman, loses everything, destroys his family, and kills himself. No surprises, nothing new to learn here – except that this production does indeed provide the shock of the new: all the major roles are played by Black actors.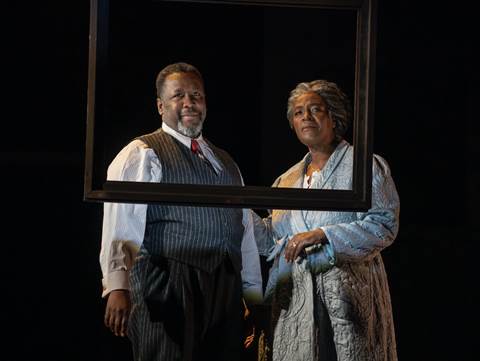 Wendell Pierce and Sharon D. Clarke in Death of a Salesman. Photo by Joan Marcus
Much has been made of how this production reframes the play with a Black cast, and whether that casting works. It works. Superbly. This Death of a Salesman seamlessly translates the woes and miseries of a White, mid-century American family, full of failure, hope, hypocrisy, lies, and love, to a Black mid-century American family full of the same.
Additional layers of the racial tension and bigotry prevailing in the mid-1940s feel electrically current. The language used by the ghost of Willy's successful brother, Ben (an ethereal Andre de Shields), makes for squirming in your seat; how often have the words "boy" and "jungle" been used to hurt Black people?  Willy's humiliation as he loses his job carries the extra pain of a Black man forced to beg from a White boss. Biff and Happy will never make it in White-controlled jobs or businesses, and they know it.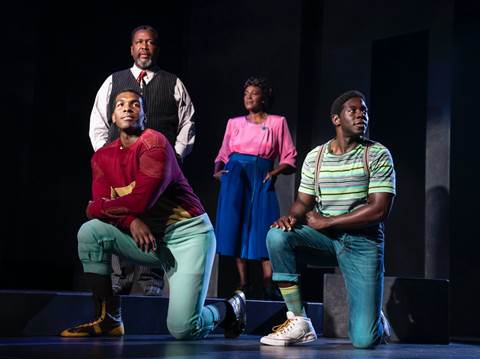 Khris Davis, Wendell Pierce, Sharon D. Clarke, McKinley Belcher III in Death of a Salesman. Photo by Joan Marcus
As directed by Miranda Cromwell, the current Broadway production of Death of a Salesman is so good, it's like seeing a new play. In a superb production designed by Anna Fleischle, supported by beautifully integrated sound design from Mikaal Sulaiman, Femi Temowo's evocative music, and gorgeous lighting from Jen Schreiver, the technical theater wizardry brilliantly serves a knockout cast.
Wendell Pierce's excellent performance seesaws between Willy's weakness and forcefulness, his delusional rage, his love, his despair. Khris Davis handsomely fleshes out Biff's jejune dreaming and his grief and anger. As Happy, McKinley Belcher III paints a wince-worthy picture of the often-dismissed younger brother. Andre de Shields welds malice and wisdom into every word uttered by the ghost of Ben, Willy's brother who made such a huge fortune in diamond mines that even his buttons and shoes are encrusted with bling (costume design from Sarita Fellows and Anna Fleischle).

Sharon D. Clarke, Wendell Pierce, Andre de Shields in Death of a Salesman. Photo by Joan Marcus
As good as the rest of the cast is, it's Linda's show. Sharon D. Clarke gives a performance so stunning, so nuanced, so powerful, that it's impossible to look away. Attention must, indeed, be paid. None of the obvious characters, not the pathetic man-child Biff, not the unhappy Happy, not even the desperate, disintegrating Willy, expresses so much pain. Linda, a woman more sinned against than sinning, who pays for everyone else's faults as she pays off the mortgage, experiences the real tragedy in this Death of a Salesman. Her graveside speech is wrenching, masterful, perfect.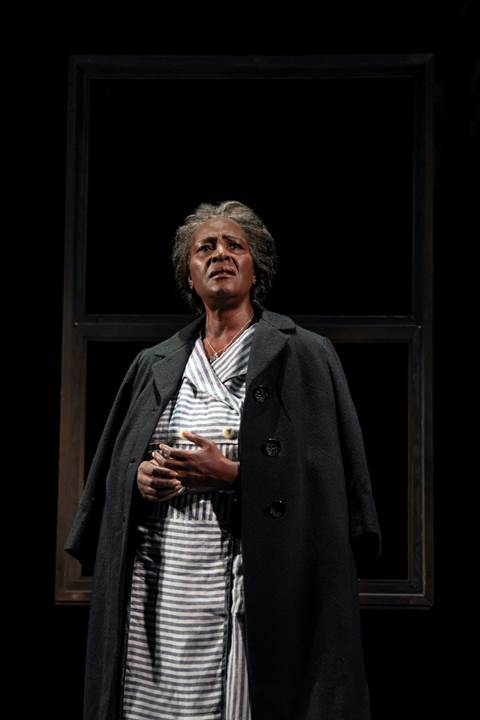 Sharon D. Clarke in Death of a Salesman. Photo by Joan Marcus
A Great American Classic made fresh and new: Death of a Salesman lives. Not to be missed.
Death of a Salesman
At the Hudson Theatre
141 W 44th St.
New York, NY 10036
Tickets $58-347
https://www.thehudsonbroadway.com/whatson/death-of-a-salesman/
Tuesdays, Wednesdays, Thursdays, Fridays at 7pm
Wednesdays at 1pm; Saturdays at 2pm and 8pm Sundays at 3pm
Running time 3:10 with one intermission
Through January 15, 2023
https://www.salesmanonbroadway.com/