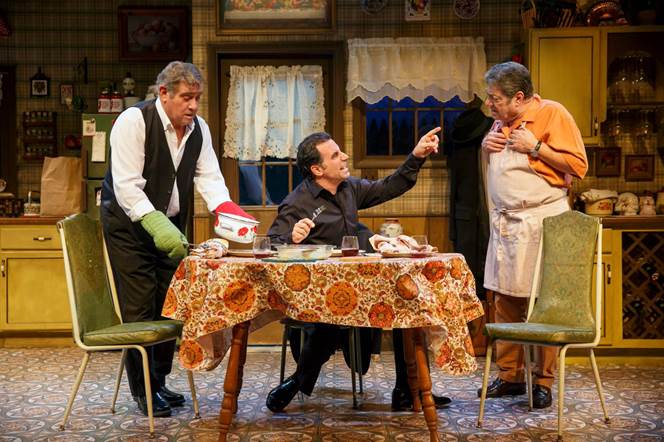 Richard Zavaglia, Ray Abruzzo and Dan Luria
                                                 by Nicholas Linnehan      
What happens when The Sopranos meet The Odd Couple? It's anyone's guess. And there you have the premise with Dan Lauria's dark comedy Dinner With the Boys. Two exiled hit men play house as they "cook up" plans for their futures.
Charlie and Dom have been banished to a quaint abode in New Jersey after botching up an assigned hit. We find out that Dom is quite the cook. But what makes his food so special is the main ingredient. As they eat their troubles away, an ominous visit from the "boss", Big Anthony Jr, looms in the air. When Anthony arrives, he orders Charlie to kill his partner-in-crime, Dom. When Charlie refuses, the meek chef, Dom, poisons Big Anthony Jr. and saves the duo from destruction.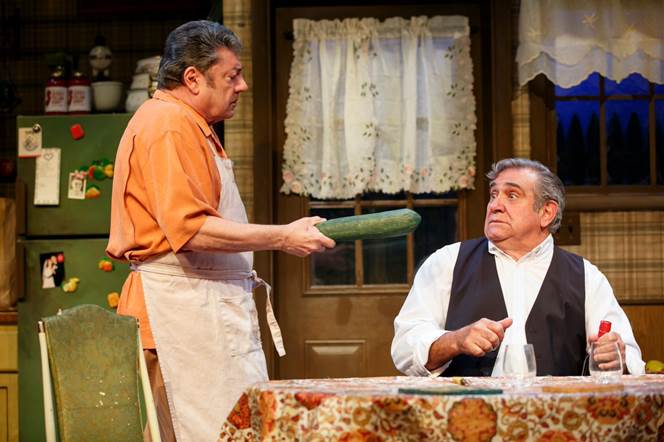 Richard Zavaglia and Dan Luria                                                   photos by Joan Marcus
The second act, picks up here, where much like the first act, an ominous visit throws a monkey wrench into things and murder is again afoot. The problem lies herein; both acts are constructed similarly and parallel each other too much. As a result we lose interest and focus as the act progresses. The most interesting quality, which may or may not be intentional, is an underlying sexual tension between the two men. We are never quite sure if the two are in love or just friends. Watching the actors wrestle with this was poignant, but it seemed as if they were unsure themselves of the extent that these two characters are involved. If sexual confusion and blurred lines were intended, its there, but it needs further support and clarity.
Richard Zavaglia plays the flamboyant, Dom, with such exuberance and genuineness that he is a delight to watch. Zavaglia delivers many of the plays funniest moments because he is so invested in his character. When his murderous side is exposed, we see the many layers of pain that Dom feels from being treated like an outcast from the more macho men. Dan Lauria, who was seen on Broadway as the legendary coach Vince Lombardi in the long-running production of Lombardi and returned to Broadway in the 2013 & 2014 production of the Tony-nominated A Christmas Story, The Musical is best known for his portrayal of the Dad on The Wonder Years. Luria is good as Charlie. He has some great moments on stage, but his confusion over his feelings for Dom read like an actor being uncomfortable, rather than a character trying to figure out who he is.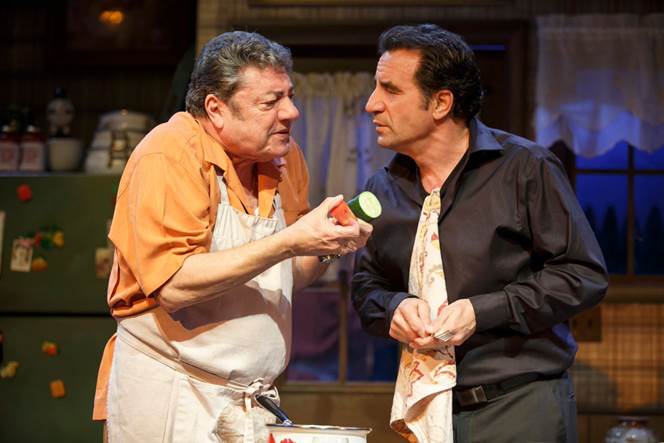 Richard Zavaglia and Ray Abruzzo
Ray Abruzzo plays Big Anthony Jr. as your typical everyday mob boss. Abruzzo seems stuck on one note for much of his performance, and although that note is effective and gets the job done, one can't help but wish for more from him.
The Set, designed by Jessica Parks is exquisite. Her attention to detail shines through and serves the play well. One hopes playwright, Lauria will continue to develop Dinner With the Boys and search for his own desire to tell this story and convey that in the script. There is potential for this to be a very funny piece. But Lauria must decide on where he wants to take us. Right now, its only half way there.
Acorn Theater, Theater Row 410 W 42nd St. http://dinnerwiththeboysplay.com. Running time 2 hrs. One fifteen minute intermission