By Michall Jeffers 
Hey kids, let's get together and put on a show! This is the spirit of "Disaster!" A large part of the entertainment is that the actors on stage are having so much fun; we get the idea that they've known each other and worked together for a long time. Adding to the fun is the disco/cheesy rock music of the day, 1979. From the first number, the Donna Summer megahit "Hot Stuff," the audience is in for an evening of nostalgia and laughs.

At the heart of all the mayhem is a renowned professor, noted for his expertise in the field of disaster. Seth Rudetsky is well known to theater mavens as an expert in all things theatrical; not only does he bring Ted Scheider bubbling to life, he also co-wrote the show. Ted is convinced that sleazy Tony (Roger Bart) has moored his floating casino in an area that will soon become engulfed in a terrible earthquake. Tony just doesn't care. He's out to make big bucks, and will use anyone to get his way. In typically smarmy fashion, he tries to charm intrepid girl reporter Marianne (Kerry Butler), but gets nowhere fast. An easier mark is the none-too-bright chanteuse Jackie, who is convinced that Tony is serious about his vague possible proposal.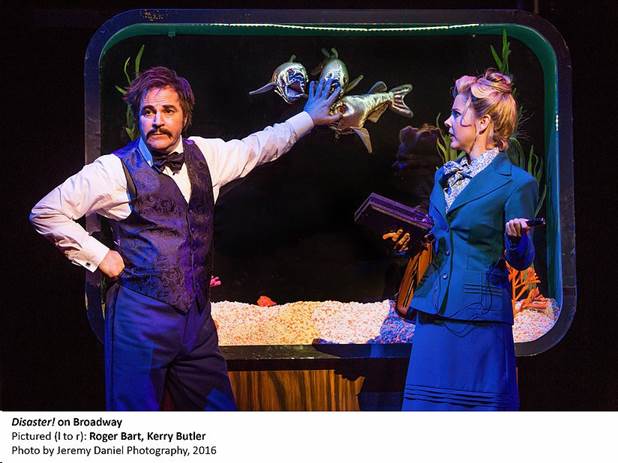 Marianne is shocked to find that her former beloved, Chad (Adam Pascal) is aboard the ship, working a waiter. He tries to play it cool, but disappears into the men's room to wail of his utter misery, "Without You." Meanwhile, the bespangled Jackie is hell bent on protecting her none too attractive children, Ben and Lisa, both of whom are portrayed by quick change artist Baylee Littrell.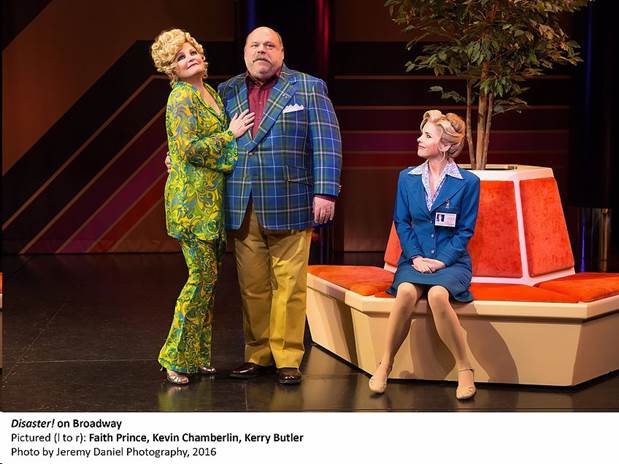 Thrown into this mix is the big hearted Jewish lady, Shirley, an obvious nod to the zaftig Ms. Winters of "The Poseidon Adventure." Once again, the redoubtable Faith Prince grabs the horns of the showbiz bull with both hands, and taps her way into everyone's heart. She is, at the same time,  sending Morse code to those trapped below. The audience knows that she is doing this at her own peril, while trying to spare her husband Maury (Kevin Chamberlin) the fact that she's dying from a rare, and totally bizarre, disease.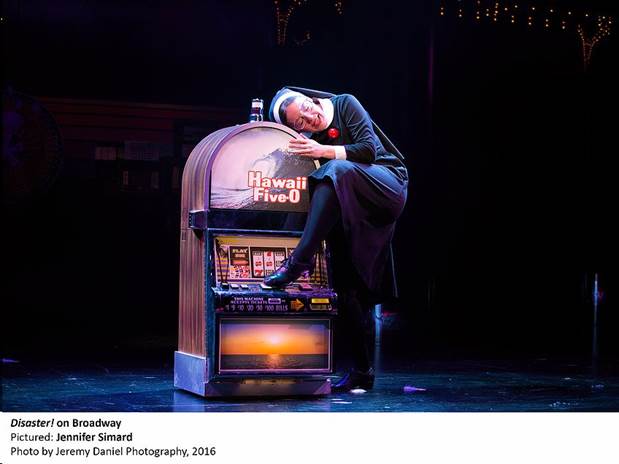 With all the whooping and hollering, it's no surprise that by underplaying, Jennifer Simard nearly steals the show with her meek little nun , Sister Mary Downy.  Her mission is to save the sinners onboard from going to hell (she has no problem informing them of their fate), but her task is far from totally altruistic. She succumbs to the lure of a "Hawaii Five-O" slot machine in a way over the top seduction lap dance with the object of her desire.

Washed up disco queen Levora (Lacretta Nicole) is also seeking salvation, hoping to revive her career. Just as it seems the situation couldn't get much worse for all involved, a tidal wave hits the ship, capsizing it so that up is down, and down is really in for a bad ride. Chad and Jackie are trapped together in a hellish spot with an annoying echo. They realize that they are still in love, but is it too late? As if this isn't bad enough, someone mentions that there are snakes onboard.
By this time, members of the audience have fully given in to being swept away by the madness, or are exhausted by the unrelenting shenanigans.  Director Jack Plotnick has created a whirlwind of action and humor; the great William Ivey Long has gone to town and created fabulously tacky spangled outfits for the clueless Jackie, a la Bob Mackie and Cher. There's always something entertaining to behold, and if you blink, you may miss a bit that is truly silly and essential to the threadbare plot. If there is no knowledge of catastrophe movies, no familiarity with the songs, and no insider info about the performers, would the novice enjoy this show as much? Who knows. Best to just sit back and enjoy this three ring circus of a production, safe in the knowledge that there's got to be a morning after.

Disaster!  Nederlander Theatre, 208 W. 41st St.,  212-921-8000, nederlandertheatre.com, Running time:  2 hours 15 minutes. Through 7/3/16. Author: Seth Rudetsky & Jack Plotnick, Director: Jack Plotnick, scenic design: Tobin Ost, costume design: William Ivey Long, lighting design: Jeff Croiter , sound design:  Mark Menard
Cast:   Roger Bart (Tony), Kerry Butler (Marianne), Kevin Chamberlin (Maury), Adam Pascal (Chad), Faith Prince (Shirley), Rachel York (Jackie), Seth Rudetsky (Professor Ted Scheider), Jennifer Simard (Sister Mary Downy), Max Crumm (Scott), Baylee Littrell (Ben/Lisa), Lacretta Nicole (Levora)