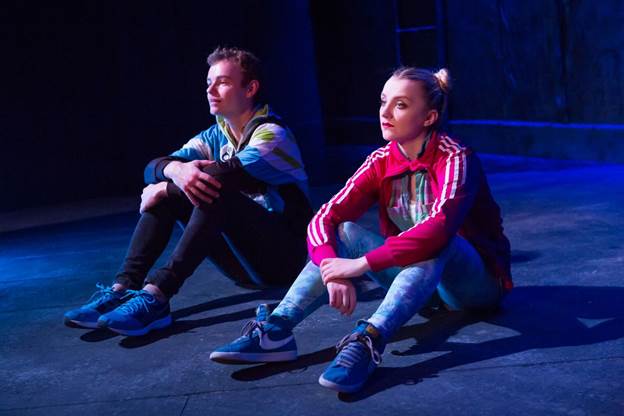 Colin Campbell and Evanna Lynch                       photos by Jeremy Daniel
                                          By Ron Cohen
Their given names are Sinead and Darren, but they call themselves Runt and Pig. They are the teens who inhabit Irish playwright Enda Walsh's career-making 1996 plunge into youthful chaos, Disco Pigs, being presented in a vibrant revival at the Irish Repertory Theatre.
Billed as the play's "20th Anniversary Production," the show comes from London's Tara Finney Productions, and has been directed with impressive precision and imagination by John Haidar.
Walsh, who later went on to win a Tony for his book for the musical Once and gain attention for his collaboration with David Bowie on the musical Lazarus, begins this two-hander with the births of his characters. The births involve different mothers but happen simultaneously and pretty much side by side in the same hospital. 
We first see the kids' heads poking out of the curtains as the rear of the set, as they urge their "mams" to hold on and get through the ordeal. Eventually, their full bodies step through the curtains, and as the script moves quickly to the pair's seventeenth birthdays, it's clear that they are soulmates.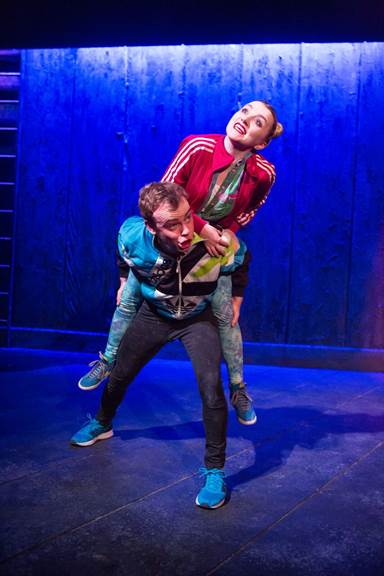 They are also raging hellions, and they proceed to wreak havoc on their hometown of Cork City, or as they call it "Pork Sity." Pig beats up on a bartender at a pub, they intimidate a bus driver as they take a free ride, dance frantically at a downscale disco, slop down food, engage in Karaoke and take a cab ride for a transporting first look at the ocean, providing one of the play's few quiet moments. They also discover sex.
Finally, Runt and Pig make it into the upscale, glamorous disco of their dreams, but with it comes intimations of maturity, a feeling of separation and aloneness, the beginning of mortality. It's a dark and wild but ultimately sobering though not downbeat journey that Walsh has provided for his protagonists.
He has also given them their own patois. As director Haidar explains in a program note, "it's a variation of a Cork dialect, but peppered with words, sounds, and phrases of their own making, along with references from every corner of mid-90s pop culture."
It had reviewers of the original production hailing Walsh as a "dazzling wordsmith," but when it's spoken with an Irish brogue, a lot of it may just be unintelligible for American ears. Nevertheless, the exuberance and magnetism of the performances along with the dramatic changes in mood created by the physical production, may well pull you in, even if you're not exactly sure about what's going on.
As Pig, Colin Campbell exudes a gleeful ferocity tempered with a hint of youthful unformed sweetness, and his disco dancing, which takes on a robotic fury, is something to behold. It's almost an equally mesmerizing but exact opposite to John Travolta's sexy gyrations in Saturday Night Fever. (Naomi Said is the movement director.)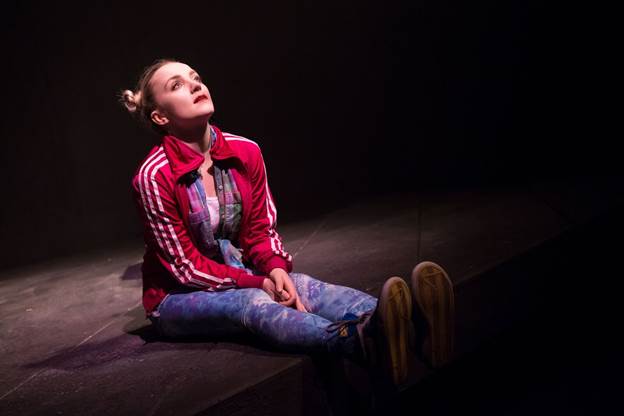 Vulnerability also softens the cheer-leading admiration expressed by Evanna Lynch's Runt for her pal Pig, along with the heat she can generate when commenting on the townspeople's fashions, one of her passions. When she begins to feel intimations of womanhood and individuality, it provides the play with a beautifully realized conclusion.
Both Campbell and Lynch are making their U.S. stage debuts with this production. Most appealing in their performances is the responsive dedication the two have for each other. In the face of the cruelty and violence their characters perpetrate in their search for self-identity, it provides an affirmation of their humanity, even an infectious joie de vivre.
Contributing to the enticing theatricality are the many shifts in ambiance engendered by Elliot Griggs' lighting and Giles Thomas' sound on the spare set design of Richard Kent, who also did the costumes.
Disco Pigs may well confound your ears (where are subtitles when you need them?), but your soul may still be able to respond. Certainly, there has been enough audience comprehension to warrant an extension for the run. Originally set to close of February 18, it will now play until March 4.
Off-Broadway play
Playing at the Irish Repertory Theatre
132 West 22nd Street
 212-727-2737
Playing until March 4