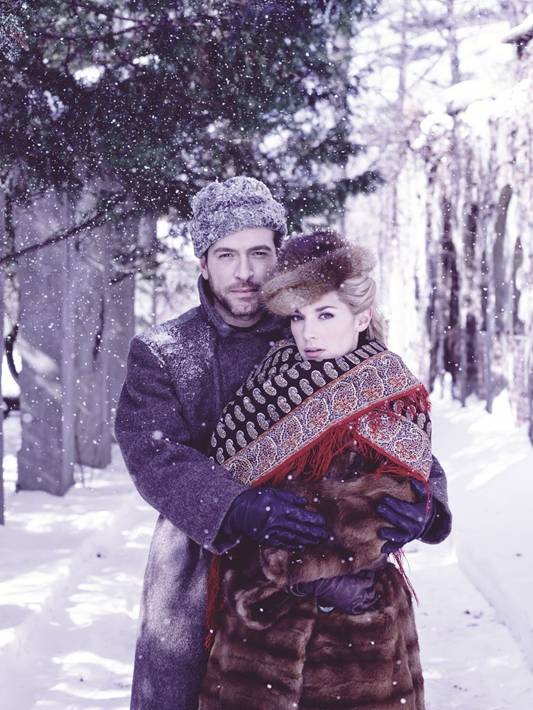 Tam Mutu & Kelli Barrett                                               photo by Jason Bell
                                           by Eugene Paul
In a huge, richly appointed – designer Paul Tazewell outdoes himself and most other shows dressing his vast company -- unstinting production encompassing the breadth of the famed Boris Pasternak novel through its turbulent, painful  years from 1903 to 1930, years of suffering and upheaval in Russia  when the Russian people could not imagine worse times and fates, the shining thread of the love between Yurii Zhivago and Lara Guishar  holds together an epic story – and an audience's  hunger for the emotional connection. That there's a very large audience for epic tales told with music – think Les Miserables, think Phantom of the Opera – was demonstrated by a roused audience which gave the entire company and its stars their sincere vocal standing approval.
It's far from a simple story. Playwright Michael Weller's condensing of the 600 page Nobel winning novel still brings to the stage two revolutions before 1917 in Russia and battle scenes from both, the confusing fights between the Whites and the Reds, the partisans, and the Revolutionaries against the Czarist regime, all tossing about the lives of our characters trying to grasp what is happening.  Yurii, (wonderful Tam Mutu) a poet, becomes a doctor, marries Tonia Gromeko, has a child, goes to help the bloodied, untrained forces as a doctor. 
Throughout his life, he has written poetry which has reached a large, starved for poems as well as food, population.
Lara (equally wonderful Kelli Barrett), the pretty daughter of a dress maker whose lover, Viktor Komarovsky, (splendid Tom Hewitt) finds the daughter far
more enticing, cannot help herself. He is too powerful, too experienced a lover. She tries to break from him, marries Pasha Antipov (excellent Paul Alexander Nolan), a shy firebrand, shy as a lover, all firebrand as a hater of aristocrats.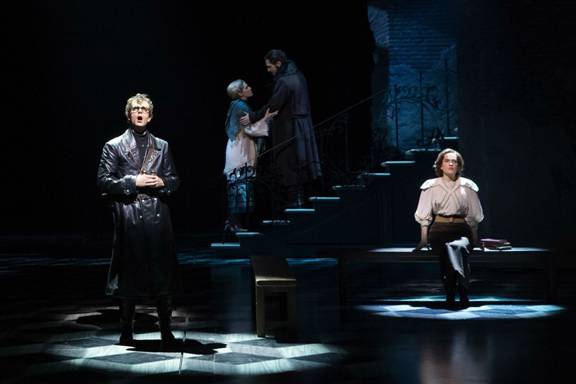 Paul Alexander Nolan as Pasha, Kelli Barrett, Tam Mutu and Lori Lee Gayer  photo by Matthew Murphy
When the rebels are routed by the Russian police, Pasha disappears.  Lara attempts to shoot Komarovsky. Yurii Zhivago determines to meet her; they have a common enemy, Komarovsky, who has stolen the wealth and inheritance of the Zhivago family.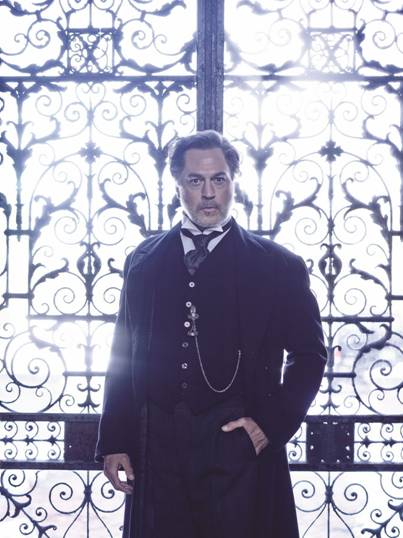 Tom Hewitt as Victor Komarovsky        photo by Jason Bell
Lara is arrested. Komarovsky has her set free. She flees from him, goes to search for her husband, Pasha, will never return to Moscow. She will settle back in her home town. Yurii and Lara part, but he cannot forget her, and, of course, he sees her again when he moves his family out of starvation in Moscow to his wife's old country estate, now in ruins. And, as they do in love stories, paths cross.  But you expected that. Once Lara and Yurii find themselves together, they cannot part. But – this is a staging of a Russian novel, and the trials and tribulations are only beginning.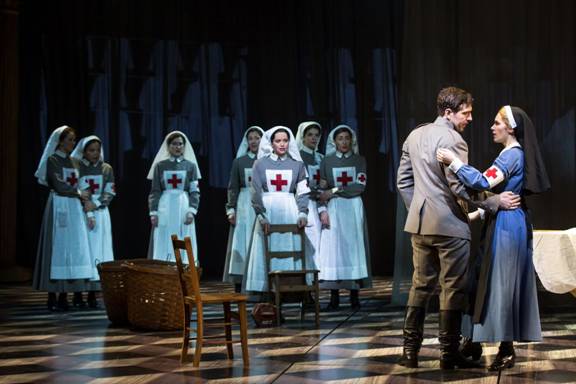 Tam Mutu & Kelli Barrett                                           photo by MathewMurphy
Playwright Weller puts most of this on the stage, and more, and director McAnuff deploys his huge company among the many ingenious stage settings devised by designer Michael Scott Mitchell making sweeping use of the vast Broadway Theatre stage. Throughout, Lucy Simon's music ranges from ballroom to battle fields, all of it sonorous, some of it melodically memorable, much of it in operatic recitatives, every bit of their scenes together passionately, beautifully delivered by Tam Mutu and Kelli Barnett as the star crossed lovers. Oh, for a hit song, just one.  The producers have imported Lara's Theme from the movie and it feels both comfortably familiar, which it is, and alien among the rest of the score, (although I do harbor some hope for "Love Finds You" as a potential breakout.)
The show, despite lapses, is both moving and engrossing. There is an audience for it. Whether it will survive depends on the marketing forces that make these decisions. Will economics trump talent? There are shows that have been running for years with less to offer.                
Dr. Zhivago. At the Broadway Theatre, Broadway & 53rd Street. 
Tickets: $19.17-$199.00. 212-239-6200. 2 hrs, 50 min. Open run.