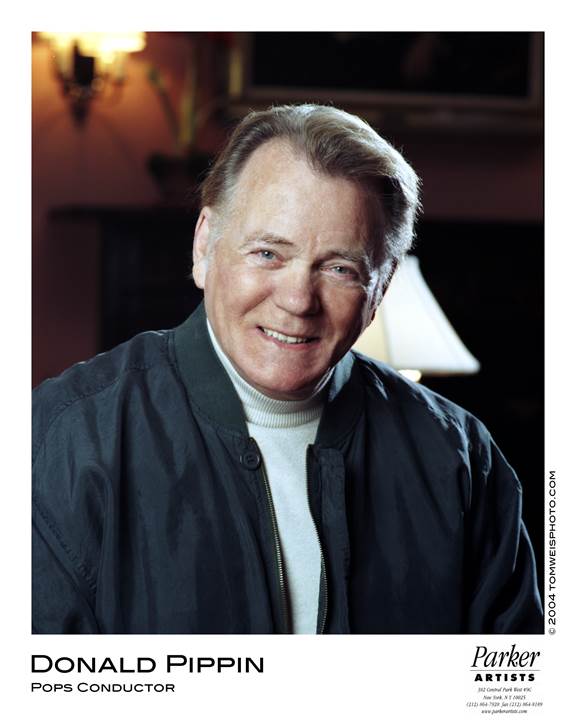 A Maestro's Memoirs
                                      by Deirdre Donovan
The best Broadway memories are sometimes made far from the madding crowd of Times Square.  That clearly was the case as Donald Pippin took the stage at Lang Recital Hall at Hunter College with A Maestro's Memories, under the aegis of The Ziegfeld Society.  Tickling the ivories, and accompanied by two fine singers Klea Blackhurst and Nat Chandler, Pippin time-traveled back over the decades to trace his journey from his earliest boyhood memories in the South to the Great White Way and beyond.  And, as Mark York so aptly put it when introducing the program, "In a city that eats you up and spits you out," Pippin has proved to be a sterling exception.
The show opened in the key of simplicity.  Pippin strolled on stage and seated himself at a piano at center stage. But instead of immediately plunking out some familiar Broadway tunes, Pippin gazed overhead to a screen where a mélange of playbill covers materialized and indexed his half-century career.  For the next hour and change, this multi-media screen would serve as the maestro's scrapbook as he recounted his personal Broadway stories, musical by musical, and his rendezvous with legendary performers. 
What made this show highly appealing is that Pippin offers his audience something rare:  a true insider's look at Broadway.  Pippin is the maestro who made Chorus Line hum and La Cage Aux Folles strike its gender-bending grace notes.  Pippin also is the one who kept those 8-year-old toughies of Oliver! in line by shortening their musical rehearsals if they promised to deliver the juice on their first efforts.  Little wonder they did.
Pippin is a natural raconteur!  His stage presence is undeniable and his mellifluous voice carries well through an auditorium.  Pippin wasted no words in recounting how he became stage-struck as a youngster in North Carolina and how he managed to become the local boy wonder that would place (and often ace) each musical competition that crossed his path.
Unsurprisingly, his talent and pluck would eventually gain him notice beyond his home turf.  And, as he ripened in years and honed his craft, Pippin eventually found himself a student at Harvard, the place where he wrote (according to an online bio) some rather "dismal music."  He later migrated to San Francisco where he would artistically flower, and not only make a name for himself in musical circles, but push the envelope in multi-genres, baroque, chamber music, and opera in particular.
While the Bay Area allowed Pippin opportunities to broaden his musical range and scope, it was New York—and Broadway--where he would truly establish himself as a cutting-edge artist.   He made his first foray with Ankles Aweigh in 1955, a musical comedy that he souped up with dance music.   Five years later, he stepped in as Assistant Conductor of Irma La Douce, giving him a real go in the limelight.   His big break, of course, came, with Oliver! the musical hit that put Pippin on the map and won him a Tony Award for Best Musical Director 1963.  Pippin cemented his reputation with the likes of Ben Franklin in Paris 1964-65), Mame (1966-70), Applause (1970-72), Seesaw (1973), Mack and Mabel (1974), La Cage Aux Folles (1983-1987)—to mention a few.
 Pippin shared some surprising anecdotes about Broadway musicals and legendary performers that he has worked with over the years.  In fact, he noted that for A Chorus Line, he would disappear—quite literally—into his music.  Pippin and the orchestra were hidden by black fabric, and he wore earphones to receive his cues for conducting.  Pippin also recounted his many pleasant collaborations with Angela Lansbury, including the 1996 TV Movie Mrs. Santa Claus, and went on to mention other luminaries like Marvin Hamlisch, Jerry Herman, Frank Sinatra, Donna McKechnie, Lauren Bacall (Woman of the Year, 1981), Julie Andrews, and countless others.  And, oh yes!  Pippin has been Musical Director at Radio City Music Hall, and helped the famed Rockettes keep their rhythm and kicks alive.
The only flaw to A Maestro's Memoirs was that it was a one-afternoon event.  One can only hope that Pippin—conductor, music director, vocal arranger, pianist, and songwriter--will bring this gem of a show to a larger audience.
A Maestro's Memoirs
At Lang Recital Hall at Hunter College, May 17, 2014
For more information on The Ziegfeld Society and their future events, visit www.theziegfeldsociety.com