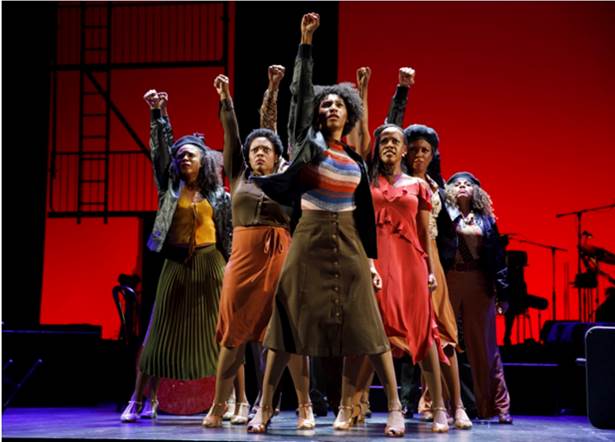 by Julia Polinsky
Don't Bother Me, I Can't Cope would be a pleasure even if all you got was a terrific retro revue of marvelous songs and electrifying singing and dancing. But you get more; you get vignettes of African-American people's lives, stories told without a word spoken.
Evenly matched with their own particular staggering talents and abilities, Micki Gran t and Savion Glover re-imagine the 1970s musical Don't Bother Me, I Can't Cope into a show with as many styles as there are songs (24, but who's counting). The music in Don't Bother Me, I Can't Cope varies from spirituals to jazz, blues, gospel, calypso, funk – it's a tour de force of Grant's work, brilliantly played by the onstage band, as Glover lays out a history of dance every bit as diverse and superb as Grant's survey of musical styles.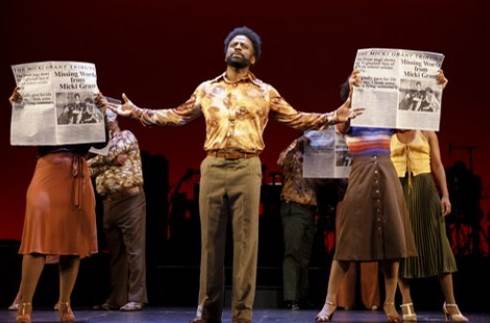 Wayne Pretlow and Ensemble                           photos by Joan Marcus
For this Encores@ Off-Center staged reading of Don't Bother Me, I Can't Cope, Glover moves his performers around the bare-bones set (Donyale Werle), into and out of pools of evocative light (Mark Barton) so that the song and dance can move you. Deeply. The show's worth seeing for that magnificent movement alone, even if its politics disturb you.
Those politics may very well shake you up a bit, because Don't Bother Me, I Can't Cope is about the lives of Black people in America. A statement piece that should be a period piece, Don't Bother Me, I Can't Cope is also a one-way mirror into which we gaze at ourselves now, not 40-some years ago. It's comforting, then, to observe the audience enjoying the songs and the dancing. But did they really listen to the stories in those songs? Even the tough ones?
Rather than a book, Don't Bother Me, I Can't Cope has a story arc. After an unusual opening –a poem called, "Universe in Mourning" -- the songs start.  They flow from the spiritual that opens things up, "Gotta Keep Movin'," to the sequence of gospel songs that brings the show to a close.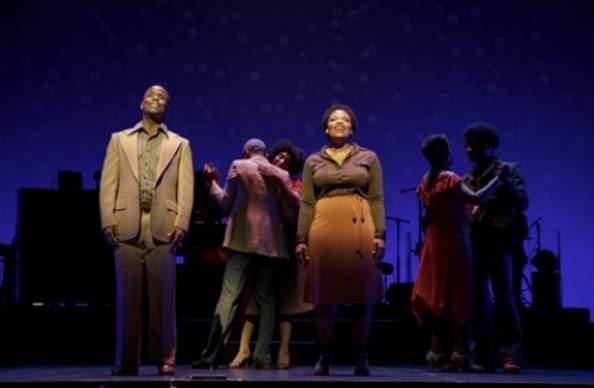 James T. Lane, Rheaume Crenshaw, and Ensemble
Grant' s songs insist on, demand, that people pay attention. "Looking Over from Your Side" ends with the words, "You might even start a riot," and the next number, "They Keep Coming," brings that riot onto the stage. "My Name is Man" follows, then "Ghetto Life." All through, the energy of the show is moving, running, pushing; anger; love and its power; change, hope, faith, and finally, the title song, which distills the whole show. If I gotta keep moving, running, pushing, then don't bother me, I can't cope.
You can expect a show choreographed by Savion Glover to have excellent dancing, and it does. The performers, divided into Players and Ensemble, deliver and deliver and deliver. Aisha de Haas brings down the house in a knockout homage to Billie Holiday ("Billie Holiday's Blues") as does James T. Lane in "My Name is Man," and Wayne Pretlow in basically everything he sings.
This show may be almost fifty years old, but as one of its better songs says, "Time Brings About a Change." Unfortunately, the idea that things change may be a wee bit optimistic, if you listen closely. Some of the pop culture references have been updated, but wouldn't it be lovely if there were no reason to update them: if, for instance there were no loudmouth bigot on TV. In the 70s, the TV bigmouth was Archie Bunker, and there was a line in the show about him; today, Roseanne gets called out as the exemplar of What Not To Say.
The players have changed but the game remains the same. In the almost half-century since Don't Bother Me, I Can't Cope first was on stage in NYC, we haven't gotten very far, but the Encores! Off-Center revival offers a celebration of progress and hope.
Don't Bother Me, I Can't Cope
Encores! Off-Center
July 25-28
Wed & Thu at 7:30pm,
Fri at 8pm, and Sat at 2 & 8pm
131 W 55th St (between Sixth and Seventh avenues)
New York, NY 10019
https://www.nycitycenter.org/pdps/dont-bother-me-i-cant-cope/
CityTix® 212.581.1212