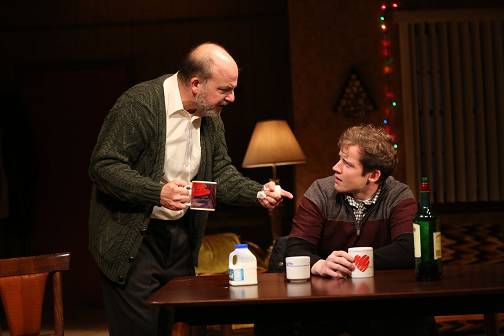 Jeffrey Bean and Cillian Hegarty              photos  by Carol Rosegg
Dublin Carol
                                           By Barry Bassis
Conor McPherson's Dublin Carol (at the Irish Repertory Theater) is not about a woman in Dublin named Carol. Perhaps a more appropriate title would be "Dublin Christmas Carol" because the play takes place on Christmas eve and the main character is haunted by his past.
McPherson's most famous plays (The Weir, Shining City and The Seafarer) have supernatural elements. Dublin Carol doesn't have ghosts or the devil. Instead, the main character is tormented by his alcoholism and its effect on his life.
On Christmas eve 1999, John Plunkett (Jeffrey Bean) is working as an undertaker. The owner of the funeral parlor, Noel, had felt pity for the alcoholic Plunket and given him a job. When the play begins, Noel is in the hospital and Plunket brings in Noel's 20-year old nephew Mark (Cillian Hegarty) to act as his assistant. 
The pair has just finished a funeral service and return to the office for a cup of tea, which Plunket drinks with added Jameson's.  Plunket's alcoholism is not cured but is under control enough so that he can function at work.
Mark says little while Plunket unleashes his painful past, describing how he abandoned his wife and children because of his alcoholism. However, even when Noel got him to control his drinking, he still did not return to his family. Instead, he took up with another woman.
In Scene Two, Plunkett's daughter Mary (Sarah Street), whom he hasn't seen in ten years, suddenly appears. She has come to fetch him because her mother is dying and wants to see her estranged husband for the last time. When Mary says she still loves him, Plunket asks why. He hates himself so much, he can't understand how anyone, especially the family members he deserted, can still harbor affection for him. Mary leaves, promising to come back at 5 p.m. to take him to the hospital.
In Scene Three, the tension is over the question of whether Plunket will work up the courage to confront his dying wife or will flee before Mary arrives.
Under the sensitive direction of Ciarán O'Reilly, Jeffrey Bean is completely convincing as Plunket, who spends much of the play confessing his despicable acts. Sarah Street is unusually restrained and self-possessed as the daughter who inexplicably offers more forgiveness to her father than he accords to himself. Cillian Hegarty is likeable as Mark, the naďve young man subjected to Plunket's self-pitying rants.
Scenic designer Charlie Corcoran and properties designer Sven Henry Nelson deserve praise for the funeral parlor set, rather rundown with Christmas lights to add some artificial holiday cheer.
Dublin Carol lacks the thrills and chills of McPherson's supernatural plays, but succeeds in painting a powerful portrait of the destructive effects of alcoholism.
Dublin Carol is running at Irish Repertory Theater (132 W 22nd St., (212) 727-2737; www.irishrep.org) until Nov. 10.