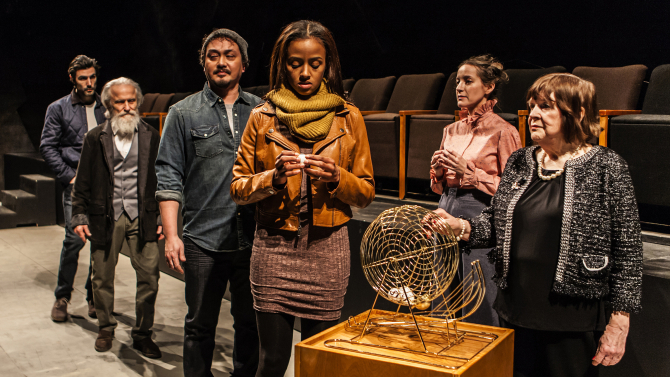 MONIQUE CARBONI
                                                             By Eugene Paul
Everything old is ghoulishly new again, Everyman is now Everybody and the sting remains.
Here begynneth a treatise how ye hye fader of heven sendeth dethe to somon every creature to come and gyve a counte of theyr lyves in the worlde, and is in maner of a morall playe.
Five hundred years ago the morality play, Everyman, translated from the earlier Dutch Eickerlijc, began its life in England, then lay somnolent until 1901 when it's been staged ever since.  No one knows who wrote it. As Everybody, in Branden Jacobs-Jenkins' playful, jazzed up politically correct and quite as politically incorrect theatrical version, it remains a concoction of glancing modern morality brilliantly staged by director Lila Neugebauer all over the Signature's Diamond Theatre.
Neugebauer runs with the playwright's profoundly wonderful brainstorm: that five members of the bumptious company assembled memorize the entire script and then by lot take turns playing the central character, Everybody, so that  no one in the audience knows who is playing whom and neither does the cast until that very moment.  These five, Lakisha Michelle May, Louis Cancelmi, Brooke Bloom, Michael Braun and David Patrick Kelly, all highly individual, render each performance inevitably unique.  They also play Friendship/Strength, Kinship/Mind, Cousinship/Beauty/All Shitty Evil Things and Stuff/Sense.  When they are not playing Everybody.
The cast, all eager to play the player game, rattle the audience somewhat, an audience already rattled somewhat by not having programs – they're given out as you depart – and already somewhat wary having been beguiled by Jocelyn Bioh into believing she was just the charming Signature Theatre Center usher cutely cozening us into turning off our damn cell phones, then, suddenly, becoming God, and laying out the play, as well as our lives. Once the evening's Everybody has been selected – in this case, he is portrayed by David Patrick Kelly and he is so good I don't know why anyone else bothers – with great gusto we gambol headlong into the new old play.
And who announces herself as Death but the most irresistibly winsome ditz in show business, Marylouise Burke, a gorgeous piece of countercasting, Death, who none may forswear and all must obey and who has come for Everybody. Traditionally terrifying, totally adorable. She clambers all over the theatre seeking him.  Scattered throughout the house are all of the performers, dressed by costume designer Gabriel Barry as ordinary eccentric Signature Center aficionados, director Neugebauer thus enmeshing us, the audience into her posit that Everybody means everybody and this play is about every one of us.
So do not be surprised – or do be surprised – when your seat mate or the next one over becomes part of the show and ends up out of his or her seat up on the stage, where highly ingenious scenic designer Laura Jellinek has arranged a long, boring row of fourteen armchairs facing the audience. Us. With a great big surprise in that blank wall behind those chairs when Death gets really pushy and Everybody can no longer gainsay her. Because that's what Everybody tries to do throughout the play, implore Friendship or Kinship or Cousinship or anybody anything to help him forestall Death.  Even Time is beseeched (Lilyana Tiare Cornell) (she also plays – duh – Girl).  It is Love (gently superb Chris Perfetti) who is the only one that Everybody beseeches who will, in the end, accompany him to the grave where Death awaits him.  Think on that, ye mortals.
Playwright Jacobs-Jenkins wages each of these encounters as politely desperate entreaties which degenerate into the "Fuck You!" vituperative vernacular we all know and love so well, eeriiy pinpointed by director Neugebauer's sharp focus enhanced by the brilliant lighting sorcery of designer Matt Fray  You have to see it.  And not. Hear it. And not.  Feel it.  And not. Constantly seesawing between profundity and pranks. And those skeletons! Those humongous skeletons, what they do with Brandon Walcott's music and Raja Feather Kelly's choreography!  Who created them remains mystery. Then, Everybody's last, desperate, frantic flight, round and round and round, in futile evasion of Death.  And the ghoulish surprise beyond the wall behind the row of boring chairs.  My dears, you have much to look forward to.  Before the end.
Everybody.  At the Signature Center, 480 West 42nd Street,  Tickets:  $30-$40.  100 min. Thru Mar 16.