Jason Gotay as Che, Solea Pfeiffer as Eva Peron in New York City Center's Evita
Photo: Joan Marcus
Evita New York City Center Annual Gala Presentation
                                          by Deirdre Donovan
Sammi Cannold's new production of Andrew Lloyd Webber and Tim Rice's hit musical, Evita, at New York City Center's Annual Gala casts two actors in the title role:  the celebrated Argentine actor and recording artist, Maia Reficco, as Young Eva and Broadway actor Solea Pfeiffer (Almost Famous, Hamilton), as the iconic Eva Peron.  Although this new spin on the rock opera gives new psychological depths to the eponymous character, it unfortunately can be a bit distracting at times having Eva Duarte and Eva Peron on stage at once.
A streetwalker climbs the social ladder by sheer nerve, manipulation, and savvy.  She starts out as a two-bit actor and eventually becomes the wife of the Argentinian president Juan Peron (Enrique Acevedo).  But in spite of her astonishing climb to the top, she never forgets the working class descamisados (Eva called them the "shirtless ones") in Argentina, who in turn adore her.  Evita tragically dies of cancer at age 33.  But her memory is imprinted on the hearts and minds of Argentinians forever.
Cannold doesn't try to sentimentalize the titular character in this new take on Evita.  Indeed, she seems to be questioning, like her predecessors, whether Eva was a Latin American Lady Macbeth or a heroine.
But sinner or saint, her Evita does get the full show-business treatment at the New York City Center's Gala.  Although the program cited that the musical would be presented as a "concert performance" and that the cast may be performing with their scripts in hand, the production values were better than good and the actors were all off-script.
 Jason Sherwood's chiaroscuro set, lit by Bradley King, made you feel that you were right in Buenos Aires at Luna Park Stadium when Eva met Peron . . . the watering-holes of the well-to-do as they gossiped about Peron's latest flame . . . or any of the countries Evita visited on the famous Rainbow Tour.  A black decor dominated the performing space, which subtly suggested Eva Peron's dark past and gave you a presentiment of her tragic death.  Last, but not least, Alejo Vietti's costumes—a mix of ordinary street clothes and soignee formal wear—are eye-catching.  In fact, before the musical proper began, you see Evita's strapless white ball gown suspended from the flies.  And it's not only a dress but a symbol, which Cannold artfully incorporated into the production in some expected and unexpected ways.
So how do the two actors measure-up as the Young Eva and the iconic Eva Peron?  Quite differently.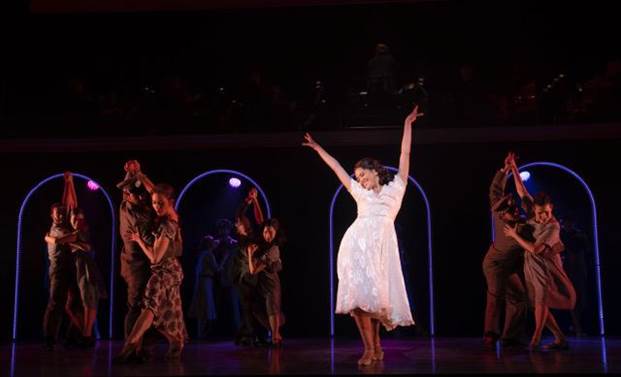 Maia Reficco as Young Eva with the ensemble in New York City Center's Evita
Photo: Joan Marcus
The first, of course is the Boston-born Reficco who grew up in Buenos Aires and first attracted attention when she landed the leading role in Nickelodeon's TV series Kally's Mashup.  Although the 19 year-old artist playing the young Eva Duarte clearly has vocal talent, she doesn't quite have the range to tackle the octave-leaping notes of Andrew Lloyd Webber's score and can often sound shrill delivering the high notes that abound in the score.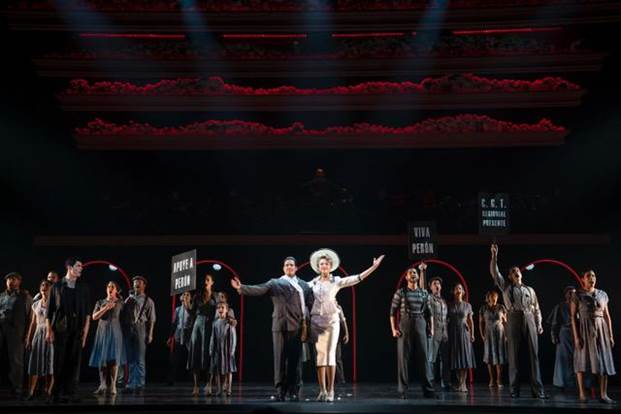 Enrique Acevedo as Juan Peron, Solea Pfeiffer as Eva Peron, with ensemble in Evita at New York City Center
Photo: Joan Marcus
In contrast, Pfeiffer (Eliza in Hamilton) has strong musical chops and sounds velvet smooth throughout.  The musical's best-known aria, "Don't Cry for Me, Argentina!", as rendered by Pfeiffer, became as much a political speech as a song here.  She might not make you forget either Elaine Paige or Patti LuPone's rendering in the West End and on Broadway, respectively.  But she did give it her own signature.
Another standout in the cast?  Jason Gotay's Che, a one-man chorus who steps in and out of the action, cynically commenting on the public and private goings-on of Eva as she morphed from a nobody to a somebody history remembers.
The songs are familiar territory.  So this isn't the place to parse each and every number in this sung-through musical.  Still, all of its 27 songs, buoyed up by City Center's orchestra under the direction of Kristen Blodgette, wafted through the air like liquid gold and carried the thumbprints of the given vocalists.  Indeed, the late Harold Prince, who the performance was dedicated to, would approve.
Inevitably, the question must be asked:  Why should Evita be staged now?  And of course, the only answer can be that it deals with a serious subject and fits right in with our own controversial political times.
So, say what you will about Cannold's staging of Evita that gives you a bi-focal lens on the legend.  Its timing couldn't be more perfect.
Evita performances: November 13 – 24, 2019
At New York City Center, 131 West 55th Street, Manhattan
For more information on their 2019-2020 season, phone 212-581-1212 or visit NYCityCenter.org