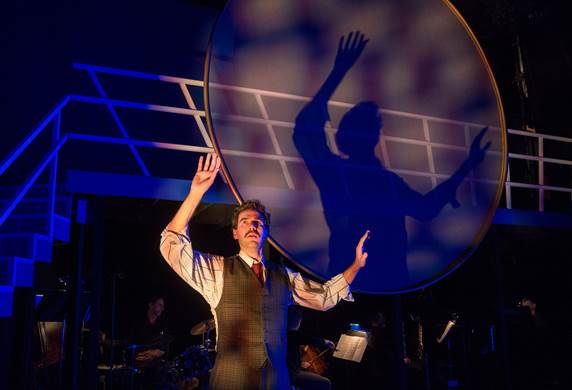 Zal Owen
Einsteinís Dreams
†††††††††††† By Eugene Paul
It might help if composer/lyricist Joshua Rosenblum and his wife, Joanne Sidney Lessner, creators of the book and more lyrics for Einsteinís Dreams, werenít so clever.† Accomplished, intelligent, literally, musically, swathed in adulation and the inevitable self esteem that follows, itís no wonder they could not see that† the original source of their troubles, Alan Lightmanís clever book of fictive musings skittering through young 1905 Einsteinís supposed† thoughts and dreams devising The Theory of Relativity were all head and no heart.† And in putting on a show, heart always beats head. Q.E.D. The few moments of heart in their operetta are the only compelling moments in a brisk, bright, exercise whose center does not hold.
Firstly Ė and lastly Ė you cannot contain Einstein in an operetta.† Maybe an opera, but even then, to find a credible Einstein is more than daunting.† And to find one who can sing is Ė madness. But then, who ever said madness was not a necessary ingredient in putting on a show.† That works? Certainly, the moment you lay eyes on the† setting Ė wonderful Isabel Mengyuan Le is the designer Ė you want everything to work, even the† enormous clock devouring most of the stage, a masterstroke figment of David Bengaliís projection designs, which develop a life of their own choreographed into director Cara Reichelís studied quicksteps pulling the threads of Albert Einsteinís dreams about the relativity of Time into our lives. Sung.
Author Alan Lightmanís† original book purports thirty dreams from spawnings to finalities young Einstein dreamt on his way to the Theory of Relativity.† In this Rosenblum/Lessner musical creation we are beholding young Albert (Zal Owen) led enticingly dream by dream along the way by an enchantress in red, Josette (Alexandra Silber). Musings by brainstorms, Albert falls in love with her, never mind that he has a young wife at home and a mysterious child. Or that no one else can see her. (Costume designer Sidney Shannon makes sure we do: no one else in the show wears red, not in any of the costumes† from 1905 to 1970.)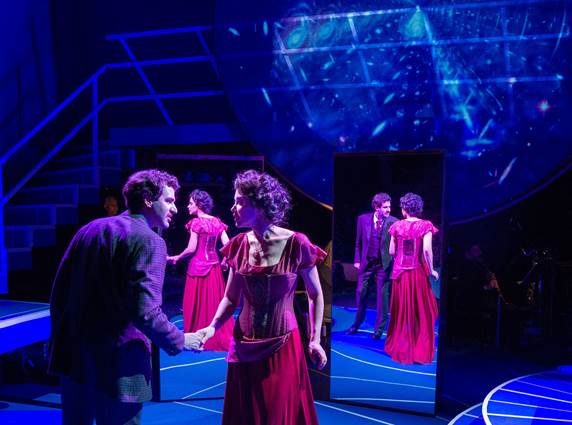 Zal Owen, Alexandra Silber†††††††††††††††††††††† Photos by Richard Termine
Yes, we have personal conflict along the way.†† Einsteinís employer Klausen† (Michael McCoy) grows less and less tolerant of this employee dreaming away on the job.† Einsteinís best friend, Besso (Brennan Caldwell) warns him that the lady in red is leading him astray. But Ensteinís struggles with the concepts of Time, undeniably the essence of the show, drive the Rosenblum score in number after number, for fun in ďThe Relativity RagĒ, charmingly in ďAre You There?Ē,† oddly in ďItís Always the First Time for LoveĒ. But only in ďI Will Never Let You GoĒ, sung beautifully by Marta (Tess Primack) losing her rapidly growing child ,Josie (Talia Cosentino) to Time does music and emotion and heart commingle to reach out to us.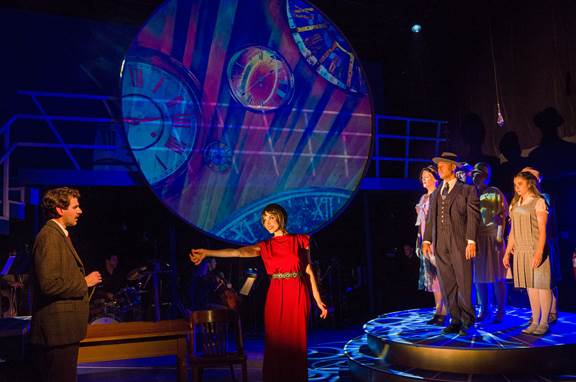 Zal Owen, Alexandra Silber, Stacia Fernandez, Vishal Vaidya, Michael McCoy, Tess Primack, Talia Cosentino
Photo by Richard Termine
Composer Rosenblumís score Ė there are twenty-two songs Ė is a perfect anomaly these days. It goes from likeable to more than likeable and with repetition would become memorable. Thatís almost impossible to say about new scores. Besides which, it is highly utilitarian in the areas of the book it serves. Would that the book gave him more opportunities to connect to us.†† His singers serve him well, especially Alexandra Silber, Zal Owen, Brendan Caldwell,† Tess Primack and Michael McCoy. They are obviously singers and not dancers. Dax Valdesís choreographed movements† would bloom with trained dancers.
So, where are we? This show has spent years and continents in it development and has not yet reached its goals. Perhaps in its next iteration?† Time will tell. Maybe itís already here? Relativity. Still obfuscating.†††††††††††††††††††††††††††††††††††††††††††††††††††††††††
Einsteinís Dreams. At 59E59 Theaters, 56 East 59th Street, off Park Avenue.† Tickets: $55-$70. 646-892-7999. 100 min. Thru Dec 15.