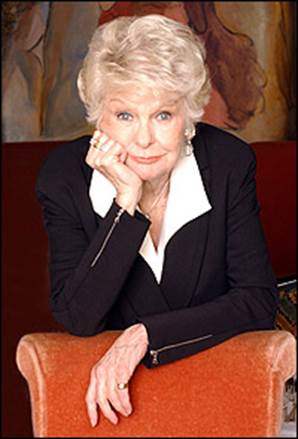 Photo by Denise Winters
                              by Jeanne Lieberman
The hottest ticket in town, not the new Nathan Lane/Mathew Broderick play or Hugh Jackman in that strange little play - it was for the highly sought after, almost unattainable, one day only event.
Monday afternoon, November 17th theater glitterati and fans alike huddled under the Al Hirschfield theater marquee for protection during a blinding, traffic paralyzing, torrential downpour.
The heavens did not weep for Elaine, they roared! Appropriate for the woman who hollered and growled her way through life. Not the tender hearted, sentimental tribute of most memorials, the event was like its subject: Over the top, irreverent and raucous. No tender tear jerking remembrances here – not for this tough bird.
The A List of "speakers" scrambled over themselves trying to top each with their own outrageous anecdotes, many punctuated by raucous imitations of Ms Stritch's signature strident high decibel led vocal qualities. –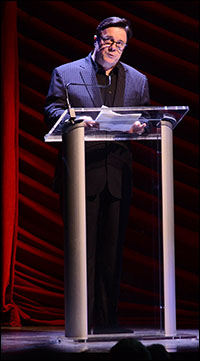 Nathan Lane
Photo by Monica Simoes
Up first was Nathan Lane: "We're here because we loved her. She was a legend….  Elaine would go into a bar and order a bottle of vodka and a floor plan…She was proud of her gams….to her a hemline was an unnecessary accessory. She studied acting at the New School when it was new…
She never bought a ticket. Instead, she'd march up to the box office 10 minutes before the show and introduce herself. "'Don't be silly — after all I've done, I'm not paying for a ticket' "
It didn't stop there – when inside she was the last to laugh (loudly) so people knew she approved and first to begin the clapping and cheering. She was famous for obvious exits – her walk up the aisle before anyone else – in full view of the house.
Hunter Ryan Herdlicka, who made his Broadway debut in the revival of A Little Night Music, said that Elaine Stritch was "my best friend." He recalled that at a performance of Sondheim's Into The Woods in Central park, when the actors were taking their bows (and stage light on high) she would laboriously make her way out – totally distracting the house
When Donna Murphy came out for her bow she turned, instead to Stritch still exiting and clapped for her!

Bernadette Peters
Photo by Monica Simoes



Bernadette Peters, who shared the stage with her in A Little Night Music, deadpanned a song "Civilization (Bingo Bango Bongo I  Don't want to leave the  jungle)". Stritch used to refer to the departed as having left the building.
As she got more and confused she decided it was time to go and basically stopped eating and drinking until, as Peters said "Elaine Stritch has left the building."
Director Hal Prince quoted her as saying right in front of him "I am smarter than any director I worked with". , who directed Stritch in the 1970 Broadway premiere of Stephen Sondheim's Company — which gave the actress one of her signature songs, "The Ladies Who Lunch"
Stritch confided she often had lines to say from brilliant writers like Edward Albee. "I never knew what hey meant. Just said them and hoped for the best"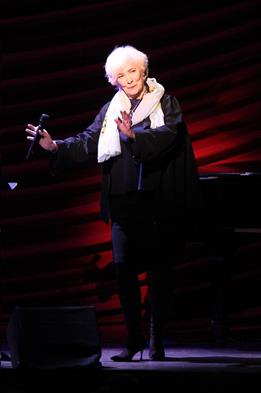 Photos by Jennifer Mitchell unless noted otherwise
Betty Buckley who spent a lot of time with her at the Carlyle bar (where Stritch lived) sang an appropriate "I never know when to say when". Stritch would often embarrass her during a cabaret performance by shouting out "suggestions" during her act.  She also said "The martini needs to be a little dirty. Add the olive".
Liz Smith bragged that in the 5 decades they were friends they never had a cross word. Stritch, who was a bit naive, called her once in the middle of her date with Marlon Brando saying 'It's an emergency" as things heated up, couldn't quite understand how Hudson could be both "married and gay." ""She left me money to take Barbara Walters to dinner"
Christine Ebersole sang a special version of the Nash/Weill song "That's Him," ending with "wonderful world, wonderful you, that's him, that's him. That's Elaine!!"

Laura Benanti and Michael Feinstein
Photo by Monica Simoes
Laura Benanti joined Michael Feinstein in a duet Stricth never got to sing when she was understudying Ethel Merman (who never missed a performance" "You're Just In Love."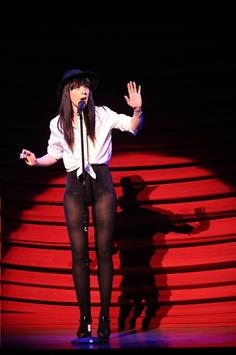 Lena Hall, dressed a la Stritch in a white shirt and black tights sang a marvelous rendition if one of her signature songs "Broadway Baby".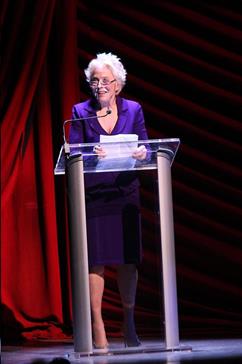 Holland Taylor, a friend for three decades, recalled how Stritch who always toted fruit and juice for her diabetes, always toted them in "fresh, crisp" shopping bags from high-end stores and did not hesitate to enter them and demand new ones. Taylor said she "always suffered the fear of dying of embarrassment" whenever they went out.
Other speakers included, Stritch's nephew Chris Bolton.
Not in person but by virtue of video clips were "30 Rock" co-star Alec Baldwin and Cherry Jones.
Other  attendees included Cynthia Nixon, David Hyde Pierce, Joy Behar, Lois Smith, Megan Mullally, John Turturro, F. Murray Abraham, John Lithgow, Matthew Broderick, Judy Gold, Christine Baranski, Kathleen Chalfant, Billy Porter, Ellen Burstyn and many, many more.
Stritch left $500,000 to the Actors' Fund and the same amount for juvenile diabetes research.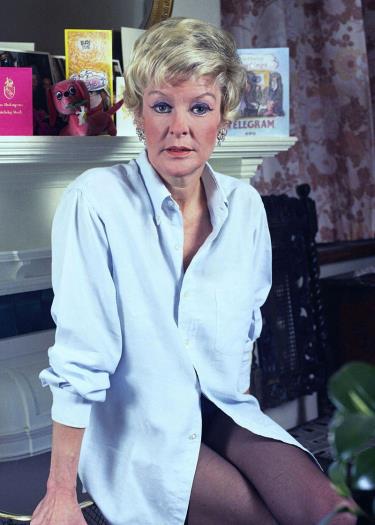 Elaine herself concluded the ceremony with a stunning rarely seen video of a young Stritch singing her signature song, Sondheim's "Ladies Who Lunch" By the time she belted out, "Everybody Rise! Rise! Rise! Rise!," the entire audience at the Al Hirschfeld Theatre were already up.
Oddly, it was the only moment of the entire evening that referenced her talent.
"It's like the prostitute once said "It's not the work, it's the stairs" (Stritch 2001)
Al Hirschfeld Theatre, 302 West 45th Street. November 17, 2014