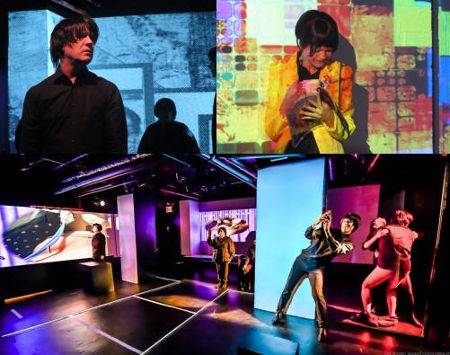 By R. Pikser


The New Stage Theater, located in the partially finished basement of a hostel, complete with brightly painted steam pipes and outsized valves, provides a perfect entree to the theme of Electronic City by German playwright Falk Richter.  Electronic City is a critique of the pervasive gig economy and resultant transient lives that have become the norm for many of us.  The performance space has room for about 25 seats and this gives one a feeling of intimacy.  The audience is close to the performers, but with enough distance between them that one does not feel crowded.  This last point is important, because the play itself deals precisely with the feelings of being crowded that many of us now live with, whether in our ever-smaller apartments, or leaving them, squeezed into airports or trains only to go to other crowded environments demanded by our crowded schedules.


Each of the six actors in the excellent ensemble, dressed alike in black with nearly identical wigs, still manages to have a separate personality, or, rather, separate personalities according to the needs of the play, thus pushing back against the idea that we are all interchangeable.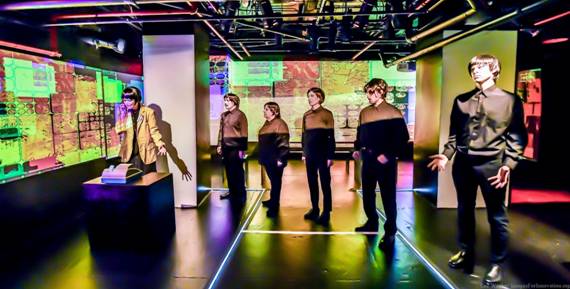 Jeanne Lauren Smith, Chris Tanner, Beth Dodye Bass, Tatyana Kot, Rikin Shah, Bjorn Bolinder. Photo by Lee Wexler/Images for Innovation.


The play directs our attention to two of these supposed ciphers, Tom and Joy, who meet in passing in the course of performing their interchangeable jobs and who can barely find each other again as they are rescheduled from city to city, site to site, job to job.  Amidst the confusion of the multi-media projections and noises, amidst the growing confusion of Tom and Joy as they find that they can't remember where they are, or what their code numbers are, or even how to do their jobs, we begin to sort them out, as they try to sort themselves out.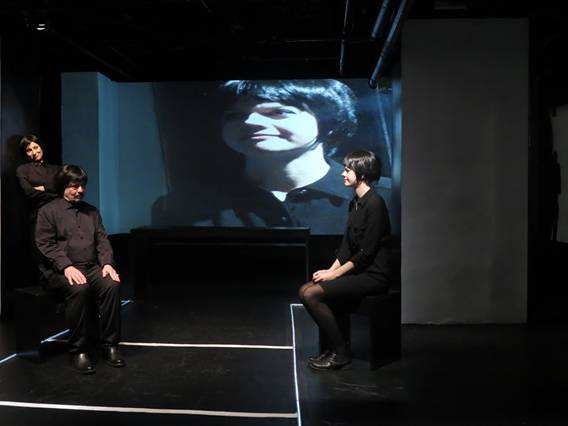 L-R: Tatyana Kot, Chris Tanner and Jeanne Lauren Smith. Photo by Jonathan Slaff


Though Tom and Joy give the audience people with emotions to relate to, the group is really what draws the attention.  They have the striking entrances and exits, the stylized movements, the changes of character from impassive readers of stage directions, to ballet dancing maid (or perhaps she is a vacuum-cleaner robot dressed as a maid), to unnamable parts of the infernal machine, to impatient patrons on line at an airport shop, then back to machines....  They also deliver most of the humor, an important element in this play that is about so much that is terrible in our lives.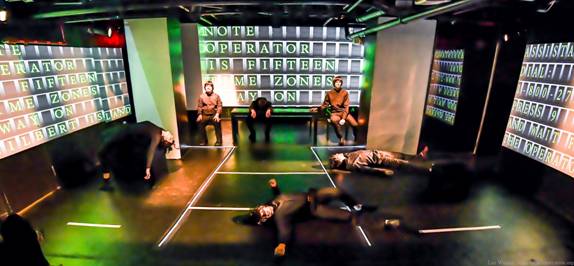 Tatyana Kot, Chris Tanner, Beth Dodye Bass, Rikin Shah, Bjorn Bolinder, Brandon Olson. Photo by Lee Wexler/Images for Inno

The other important focus of the play is the projection design by Eric Marciano and Hao Bai, sometimes films, sometimes photographs, sometimes designs, which may or may not have a direct relationship to what is happening on stage.  But here we run into problems.  At some moments, the projections help us realize the extent of the alienation under consideration; at other times they become overwhelming, or at least they do in the very intimate space of this theater.  They become alienating.  Fitting as it is that we be immersed in the ever more insistent and encroaching electronic visual and auditory noise, still, the hour and a quarter becomes exhausting.  The exhaustion may not be a bad thing, yet it seems better in retrospect than in the moment.  No matter.  The production stays in the mind and insists that it be re-examined and mulled over. 

When all is said and done, this production of Electronic City, directed by Off-Off pro and multi-award winner Ildiko Nemeth, is a provocative experience.


The New Stage Theatre Company
Electronic City


April 12th –May 10th , 2019

New Stage Performance Space
36 West 106th Street
New York, NY


Tickets $27
newstagetheatre.org
info@newstage theatre.org
212 768 4473