Obi Abili                                                   photos by Carol Rosegg
                                          by Julia Polinsky
The Emperor Jones at the Irish Repertory Theatre may be the best version of this play in many years. Between the terrific performance by Obi Abili as Jones, and the splendid vision of director Ciaran O'Reilly, this is one of those times when a not-so-good play gets an excellent production, which makes it a don't-miss.
The Emperor Jones is not a particularly well made play; it's an Expressionist drama, and Expressionism puts consciousness onstage. What happens to the characters is less important than the inner landscape of the mind. That can be boring and tedious.
Not to mention, a lot has been said about The Emperor Jones's racism. O'Neill was writing in the early 20th century. He uses the N-word. Often. Also writes Jones speaking with the cliché speech patterns that writers used to use when writing black characters, a kind of "mammy-speak" that grates on the ear. That's maybe hard for modern audiences to hear, but it's the truth of the author, the play, and its time. Kudos to the Irish Repertory Theatre for not whitewashing it.
And Obi Abili does it with absolute conviction. He gives an astonishing performance as Brutus Jones. His rage, his arrogance, his fear, his regret, remorse, and disintegration are all perfectly embodied. It's a knockout performance. It will be exciting to watch how his career develops.
Abili plays Brutus Jones, a former Pullman porter, a murderer, and a stowaway fugitive from a chain gang, who has reinvented himself as the Emperor of an island in the West Indies. For a couple of years, he's been exploiting the native population to make himself rich and powerful. He despises the superstitious natives, who believe that he can only be killed by a silver bullet -- a story he planted himself. As if to tempt the gods, Jones carries a revolver, loaded with five lead bullets and one silver one.
Smithers (Andy Murray), the white man who first employed him and is now in his thrall, learns that Jones's time as Emperor is done – a rebellion has begun. Smithers warns Jones, who leaves his "palace," confident that he can make his way through the forest to the coast, and escape.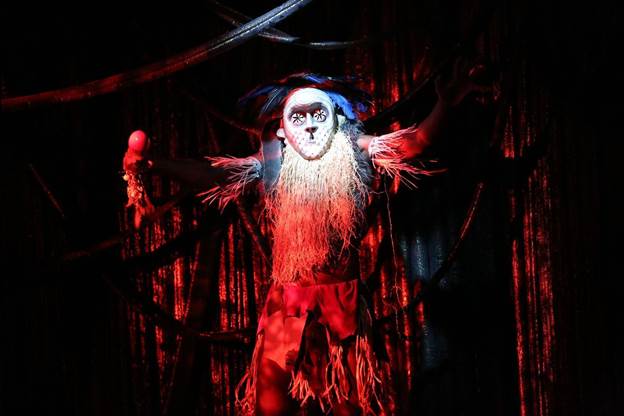 Sinclair Mitchell
His journey becomes a nightmare of illusions? Dreams? Hallucinations? Although he says he doesn't believe in "haunts," his formless fears and the ghosts of those he killed appear, and he relives those murders. He sees and feels the impact of slavery. He is threatened by a witch doctor and a crocodile god. Crazed, he shoots at the fears and ghosts and hallucinations, leaving himself defenseless and ruined.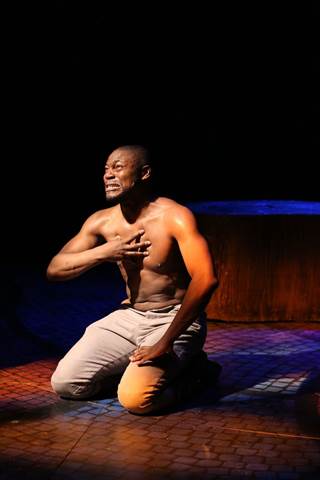 When he's run out of bullets, anger, and fear, Jones returns to his Christian upbringing, calling for forgiveness and mercy. Yet he is powerless against the dead, the slavers, the fears, the crocodile god, and the witch doctor who bring about his final punishment.
Or do they? In the final scene, a group of rebels fire their guns – with silver bullets – and drag Jones's body onstage. Did they kill him? Or was he already dead?
The ensemble, who act all the roles from Old Woman (Angel Moore) to Crocodile (Reggie Talley) are all terrific, with special notice to Sinclair Mitchell's performance as the Witch Doctor, and Carl Hendrick Louis's Lem.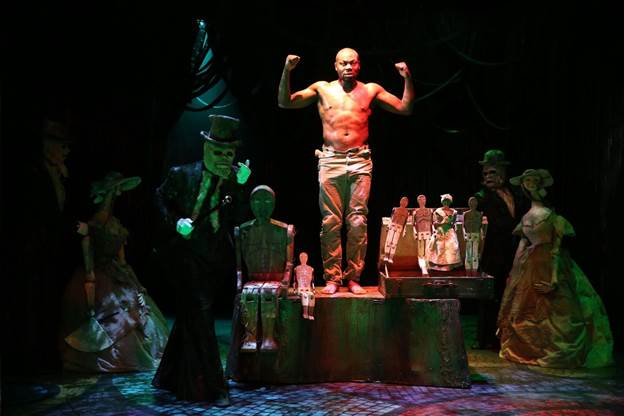 Sinclair Mitchell, Obi Abili, and William Bellamy
O'Reilly's The Emperor Jones uses movement, masks, and puppets to express what's going on in Jones's mind. Charlie Corcoran's evocative set works with Brian Nason's excellent lighting, masks and puppets by Bob Flanagan, and costumes by Antonia Ford-Roberts and Whitney Locker, to mesh into a visual that perfectly illuminates Jones's descent into hell with eerie, compelling alienation.
The Emperor Jones can be seen at the Irish Repertory Theatre until May 21. It's worth seeing just for Abili as Jones, but the whole production is magical in its own way. Go see it. You'll be able to say "Oh, I remember that. It was great."
The Emperor Jones
At The Irish Repertory Theatre
132 W. 22nd St., New York, NY
Wednesdays through Sundays, until May 21
Tickets, $50-70: box office 212-727-2737 https://web.ovationtix.com/trs/cal/32325#_ga=1.232460378.475129570.1491252700